121 Secrets of Sand Hill Road Venture Capital, w/ Scott Kupor Managing Partner, Andreessen Horowitz
Wednesday 20th September 2023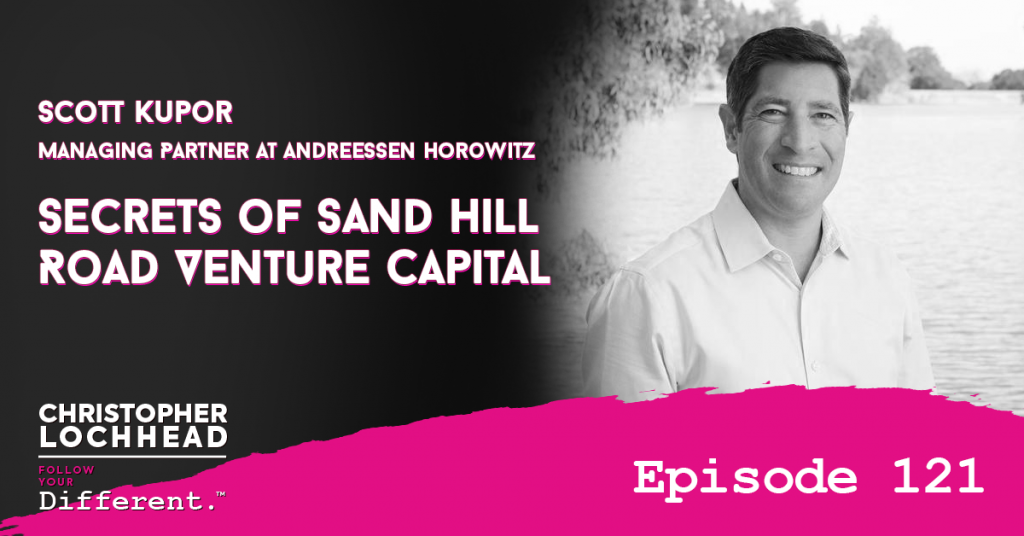 Podcast: Play in new window | Download (Duration: 1:01:29 — 84.5MB) | Embed
Subscribe: Apple Podcasts | Google Podcasts | Spotify | Pandora | Stitcher | RSS | More
In another riveting episode, Scott Kupor, the managing partner of one of the highest-profile VC on the planet over the last decade, Andreessen Horowitz, joins us today to discuss startups, how to get funded and a lot more!
He is also the author of the book called Secrets of Sand Hill Road: Venture Capital and How to Get It.
"Inside Baseball"
Scott addressed the common issue of "inside baseball" between entrepreneurs and VCs. He shares that there is no reason why questions shouldn't be answered and that VCs should reach out to entrepreneurs.
"People don't understand why decisions are made. I think that just leads to mistrust quite frankly between VCs and entrepreneurs." – Scott Kupor
Moreover, Scott shares the reason why he wrote the book. He wanted to bridge the gap between VCs and entrepreneurs. Through this book, he answers several entrepreneur questions that previously were assumed to be understood, since they have done a lot of deals in the past.
Information Asymmetry
Scott discusses the idea about information asymmetry and how it results to one party benefitting at the expense of the other in those types of scenarios.
"Capital is scarce and VCs have it. There was definitely a very different balance of power between entrepreneurs and VCs. There's probably less incentive quite frankly for the VC. The biggest change, I think, in the last 10 yrs is, its as competitive as its ever been." – Scott Kupor
Money clearly a commodity in this business. For Scott, if VCs and entrepreneurs can level the playing field, he would enter into a relationship on a basis of actually understanding one another, knowing what motivates one another as it would definitely be a good place better place to start.
More From Scott
Aside from talking about Silicon Valley, Startups and how entrepreneurs could get funding, he shares his thoughts on the overall VC backed industry.
"My personal view is—I've talked about this with people in DC publicly—the idea that more and more growth is happening in the private markets, while beneficial, selfishly for people like me, who get to, kind of monetize that growth. I don't think its good for the country. I don't think its good to not have companies going public at a reasonable stage where a broader cross-section of public market investors can actually enjoy the appreciation there." – Scott Kupor
To hear more about Secrets of Sand Hill Road Venture Capital and more information about Scott Kupor, Managing Partner at Andreessen Horowitz, download and listen to the episode.
Bio:
Scott Kupor is the managing partner at Andreessen Horowitz where he is responsible for all operational aspects of running the firm.
He has been with the firm since its inception in 2009 and has overseen its rapid growth, from three employees to 150+ and from $300 million in assets under management to more than $10 billion.
Prior to joining Andreessen Horowitz, Scott worked as vice president and general manager of Software-as-a-Service at Hewlett Packard. Scott joined HP in 2007 as part of the Opsware acquisition, where he was senior vice president of Customer Solutions.
In this role, he had global responsibility for customer interaction, including professional services, technical pre-sales, and customer support. Scott joined Opsware shortly after the company's founding and held numerous executive management positions including vice president, financial planning and vice president, corporate development.
In these roles, he led the company's private financing activities as well as its initial public offering in 2001. Scott also started the company's Asia Pacific operations and led the execution of the company's multiple acquisitions.
Prior to Opsware, Scott represented software companies in both financing and mergers and acquisitions transactions at Credit Suisse First Boston and Lehman Brothers.
He graduated Phi Beta Kappa from Stanford University with a bachelor's degree in public policy with honors and distinction. Scott also holds a law degree with distinction from Stanford University and is a member of the State Bar of California.
Scott is chairman of the board of Genesys Works; cofounder and co-director of the Stanford Venture Capital Director's College; co-founder and co-director of the Stanford Rock Center's Guide to Venture-Backed Board Membership; Executive in Residence at Haas School of Business and Boalt School of Law; and a Lecturer at Stanford Law School.
He is vice-chair of the investment committee of St. Jude's Children's Cancer Research Hospital and also serves as a member of the investment committees for Stanford Medical Center, the Silicon Valley Community Foundation, and Lick Wilmerding High School.
Scott served as Chairman of the Board of the National Venture Capital Association (2017-2018). He is the author of the national bestselling book Secrets of Sand Hill Road: Venture Capital and How to Get It, published by Portfolio, a division of Penguin.
Links:
We hope you enjoyed this episode of Follow Your Different™! Christopher loves hearing from his listeners. Feel free to email him, connect on Facebook, Twitter, Instagram and subscribe on iTunes! Get amazing, different stories on business, marketing, and life. Subscribe to our newsletter The Difference.