036 Loonshots The Power of Crazy Ideas w/ Safi Bahcall
Saturday 2nd December 2023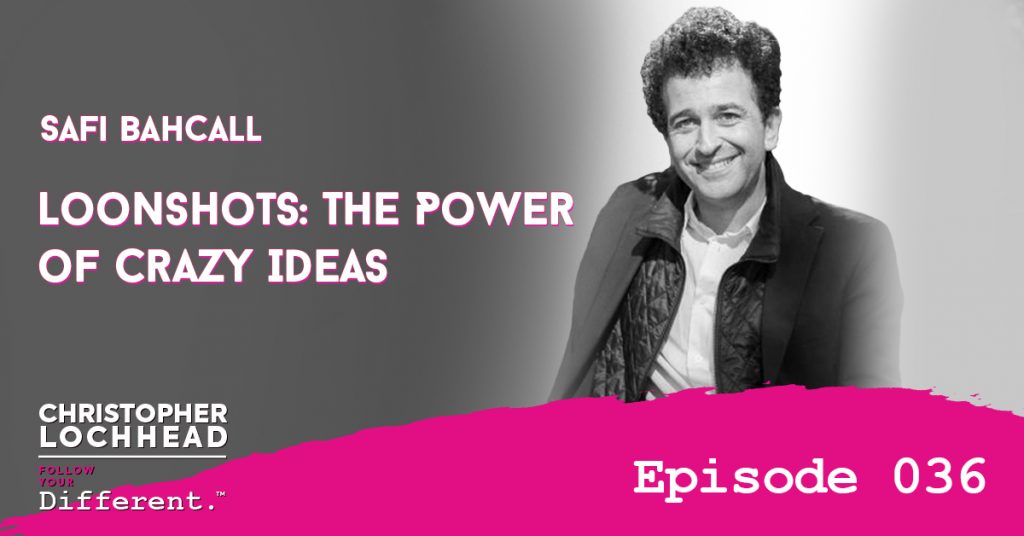 Podcast: Play in new window | Download (Duration: 1:38:24 — 90.3MB) | Embed
Subscribe: Apple Podcasts | Google Podcasts | Spotify | Pandora | RSS | More
How can structure drive culture? On today's episode, the amazing author of Loonshots Safi Bahcall unpacks the reasons why we should pay attention to the structure of an organization to achieve success. Learn how crazy people and ideas lead to breakthroughs, and so much more.
Is It Really Culture?
When Safi first became an entrepreneur, he read every article and book he could find on various subjects like how to become a good leader and build great teams. All those things sounded good, but after a while, he got hungry for something more solid.
"I was trying to understand if there was some science to this. If there was something else besides just culture." – Safi Bahcall
He observed that companies with completely different cultures would succeed, while those with the same cultures failed. There are elements of culture that are very important. But is it really the culture that drives the success of an organization?
Structure Eats Culture for Lunch
Christopher shares that there are successful companies with the "biddings will continue until morale improves" culture. Then there are other successful organizations that adopt an "everybody loves each other" culture. From this standpoint, there seems to be no such thing as a culture that works and a culture that doesn't.
"Well, there's a saying in business that says, 'Culture eats strategy for breakfast.' What I would add is that 'structure eats culture for lunch.'" – Safi Bahcall
It appears that structure enables exponential differences in organizations in a way that culture doesn't as much.
Structure Drives an Organization's Culture
To exemplify, Uber had an outlier incentive system. Nobody wanted to work on other people's project because of the 8X incentive that successful project proponents could earn. No matter how many times teamwork was encouraged, nobody would actually get into it.
But when the team-based incentives began to roll out, the culture changed. People were rewarded based on team performance. This perfectly sums up how structure eats culture for lunch.
"It means that underlying structure can drive the culture, rather than the way around." – Safi Bahcall
To hear about how water molecules relate to business structure and how genius and serendipity need to meet to produce breakthroughs from Safi, download and listen to the episode.
Bio:
Safi is a second-generation physicist (the son of two astrophysicists) and a biotech entrepreneur.
He received his BA summa cum laude from Harvard and his Ph.D. in physics from Stanford, where he worked with Lenny Susskind in particle physics (the science of the small) and the Nobel laureate Bob Laughlin in condensed matter physics (the science of the many).
He was a Miller Fellow in physics at UC Berkeley (the school of the many). After working for three years as a consultant for McKinsey, Safi co-founded a biotechnology company developing new drugs for cancer. He led its IPO and served as its CEO for 13 years.
Safi has presented at approximately 130 banking conferences, investor events, and medical meetings around the world, as well as at leading academic institutions including physics, mathematics, or medical departments at Harvard, MIT, Stanford, Princeton, UC Berkeley, Caltech, Cornell, Bell Labs, Dana-Farber Cancer Institute, Massachusetts General Hospital, Rockefeller, and the Weizmann Institute of Science in Israel.
He lives with his wife, two children, and roughly 37 Gerald + Piggie books in Cambridge, MA.
Links:
We hope you enjoyed Safi Bahcall on this episode of Follow Your Different™! Christopher loves hearing from his listeners. Feel free to email him, connect on Facebook, Twitter, Instagram and subscribe on iTunes!