153 How to be a Conscious Creator w/ Sachit Gupta
Monday 25th September 2023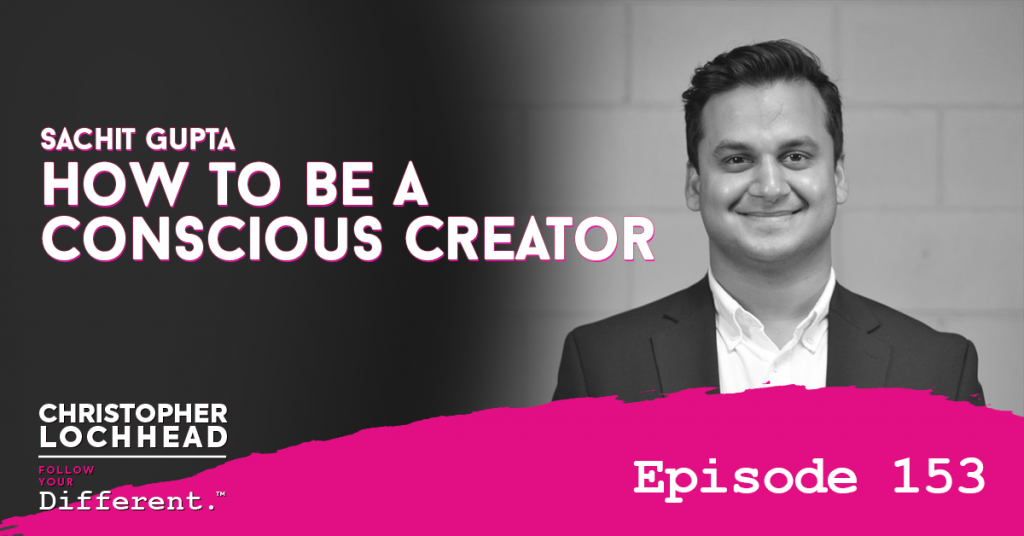 Podcast: Play in new window | Download (Duration: 1:23:28 — 57.3MB) | Embed
Subscribe: Apple Podcasts | Google Podcasts | Spotify | Pandora | Stitcher | RSS | More
Today, we have a riveting conversation with Sachit Gupta. He's been in the background helping some of the top podcasters and content creators build their businesses. He's an expert at building and monetizing digital content.
Recently, he stepped out and built his own podcast Conscious Creators and he wants to help people "Make A Life Through Your Art Without Selling Your Soul." This conversation is a great opportunity to learn from a sensei in digital content and regardless of what you do,
Second Guessing His Talents
A lot more people are looking at podcasting, webinars, youtube shows, and other digital content of course writing books, as either key parts of their business or an extension to their business. In fact, Christopher personally thinks every brand needs to become a media brand. There is no other time than today to start digital leadership in your respective industry.
For 10 years now, Sachit Gupta had been in the background of content creators or digital leaders. He worked with industry giants like Tim Ferriss, Seth Godin, among others. But who would have thought he has always been second-guessing himself in terms of creativity?
"My art wasn't good enough, so I started doing all these things. I graduated and worked with creators and now what I realized is, because I didn't think my art was good enough, or my creation, I subconsciously entered a career supporting other creators." – Sachit Gupta
The Story of the Starving Artist
Christopher asks Sanchit what fascinates him the most. He shares that he has always been fascinated with artists who can remain independent with their craft while still monetizing their talents.
"For me, I think there is a whole story of the starving artist and how creators are always like beholden to big corporations. How can you create and be an independent artist and own your art, own your worth and charge your worth like you can have a career yourself?" – Sachit Gupta
Advice To Content Creators
What are the things most people get stuck with? Sanchit shares that the people whom he works with—creative people, artists, content creators—are still challenged with defining what their message is and to whom is this message for.
"Who's your market? What are their hopes, fears, and dreams? What are their problems and how do you help them solve the problem?" – Sachit Gupta
To know more about Sanchit Gupta, an expert at building and monetizing digital content, download and listen to this episode.
Bio:
Sachit Gupta helps amplify Creators (podcasters, authors, etc.) & Brands.
Creators and Brands want the same things — the right audiences, bigger impact; sometimes, even each other. He provides the tools and strategies to create the right connections at the right time that make these needs, reality — easily, instantly. That's what he means when he say — Connections, Amplified.
Sanchit and his team have worked on campaigns with top podcasters like Andrew Warner (Mixergy) Hiten Shah & Steli Efti (The Startup Chat), #1 NYT best-selling authors (Tim Ferriss, Seth Godin, Oren Klaff), social media influencers (Tessa Arias, Handle The Heat) and international sports stars (Rohit Sharma, Indian Cricket Team).
He also worked with 30+ brands including Pilot.com, Toptal, Pipedrive, HostGator, ActiveCampaign, ahrefs, The 5 Minute Journal, ClickFunnels, Outerknown, Brain.fm and more to create win-win partnerships with Creators.
Links:
We hope you enjoyed this episode of Follow Your Different™! Christopher loves hearing from his listeners. Feel free to email him, connect on Facebook, Twitter, Instagram and subscribe on iTunes!