149 What 9/11 Taught Us About Leadership w/ Chris Fussell Navy Seal & President McChrystal Group
Monday 20th November 2023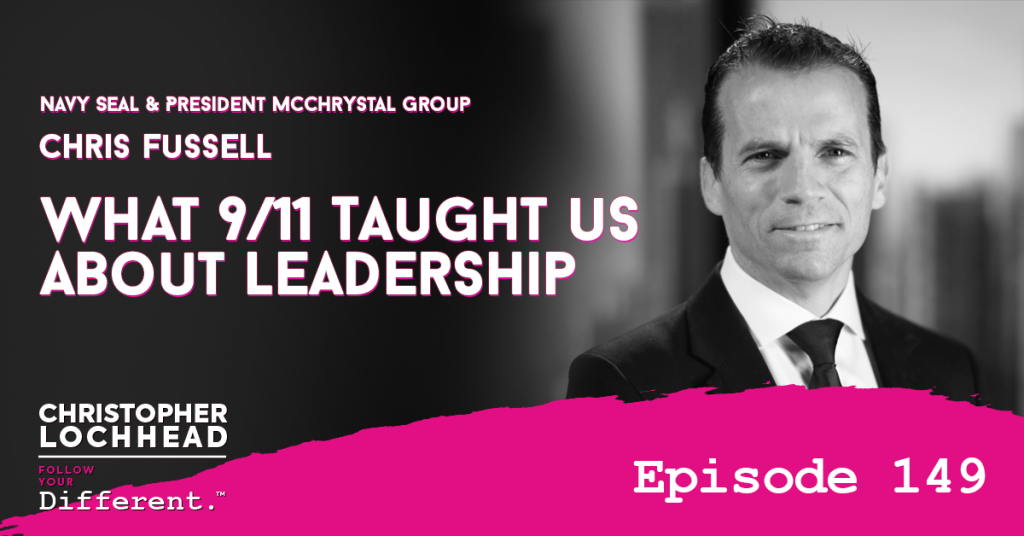 Podcast: Play in new window | Download (Duration: 59:59 — 41.2MB) | Embed
Subscribe: Apple Podcasts | Google Podcasts | Spotify | Pandora | RSS | More
Today, we have a very timely conversation about leadership and crisis management with a highly decorated Navy Seal Chris Fussell. He partnered with 4-star General Stanley McCrystal to retool the US military after 9/11. Chris is a legendary American hero, a servant leader in the military, entrepreneur, and now the President of McCrystal Group.
Chris and Stan consult and advise organizations around the world on leadership and frankly, they helped a lot of organizations deal with this crisis. We also talk about a recent opinion piece that Chris and Stan wrote for the NY Times.
Connected Through Structure
Chris describes that tribes are connected through structure and leadership. It also holds true within industries. He further shares that when the ability of those systems starts to be dismantled through the separation physically or something similar to what is happening to us at the moment, we will end up with a disconnected state.
He further shares how this scenario in relation to them at Washington DC/ Since there is a "disconnected state" the food shortages among families on the other side of DC do not affect Capitol Hill emotionally. He says this is how inequity stats.
Social Cohesion
Chris shares that the "fabric" that holds society together is immediate family, community and socioeconomic circles.
"This is critical that we reach across those boundaries that's why, institutions—like a workplace that pulls from many different networks, from the executive, down to the frontline folks, or like a public school or a church, that reaches across the boundaries—those create this fabric that pulls us together anytime you see that disrupted at scale for an extended period. If the fabric is unwoven, its really hard to weave them together." – Chris Fussell
Call For National Level Campaign
Chris took the opportunity to call everyone to action to help out in any way they can. Christopher Lochhead shared that he and his family purchased plastic gloves from a local restaurant supplier and dropped it to local hospitals in Santa Cruz.
"The people at the bottom are those who are gonna suffer more economically. They're gonna suffer the worst medically as a result of this pandemic. The economically deprived neighborhoods." – Chris Fussell
To hear more about Chris and how leaders are holding up with this crisis, download and listen to this episode.
Bio:
Chris Fussell is the President of McChrystal Group.
He is an author of the 2015 New York Times bestseller, Team of Teams: New Rules of Engagement for a Complex World as well as 2017 Wall Street Journal bestseller, One Mission: How Leaders Build a Team of Teams.
He joined McChrystal Group as a Partner in 2012.
Chris was commissioned as an Officer in the United States Navy in 1997, and spent the next 15 years on US Navy SEAL Teams, leading SEAL elements in combat zones around the globe.
From war-torn Kosovo, to counter-terrorism operations in Iraq and Afghanistan, to highly specialized efforts in the troubled areas of the Arabian Peninsula and North Africa, he experienced and led through the modern evolution of the US military's Special Operations community, first on SEAL Teams Two and Eight, then in the Naval Special Warfare Development Group.
Chris was selected to serve as Aide-de-Camp to then-Lieutenant General Stanley McChrystal during General McChrystal's final year commanding the Joint Special Operations Command (JSOC), where they served for a year together in Iraq.
He witnessed first-hand the Special Operations community's transformation into a successful, agile network.
Chris is also a Senior Fellow for National Security at New America, a Washington, DC-based non-partisan think tank dedicated to understanding the next generation of challenges facing the United States.
Chris is actively involved in several non-profits dedicated to helping veterans and their families, and holds a seat on the Board of Directors for the Navy SEAL Foundation. He is also a lifetime member to the Council on Foreign Relations.
Chris earned a Master of Arts in Irregular Warfare from the Naval Postgraduate School, receiving the Pat Tillman Award for highest peer-rated Special Operations Officer in the program.
His thesis work focused on the interagency collaboration and intelligence sharing processes that drove effective, cross-silo collaboration during the peak of the wars in Iraq and Afghanistan.
Links:
Christopher Fussell – McCrystalGroup
Linkedin – Christopher Fussell
New York Times – What 9/11 Taught Us About Leadership in a Crisis
We hope you enjoyed this episode of Follow Your Different™! Christopher loves hearing from his listeners. Feel free to email him, connect on Facebook, Twitter, Instagram and subscribe on iTunes!