159 Life Design w/ Rhonda Smith
Friday 1st December 2023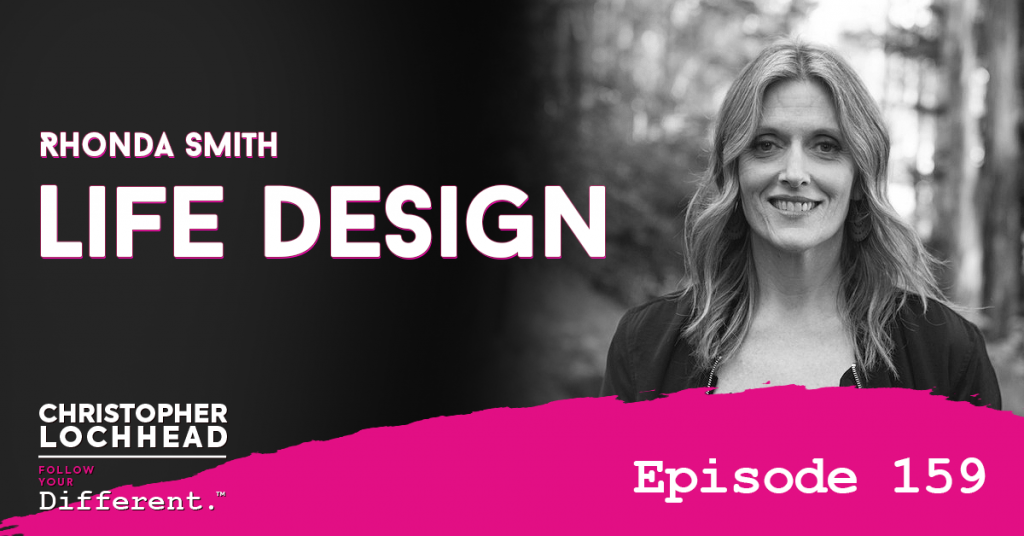 Podcast: Play in new window | Download (Duration: 57:31 — 39.5MB) | Embed
Subscribe: Apple Podcasts | Google Podcasts | Spotify | Pandora | RSS | More
Today, a magical, mystical bestselling author and podcaster, Rhonda Smith, is with us today. She's got a new book out called The Whole Method and a soul-affirming podcast called Cosmic Smith.
She's incredibly open about what she calls "radical fullness." We talk about why it's ok, that not everyone is going to like you and why we want to experience everything in life and so much more.
Radical Fullness
Rhonda has overcome becoming a self-described "meth head" to transform her life. has been amazed at what little clean living can do for the body. She described how in the past two and a half years, she was battling a mind-blowing, brutal depression with suicidal tendencies. She copes with the whole situation by what she described as "understanding the darkness of her soul."
"I finally remember how to be me, and allowed it. Radical acceptance, radical fullness." – Rhonda Smith
She further shares the void inside every person, which is the center of our force. The dark is the feminine, the light is the masculine.
"Within the dark, and that void, that discomfort, that deep blackness of our soul, in that quiet space, when we learn how to sit there, that is when creation happens, just like the womb. It was learning how to be in that void of myself and not have to do or change anything and just be able to sit with it." – Rhonda Smith
Dealing With Suffering
Christopher asks Rhonda to elaborate on the suffering or that void inside each person. He further shares that we have no choice once suffering "comes for us. We can resist it but we have to go through the fire in one way or another.
"The way I can best describe is like the thing people run from, the thing that keeps us in distraction, the things that keep us constantly seeking." – Rhonda Smith
Teaching People Compassion
One of the biggest things Rhonda shares in this conversation is that one can't teach someone to become empathetic or to have compassion. It is something that has to be learned through experience. Christopher and Rhonda exchange their point of view on why humanity has deemed homelessness and hunger as "okay."
To know more about Rhonda and her views on designing your life, download and listen to this episode.
Bio:
Rhonda Smith was born and raised in picturesque Northern California.
She spends most of her time between the San Francisco Bay area and the Sierra Nevada mountains with her majestic little wiener dog, Saylor Love.
Rhonda shares her message on stage, as well as through podcasting, coaching, and her work with sacred plant medicine. She uses all of these modalities to support people in remembering the truth about who they are.
Rhonda believes that only when we embrace the darkest parts of ourselves, do we learn the lessons that lead to remembering and living our deepest truth.
The greatest work of our lives is being willing to stand naked with all of our masks removed. The current state of our planet (living earth) and humanity is a catalyst to understand the way we've been living isn't working!
This was the spark that ignited Rhonda's mission.
Her newest company, "The Expanded Hueman" is set up to answer the question "What comes next after personal development?" It's an invitation for us all to stop the madness of endlessly seeking outside ourselves. Her book, The Whole Method, is about remembering how to journey back into ourselves and once there, discover everything we need.
It's when you realize that who you are on the inside doesn't quite match up to the persona you've created on the outside – You've done well, people look up to you, but deep inside there's a niggle that something's not right…
Something is missing. You suspect there's more for you to learn.
Links:
We hope you enjoyed this episode of Follow Your Different™! Christopher loves hearing from his listeners. Feel free to email him, connect on Facebook, Twitter, Instagram and subscribe on iTunes!