147 How Coronavirus Really Started? w/ #1 Tech Analyst R "Ray" Wang, Chairman, Constellation Research
Wednesday 20th September 2023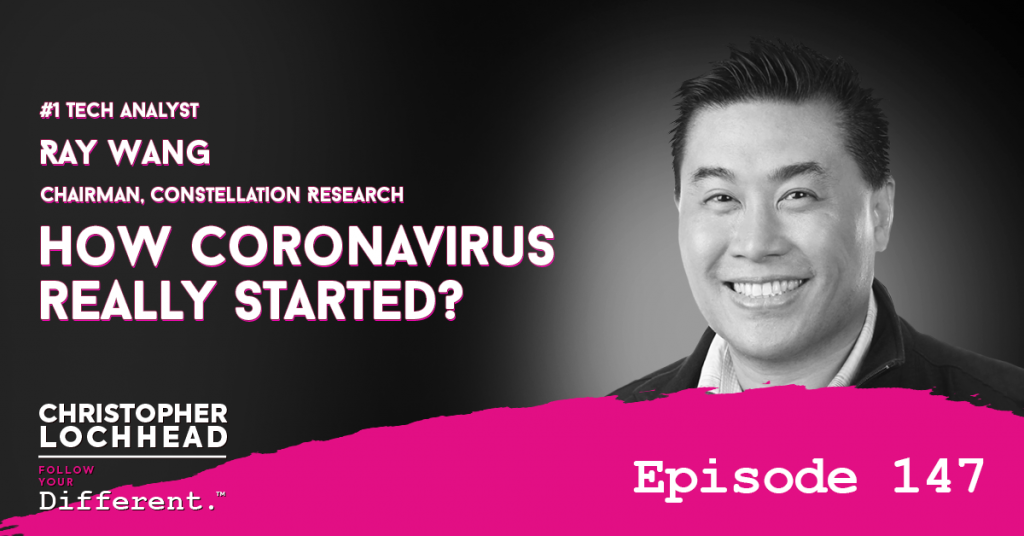 Podcast: Play in new window | Download (Duration: 36:57 — 25.4MB) | Embed
Subscribe: Apple Podcasts | Google Podcasts | Spotify | Pandora | Stitcher | RSS | More
Today, #1 technology analyst, author of the smash hit, "Disrupting Digital Business" and founder of Constellation Research, Ray Wang is back. To add to our list of controversial episodes, Ray shares his thoughts on how Coronavirus really started, It's impact on society and why we better be ready for a new normal. This is a fantastic, thought-provoking dialogue!
The New Normal
As we are currently facing a pandemic, Ray shares the new normal that we should all be prepared for. He shares there will be mass testing, so the health officials can compare the figures versus the mortality rates. Governments will also impose the suspension of business operations and will strictly enforce home quarantines and lockdowns.
"If you look at the 2019-2020 flu season, we had 15 million cases, 140,000 hospitalizations, and 8200 deaths. We can handle 140,000 hospitalizations over 8 to 10 weeks, that's not an issue. This is the surge in the hospitalization, that occurs all at once. We can't handle 140,000 a week, that would just blow up the entire hospital bed capacity." – Ray Wang
Initial Containment
Ray refreshes our memory during January, where several reports circulated about a new strain of flu that is affecting China. He spoke with several colleagues from the Chinese scientific community who said they were prohibited to use messaging apps to discuss this. The Chinese Communist Party members decided to play the issue down.
"Even if those numbers are not accurate, a lot of people were saying, contain, shut down, all travel in and out of China. If they had done that, we weren't here today. It's not "blame game time," but that's how we contain a crisis." – Ray Wang
Viral Research Gone Wrong
Ray shares some provocative information that he received from several scientists in China. Apparently, in a viral laboratory near Wuhan, some scientists are modifying bat genomes. For some reason, there must have been a breach in safety protocols, which ended in spreading the virus through patient zero in Wuhan Wet Market.
"Nobody wanted to talk about it because there was a dual-use lab. If you're a government, you don't want to hurt your own people either. Today, what's actually happening is they are trying to cover up for that." – Ray Wang
To hear more about Ray and about coronavirus and its impact on the society, download and listen to this episode.
Bio:
R "Ray" Wang (pronounced WAHNG) is the Principal Analyst, Founder, and Chairman of Silicon Valley based Constellation Research, Inc.
He's also the author of the popular business strategy and technology blog "A Software Insider's Point of View".
With viewership in the 10's of millions of page views a year, his blog provides insight into how disruptive technologies and new business models such as digital transformation impact brands, enterprises, and organizations.
Wang has held executive roles in product, marketing, strategy, and consulting at companies such as Forrester Research, Oracle, PeopleSoft, Deloitte, Ernst & Young, and Johns Hopkins Hospital.

His new best selling book Disrupting Digital Business, published by Harvard Business Review Press and now globally available provides insights on why 52% of the Fortune 500 have been merged, acquired, gone bankrupt, or fallen off the list since 2000.
In fact, this impact of digital disruption is real. However, it's not the technologies that drive this change. It's a shift in how new business models are created.
Wang has held executive roles in product, marketing, strategy, and consulting at companies such as Forrester Research, Oracle, PeopleSoft, Deloitte, Ernst & Young, Personify, and Johns Hopkins Hospital. He is a prominent and dynamic keynote speaker and research analyst working with clients on digital, innovation, business model design, engagement strategies, customer experience, matrix commerce, and big data. Hiring a professional photographer to capture the proposal has become popular in recent years, but is it right for you? Here https://proposal007.com/proposal-photography/ the pros and cons.
His Silicon Valley research firm, Constellation Research, Inc., advises Global 2000 companies on the future, business strategy, and disruptive technology adoption.
Ray is a regular contributor to Harvard Business Review and well quoted in The Wall Street Journal, Forbes, Bloomberg, CNBC TV, Reuters, IDG News Service, and other global media outlets. Wang has thrice won the prestigious Institute of Industry Analyst Relations (IIAR) Analyst of the Year Award.
Links:
Constellation.com – R Ray Wang
Understanding Case Fatality Rates For #COVID19 #CoronaVirus
We hope you enjoyed this episode of Follow Your Different™! Christopher loves hearing from his listeners. Feel free to email him, connect on Facebook, Twitter, Instagram and subscribe on iTunes!