218 Legendary Musicians' Insights on Innovation with Panos Panay and Michael Hendrix, Authors of "Two Beats Ahead"
Monday 25th September 2023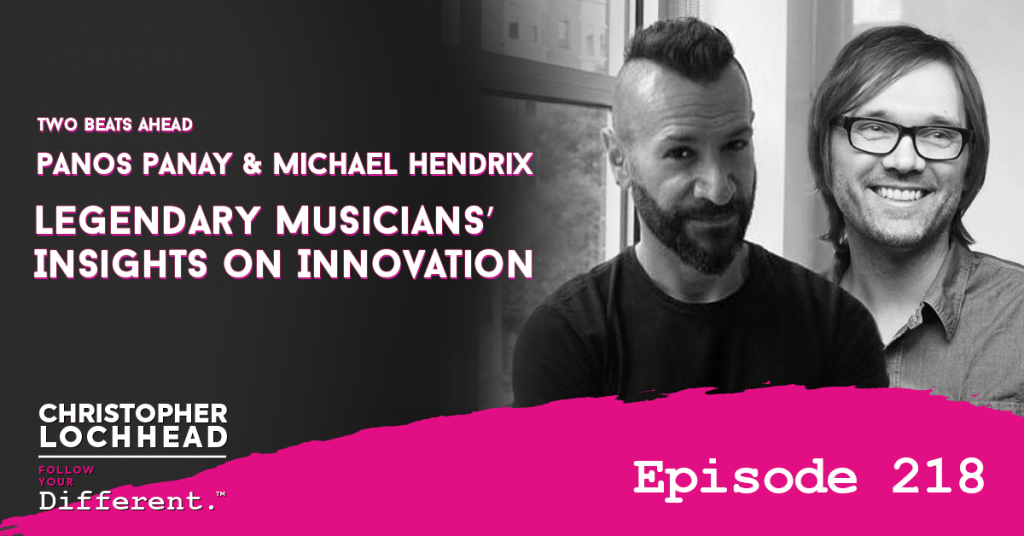 Podcast: Play in new window | Download (Duration: 58:07 — 39.9MB) | Embed
Subscribe: Apple Podcasts | Google Podcasts | Spotify | Pandora | Stitcher | RSS | More
Creativity, innovation, and collaboration. These are words that get thrown around a lot in business. Yet too many business environments and company culture cultivate the exact opposite. In this episode of Follow Your Different, we discuss what business leaders, entrepreneurs, and creators of all times can learn from some of the greatest musicians in the world.
Our guests today are Panos Panay & Michael Hendrix, the authors of a rockin' new book called "Two Beats Ahead: What Musical Minds Teach Us About Innovation". Dr. Deepak Chopra says,
"For a long time, researchers have that musical intelligence can awaken the non-linear mind to healing, creativity, and innovation. This book is a roadmap for innovators, entrepreneurs, and those seeking new avenues for exploring and reimagining the future."
You'll want to stay tuned for this dialogue about the power of music as an insight to innovation and creativity. Pay close attention to why musicians are constantly creating and not editing, the power of curiosity, and their thoughts on how to build a legendary team.
Music is Everywhere
When asked why music seems to be all around and how it affects us, Panos Panay thinks it's because music is primordial. Even as we are in our mother's womb, our sense of hearing develops before everything else and we get exposed to our mother's heartbeats.
For him, there's something really elemental about music that is unlike anything else.
"It's the most basic human sense. It's what connects us to our humanity. And I would say what connects us to the broader universe. That's the universe is made of sound. Ultimately, we are made of sound." – Panos Panay
Building Designs that Delve into the Unconscious
Michael Hendrix talks about Embodied Cognition. Simply put, it is the understanding of the world though our bodies, specifically through our five senses.
What got him interested on the topic was when he started to wonder why some designs do better than others. What he found is that it all boils down to how it feels when using said design. If you are given two tools with the same functionality but one feels more weighted or balance, chances are you'll buy that one over the other.
"There's been plenty of studies that show that we humans give importance to thing that have weight. So in design, and we that's translated, for example, the tension on a car door is increased to make the car deal for heavier when you shut it. So you feel safer in the car, because they're actually been valued. They've been engineered to be so light to make the fuel efficiency better. But if you didn't have that tension, you wouldn't have the resistance. And you would go, oh man, this thing's too flimsy." – Michael Hendrix
Panos adds that this was a problem with the early designs for electric vehicles, which they discussed in the book. They were designed to be lightweight for energy efficiency, but that backfired on itself. People thought it was too light, therefore it might not be as safe as traditional vehicles. So that's one more thing to think about when creating your product designs.
Something Different
Michael talks about their book, Two Beats Ahead, and their thought process when writing it. First and foremost, they didn't want it to be like most business books out there. While they are informative and helpful to some, it's not exactly fun reading them.
So they are committed to not writing one of those books. They want something that is not repetitive and redundant to the point of making you exhausted by the end. Their aim was to write a book that was full of surprises and fun to read from cover to cover, while sharing their thoughts and insights at the same time.
"As we were talking about beginning, the first chapter is about listening. It's about opening yourself up to the things or the unexpected around you, not prejudging them. So we thought what a better way to start the book than to start the book with 12 blank pages. That before you read anything, they force you to confront this idea. And then if you confronted it, and you've been confused by it, you'll get into the book and you'll sort it out. We wanted that to be the first thing you experience." – Michael Hendrix
To hear more from Panos Panay & Michael Hendrix and their legendary insights, download and listen to this episode.
Bio
Panos Panay
Panos A. Panay is the founder and current managing director of the Berklee Institute for Creative Entrepreneurship (BerkleeICE) as well as a passionate entrepreneur, educator, and startup mentor.
As the founder of Sonicbids, he created the leading platform for bands to book gigs and market themselves online, building a subscriber network of 550,000 bands and 35,000 promoters from more than 100 countries.
He led the company as CEO for 13 years, from its inception until after its successful acquisition in a deal backed by Guggenheim Partners.
Panay is also the cofounder of the Open Music Initiative, which has brought together more than 200 leading music, media, technology industry organizations, and academic institutions to create a blockchain-based open protocol for uniform identification of musical rights owners and creators.
At Berklee, his work and approach to entrepreneurial and innovation pedagogy builds heavily on the concepts of music thinking, and in particular jazz, as a catalyst for creative breakthroughs in business, life, and art; and he has spearheaded multi-disciplinary collaborations between Berklee and MIT; the design firm IDEO; and Brown University.
He writes frequently about startups and entrepreneurship for blogs and publications such as Forbes, WSJ Accelerators, and Fast Company; and guest lectures and speaks at many universities and events around the world.
Awards include Fast Company's "Fast 50" honor; Inc Magazine's "Inc 500"; Mass Hi-Tech All Stars; Berklee College of Music's Distinguished Alumnus Award; Boston Business Journal's "40 under 40;" and BostInno's 50 on Fire. Sonicbids and Panay were also profiled in a chapter in the Financial Times-published book Outsmart by best-selling author Jim Champy.
Panos Panay is a native of Cyprus and holds a Music Business/Management degree from Berklee College of Music.
Michael Hendrix
Michael Hendrix is a Partner and Global Director of Design at IDEO. As a member of the senior executive team, he collaborates with the firm's studio leaders and teams to advance IDEO's creative culture and world-class design capabilities.
A natural trailblazer and collaborator, he co-founded an art school for high schoolers, a professional design curriculum for undergrads, two professional design clubs and three small businesses, the last of which, Tricycle, was recognized by Businessweek and Fortune as a thought leader for sustainable design, and purchased by Shaw Industries, a subsidiary of Berkshire Hathaway, in 2017. This diversity of experience has informed his leadership roles at IDEO and his work with leading brands and organizations including Target, Converse, Tempur+Sealy, Steelcase, the DIY Network, and the Department of Homeland Security. In 2015 he served as an advisor to the White House's global entrepreneur initiative, SPARK.
His 25-year career has made him a sought-after speaker, delivering keynotes at WIRED, SXSW Interactive, SXSW Music, AIGA, FUSE, HOW, Design Management Institute, Sonar+D and Moogfest. He is an Associate Professor at Berklee College of Music and a regular guest lecturer at universities including Harvard, Mass Art, RISD and his alma mater, the University of Tennessee.
As a graphic designer, Michael has received more than 50 awards from major U.S. design associations and publications. He is an AIGA Fellow—acknowledging his contribution to raising the standards of excellence in graphic design, a Marshall Memorial Fellow, and a BMW Foundation Alumnus, both acknowledging Trans-Atlantic leadership for civic issues. Michael continues pursuing this interest as a board member of IDEO.org.
He is co-authoring a book about the shared mindsets of musicians and designers, to be published August 2020 by Public Affairs, an imprint of Hachette Book Group.
Links
More on:
LinkedIn:
We hope you enjoyed this episode of Follow Your Different™! Christopher loves hearing from his listeners. Feel free to email him, connect on Facebook, Twitter, Instagram, and subscribe on iTunes!