107 How FanDuel Became a Category King & The Future of Podcasting w/ Nigel Eccles
Monday 25th September 2023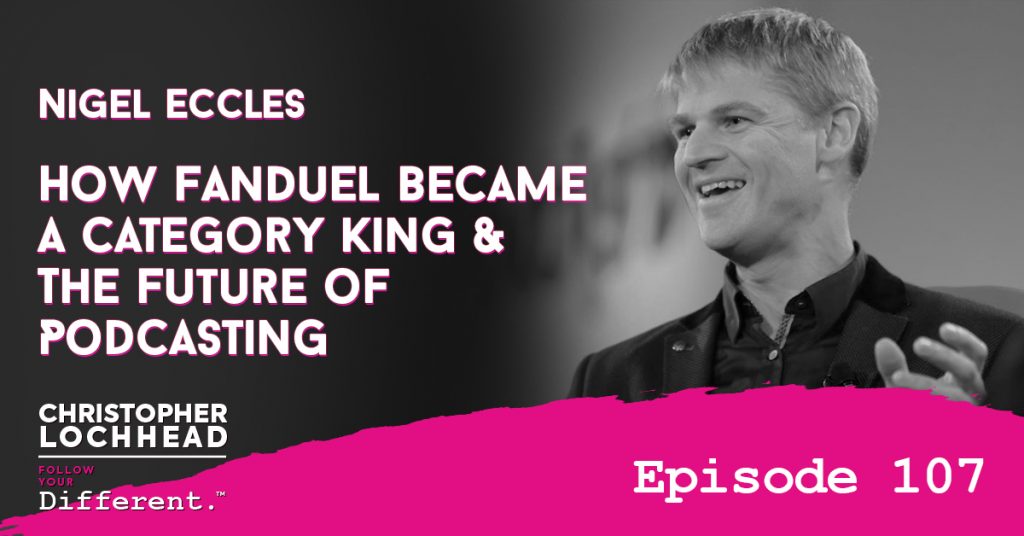 Podcast: Play in new window | Download (Duration: 1:31:48 — 84.3MB) | Embed
Subscribe: Apple Podcasts | Google Podcasts | Spotify | Pandora | Stitcher | RSS | More
Our guest is the legendary entrepreneur Nigel Eccles. He's the founder of Fan Duel, the category king in Daily fantasy sports. We go deep on how Fan Duel created and ultimately dominated this mega category.
We also talk about how they created a super-engaged community and how they explored podcast advertising to promote the brand. Nigel explains why he thinks podcasting is a massive new opportunity. In fact, it is one of his motivations why he started his new company, Flick.
FanDuel Fantasy Sports
Forbes reports that daily Fantasy Games is growing at 41% annually, and will be $14.4 billion category in 2020. This brought together five lads from Edinburg Scotland to join this trend. They created FanDuel back in 2009 as they wanted to create a simple platform for fantasy sports enthusiasts.
"We wanted to build something that is so simple and even we can play and I think actually is a big part of the success of the company." – Nigel Eccles
Building Communities
Nigel narrated how they started FanDuel 10 years ago. When they started FanDuel, Fantasy Sports was played by 25 million people in North America. Their main motivation was creating a sort of community with the same interests — a platform that would connect individuals, not only with friends but with tens of thousands of people.
"It started to connect people who were players. It started to build a community. People want to do it more and more because they want to show they were the best in the community." – Nigel Eccles
Nigel shares his tips for entrepreneurs when building a community. He advises to first, think about the direct connection you can have with customers and what mechanism can you use to establish that connection. Secondly, entrepreneurs must think about how these customers can connect with each other.
Podcast Advertising
As FanDuel was starting, Nigel and the other founders realized the user base is not growing. Their CMO planned to execute several advertising campaigns, mostly focusing on radio and podcasting. With a great product and innovative advertising, the business grew largely.
"The great thing about FanDuel is, anybody who listens to sports radio was a sports fan." – Nigel Eccles
Nigel and his team tried a lot of different formats on radio and podcast advertising. They had endorsements and games, where listeners get to compete with the hosts. Christopher shared a lot of information about podcasting and how huge the opportunity is for advertising.
"Podcasting is an enormous opportunity. It is hugely unmonetized. It is one of the best advertising mediums today because there's a connection with the host. It's such a strong endorsement. The best hosts only sell what they believe in." – Nigel Eccles
To hear more about how FanDuel became a Category King and the future of podcasting, and more relevant information about Nigel, download and listen to the episode.
Bio:
Nigel has vast startup experience and was previously the co-founder and CEO of FanDuel, one of Scotland's first unicorn companies.
Links:
We hope you enjoyed this episode of Follow Your Different™! Christopher loves hearing from his listeners. Feel free to email him, connect on Facebook, Twitter, Instagram and subscribe on iTunes! Get amazing, different stories on business, marketing, and life. Subscribe to our newsletter The Difference.