257 How Entrepreneurs Change Lives & Communities with "IRON" Mike Steadman; Marine Officer, Boxing Champion & Veteran Entrepreneur Advocate
Monday 20th November 2023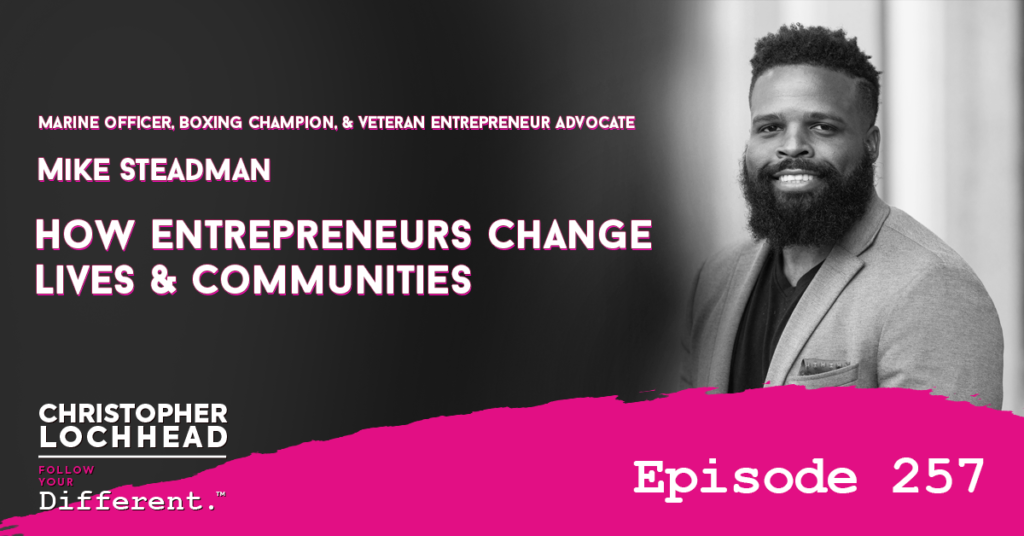 Podcast: Play in new window | Download (Duration: 1:54:18 — 78.5MB) | Embed
Subscribe: Apple Podcasts | Google Podcasts | Spotify | Pandora | RSS | More
For some, entrepreneurship is a way up in the world. For others, it's a way out of their current situation. But no matter what the motivation, entrepreneurship is ultimately an opportunity to create a different future. Not only for the entrepreneur themselves, but for their customers, employees, and ultimately an entire community. This is the reason why me and our guest, "IRON" Mike Steadman, love entrepreneurship.
"IRON" Mike Steadman is a retired combat Marine officer. He is also a three-time National Collegiate boxing champion in the military. He's the founder of Iron Bound Boxing and Education, which is a non-profit in New Jersey. He also founded a company called Dog Whistle Branding, a marketing agency that helps veteran-owned businesses with podcasting, brand, and category design.
In this episode of Christopher Lochhead: Follow Your Different, we have a dialogue with "IRON" Mike Steadman as we talk about all things entrepreneurship, including topics such as helping veteran entrepreneurs. This is a conversation you're going to find incredibly inspiring and empowering, so stay tuned.
"IRON" Mike Steadman on Losing the Ability to Communicate
The conversation starts as Mike responds to a comment about sounding like a podcaster. He shares that being a podcaster helped him become better at public speaking. Now, when he does interviews, people are surprised on how Mike can do it all in one take.
Nowadays, being able to communicate with each other in a clear and articulate way seems like an outlier than the norm. Mike thinks that this is due to the internet and the anonymity it provides, that we lost something essential when talking to other people.
"I think we're struggling with it. It's because we've lost the ability to communicate with empathy. That's the thing, right? You can communicate, share your opinion, or something. But you can also be an asshole about it. And I don't think we are very empathetic anymore." – Mike Steadman
"IRON" Mike Steadman on being the Loudest in a Conversation
One of the problems we have with communicating nowadays is that there seems to be a lot of yelling going on. Some do it mostly for attention, others to push their ideas further than the others.
For Mike, it's a matter of respecting the people you are conversing with.
"If you're the loudest person in the room, you're also the weakest person in the room. And sometimes I think yelling is, I don't want to call it a cop out, right? But yelling is we just write (comments), we don't know how to communicate. We don't know how to respect people's opinion." – Mike Steadman
"IRON" Mike Steadman on Social Media
It is ironic that "social media" has made a lot of people antisocial. Mike thinks it is because people find it easier to just hide behind a computer screen and interact with people that way.
Unfortunately, some people who start a business has the same mindset. But for Mike, it's just not the best way to do things. Regardless of whether you're doing things digitally or analog, you still need to communicate with people properly and build proper relationships with them.
"I've been saying (that) business is a contact sport. Unfortunately, I think a lot of the generation now when they start a business, they think they can just go on social media. But human to human, you still have to look someone in the eye (and) talk to him convey your value. And I think the default (now) is social media. Even dating girls, the default is an app. So I think we have lost the ability to communicate, actually." – Mike Steadman
To hear more from "IRON" Mike Steadman and how Social Media is both the cause and the cure for proper communication, as well as how he helps veteran entrepreneurs connect with the current market, download and listen to this episode.
Bio
"IRON" Mike Steadman is a serial entrepreneur based in Newark, NJ, who's committed to improving the economic and social outcomes of urban youth and military veterans through boxing, entrepreneurship, and new media.
He's the Founder and CEO of IRONBOUND Boxing, a nonprofit that provides free amateur boxing training, entrepreneur education, and employment opportunities for Newark youth & young adults.
Mike and his partner Keith Colon, oversee the legendary IRONBOUND Boxing Academy, their free boxing gym for youth in Newark, NJ. He also runs IRONBOUND Media, a podcast production company that produces branded podcasts for veteran-owned businesses.
Mike is a three-time National Collegiate Boxing Champion from the United States
Naval Academy and Marine Corps Infantry Officer, with deployments to Afghanistan and Japan/Philippines. He's currently a Hoover Veteran Fellow at Stanford University's Hoover Institution, a public policy think tank promoting the principles of individual, economic, and political freedom.
His goal is to raise 1.5 million dollars to build the ever IRONBOUND Courage Academy, a 5,000 sqft boxing facility and small business incubator space for Newark's youth and young adults.
Through his efforts growing IRONBOUND Boxing and IRONBOUND Media, Mike has established himself as a high-profile veteran advocate and the new face of social entrepreneurship.
To learn more visit www.IRONBOUNDBoxing.org and www.IRONBOUNDMedia.com.
To learn about IRONBOUND Boxing and our efforts in Newark, please visit www.Ironboundboxing.org
Mike is also a Hoover Institute Veteran Fellow.
Links
Follow "IRON" Mike Steadman!
Website: IronboundBoxing.org | IronboundMedia.com | DogWhistleBranding.com
Linkedin: in/Iron-Mike-Steadman
Instagram: @IronMikeSteadman
We hope you enjoyed this episode of Follow Your Different™! Christopher loves hearing from his listeners. Feel free to email him, connect on Facebook, Twitter, Instagram, and subscribe on iTunes!