163 How to build a breakthrough | Mike Maples, Jr. Floodgate Capital
Monday 25th September 2023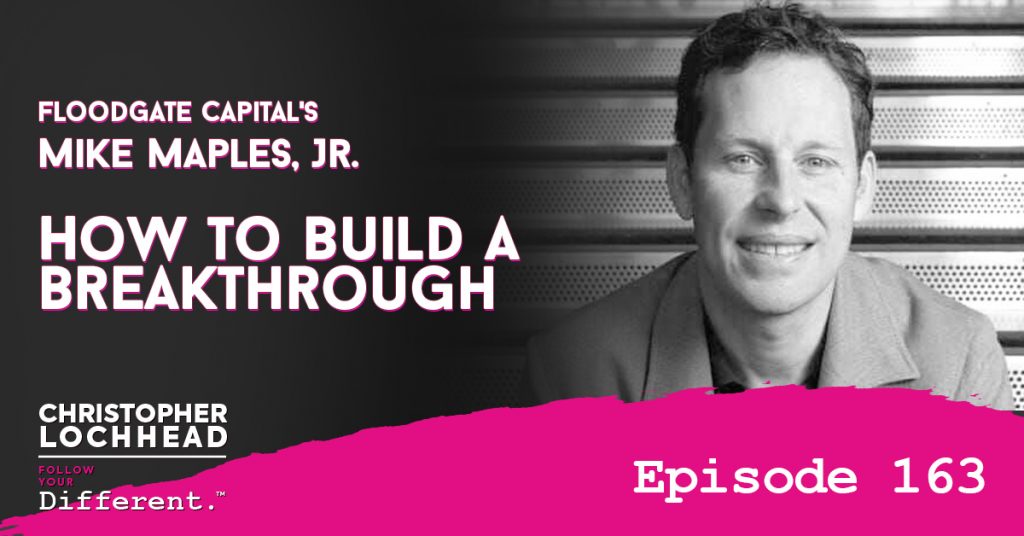 Podcast: Play in new window | Download (Duration: 1:31:07 — 62.6MB) | Embed
Subscribe: Apple Podcasts | Google Podcasts | Spotify | Pandora | Stitcher | RSS | More
Today, the 1st in a two-part series on entrepreneurship, we have entrepreneur, Co-Founder of FloodGate and host of "Starting Greatness" Mike Maples, Jr. He recently wrote "How to build a breakthrough: the secret of back-casting" and we're going to go deep on it today!
Watch out for our next episode, we're having founder/CEOs Osman Rashid. He started $8B, publicly-traded Chegg and now Convo.com.
Status of Silicon Valley
Christopher and Mike starts their discussion about the state of Silicon Valley. Both agreed that most of Silicon Valley companies are the first adopters of sheltering in place and work from home arrangements. It has definitely benefitted some companies who have adjusted early on.
However, they also Mike also describes this coronavirus pandemic as a "hand of God" who "punished" some companies and catapulted some to success.
"I've never really seen a situation where you have a tale of two types of businesses. Most recessions, they affect some worse than others, but they affect everybody badly to some degree. Whereas what we're seeing in this one is: it's almost like a lot of things that were already starting to gather, got accelerated forward — telemedicine, remote distributed work, distance learning, remote work infrastructure. So you could make the case that this has had a dramatic impact in both directions ironically." – Mike Maples Jr.
Moving Forward By Looking Backward
Mike recently created an interesting piece about moving forward by looking backward. He mentions that the future doesn't happen to us. It happens because of us. He further explains why he wrote the piece and how it can help entrepreneurs plan their future.
"Great founders design the future. Design is the right word. It's not just about drawings or how things look or even how they function or perform. It's about people with a determined idea of what a better future should be. Not only building that better future, but convincing people in the present to change the trajectory, that they're on." – Mike Maples Jr.
Create A Movement To Move A Market
For Mike, entrepreneurs don't discover markets. They create movements that become markets. They move people to their point of view and they move people from the present to a better future.
"I thought it might be useful to try to help entrepreneurs get some lessons that I'd received from some of the super performers that I've worked with on how do you build a breakthrough. I've spent a lot of time over the years trying to deconstruct what they do and how it's different from what normal startups look like. That is why I wrote this post on backcasting." – Mike Maples Jr.
To know more about how backcasting can help you design the future that you want and for more information about Mike, download and listen to this episode.
Bio:
Mike Maples, Jr is a Partner at Floodgate. He has been on the Forbes Midas List since 2010 and was also named one of "8 Rising Stars" by FORTUNE Magazine.
Before becoming a full-time investor, Mike was involved as a founder and operating executive at back-to-back startup IPOs, including Tivoli Systems (IPO TIVS, acquired by IBM) and Motive (IPO MOTV, acquired by Alcatel-Lucent.)
Some of Mike's investments include Twitter, Twitch.tv, ngmoco, Weebly, Chegg, Bazaarvoice, Spiceworks, Okta, and Demandforce.
Mike is known for coining the term "Thunder Lizards," which is a metaphor derived from Godzilla that describes the tiny number of truly exceptional companies that are wildly disruptive capitalist mutations. Mike likes to think of himself as a hunter of the "atomic eggs" that beget these companies.
Interests: Calligraphy, cinematography, and sporting clays.
Links:
How to build a breakthrough, Medium
We hope you enjoyed this episode of Follow Your Different™! Christopher loves hearing from his listeners. Feel free to email him, connect on Facebook, Twitter, Instagram and subscribe on iTunes!