297 GrubHub: Bedroom Start Up To Billion Dollar Category King with Mike Evans, Grubhub Founder & Author of Hangry
Friday 1st December 2023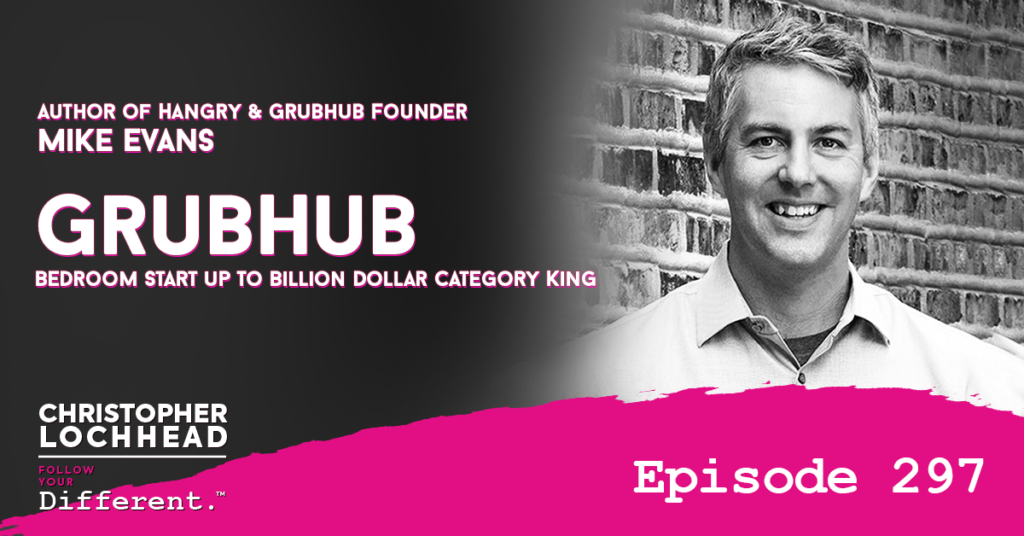 Podcast: Play in new window | Download (Duration: 54:53 — 37.7MB) | Embed
Subscribe: Apple Podcasts | Google Podcasts | Spotify | Pandora | RSS | More
Plato once said that Necessity is the mother of Invention. This could not be anymore true with Category Design, and for our guest today, Mike Evans.
Mike Evans is the founder of Grubhub, a category in food delivery service that was born from the necessity of having a multitude of options in one app, rather than having to look for it in different websites or printed pamphlets. From a budding delivery guide, Mike grew his company into a premier delivery ordering platform, and became Category King in this regard.
On this episode of Christopher Lochhead: Follow Your Different, we go through Mike Evans' journey, from the spark of the idea to managing a successful startup and beyond.
Mike Evans on the inception of Grubhub
The conversation starts off with Mike sharing how their love for great food made them a big fan of ordering.
"I live in a household with a woman who loves to cook. Because we like to eat, sometimes we don't feel like cooking. And when I say we, I mean her – I helped mildly. And maybe it's because we're getting a little older or whatever, sometimes you just don't feel like the rigmarole of going out to a restaurant and sitting down and that. And there's this magical ability to press a button on your Star Trek communicator and have a very nice person show up at your house with some very warm food from one of your favorite local restaurants. It's a fucking miracle."

– Mike Evans
Grubhub came at a time that the home internet is still finding its foothold in everyone's household, and is one of the first few apps you'll find in the App Store.
Necessity brings Innovation
But as the idea might seem like a simple one nowadays, it's surprising that we haven't thought of it sooner, even as a simple website or catalog.
Of course, there was the yellow pages, but it's not like there's a dedicated section there for restaurants, and the numbers aren't always updated. And you still have to resort to pamphlets to find out what's on the menu, so can be quite redundant.
"I just wanted to find who delivered to me, and the Yellow Pages was a terrible, a terrible way to organize that information. It was just alphabetical sorted for the whole city and Chicago is 25 miles tall and 3 miles wide. And so the restaurants that deliver to the White Sox area, don't deliver to the cubby area. Not useful to see it in a in a big Yellow Pages book. And so that was the original idea."

– Mike Evans
While there were some restaurants that were doing online ordering at the time, it wasn't what Mike has originally had in mind. He just wanted to have the location and contact details of a restaurant, as well as and updated menu of what they offer. Eventually they would expand Grubhub to be an ordering platform as well, but that's a few years down the road.
Mike Evans: Content comes first
Now that he has the idea for it, the next step was creating the business and driving traffic into it. Mike Evans explains that the common trap among starting business that bridge two markets together is that they often cater to just one end or the other.
According to Mike, before you even get to any side of the market, you first need to create great content for your business. In his case, he built out the online menu guide first for high-traffic restaurants before marketing it to potential users and showing restaurant owners that it is a viable product.
He basically found a way to get value on his business that doesn't depend on either side of the network to start.
Mike also commented that there's a common misconception that you have to be the first in order to corner a big chunk of the market. For him, being the First Best is important, as you will be used and remember much better this way by users, rather just having a clunky business model that happened to come out first.
To hear more from Mike Evans and his startup journey, download and listen to this episode.
Bio
Mike Evans founded GrubHub in his spare bedroom and grew it into the multi-billion-dollar online food delivery colossus that is a household name.
In Hangry, his insightful and hilarious memoir, he reveals the inside story of how a pizza craving turned into a hobby, and then became a business, and then ultimately grew into a multi-billion-dollar behemoth that changed the way we eat.
Shocking everyone, at the pinnacle of startup success, Mike leaves it all behind, quitting the company he started to bike across the United States.
Links
Connect with Mike Evans!
Mike's Website | Linkedin | Twitter | Instagram | Hangry on Amazon Books
We hope you enjoyed this episode of Follow Your Different™! Christopher loves hearing from his listeners. Feel free to email him, connect on Facebook, Twitter, Instagram and subscribe on iTunes!