223 How To Produce Breakthroughs With "Alien Thinking" with Dr. Michael Wade
Sunday 1st October 2023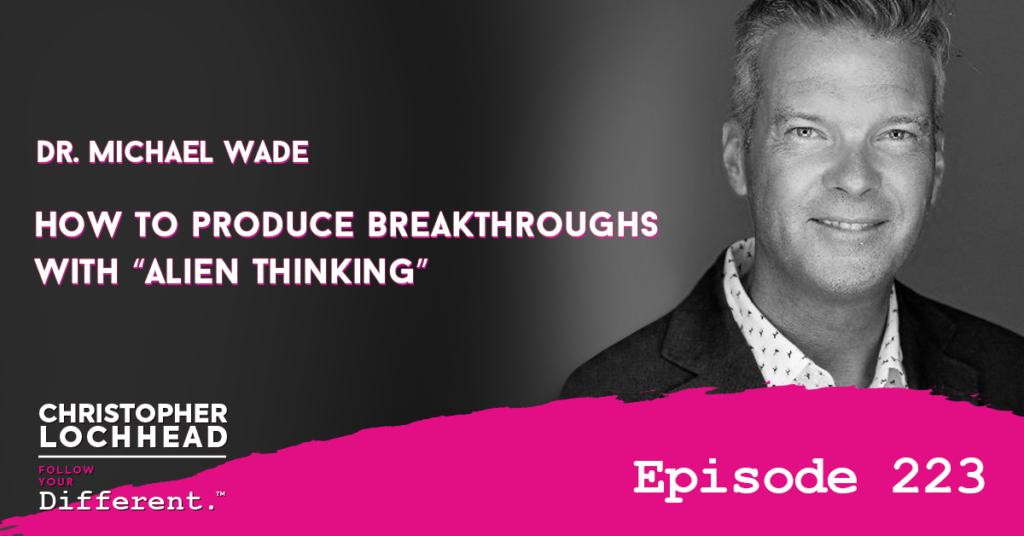 Podcast: Play in new window | Download (Duration: 59:08 — 40.6MB) | Embed
Subscribe: Apple Podcasts | Google Podcasts | Spotify | Pandora | Stitcher | RSS | More
We are living at a time where the world needs breakthroughs more than ever. People who want to develop the ability to create a different future have never been more in demand. Though in order to do this, we need models and framework, as well as ideas and inspiration to help create those breakthroughs in our lives and businesses.
In this episode of Follow Your Different, Dr. Michael Wade shares with us on how to see the world with fresh eyes and the power of different thinking. He also explains how to navigate such that your breakthroughs can actually come to life, and so much more!
Professor Michael Wade's new book, Alien Thinking, blows open much needed research and insight in this regard. ALIEN is actually an acronym that he and his co-authors came up with, and it stands for Attention, Levitation, Imagination, Experimentation, and Navigation. If you want to know the story behind it, stay tuned to this episode.
The Definition of a Breakthrough
The conversation starts of by establishing their definition of a breakthrough. When talking about a breakthrough, Dr. Mike thinks that it should be something a large improvement, or something that hasn't been done before. It has to be enough to take something to the next level.
"It's not just having an idea, which is hard enough. It's about taking that idea and kind of break through the process to become a breakthrough solution." – Dr. Michael Wade
Which is not to say that small changes and incremental innovation is bad. They are great for optimizing those big breakthroughs you have further down the line. It can also help you reach some short-term goals for yourself. Dr. Mike just chooses to focus on studying and looking an eye out for breakthrough innovations.
Exponential Breakthroughs are Harder to Reach
When asked why people seem to find it easier to go incremental than exponential, Dr. Mike thinks that we are simply not built for it. It takes extra effort to break away from the norm and challenge our usual assumptions about how things are done.
If you can't even bring yourself to challenge those assumptions and preconceptions, making a breakthrough will just be a pipe dream.
ALIEN Thinking with Dr. Michael Wade
Dr. Mike talks about how they try to break down what it means to do something original in an original way. This is because having an exponential or radical innovation often requires being original.
Which is why the title of the book, Alien Thinking, fits so well with the idea. Aside from the acronym it stands for, the metaphor of the alien can help you see things in a fresh perspective.
"Every day, we go through life without really questioning things after a while. So what we're challenging people to do when they read the book is to see the world like an alien, and see things for the very first time without preconceived notions about the way things should work. So a lot of what we talked about in the book is about is about how to do that how to regain that ability to see things in, in new ways with fresh eyes." – Dr. Michael Wade
To hear more from Dr. Michael Wade and how to see the world through Alien Thinking, download and listen to this episode.
Bio
Michael Wade is a Professor of Innovation and Strategy at IMD and holds the Cisco Chair in Digital Business Transformation.
He is the Director of the Global Center for Digital Business Transformation.
His areas of expertise relate to strategy, innovation, and digital transformation.
He obtained Honours BA, MBA and PhD degrees from the Richard Ivey School of Business, University of Western Ontario, Canada. Previously, he was the Academic Director of the Kellogg-Schulich Executive MBA Program.
Michael has been nominated for teaching awards in the MBA, International MBA, and Executive MBA programs.
RESEARCH AND THOUGHT LEADERSHIP
Michael has published works on a variety of topics, including digital business transformation, innovation, strategy, and digital leadership. He has published nine books, more than a hundred case studies and articles, and appears frequently in the mainstream media. One of his articles was among the top 20 cited articles in business, management and accounting worldwide for five years, according to Scopus (the largest abstract and citation database of peer-reviewed literature).
His Latest book, published in 2019, is Orchestrating Transformation: How to Deliver Winning Performance with a Connected Approach to Change. His previous book, 2016's Digital Vortex: How Today's Market Leaders Can Beat Disruptive Competitors at their Own Game won multiple awards and has been translated into five languages.
Professor Wade has been named one of the top ten digital thought leaders in Switzerland three times by Bilanz, Le Temps, and Handelszeitung, most recently in 2020.
CLIENTS & INDUSTRY EXPERIENCE
At IMD, Professor Wade directs a number of executive programs related to digital transformation, including Digital Execution, Digital Transformation for Boards, and Digital Disruption. He also founded and directs Europe's first and largest program for executives on digital, Leading Digital Business Transformation.
He has directed custom programs related to strategy and digital business transformation for Vodafone, AXA, Tetra Pak, Honda, Gazprom, Credit Suisse, and Cartier, among others. Michael provides consulting services, executive education, and expert evaluations to several public and private sector organizations on strategy and digital transformation.
He sits on a number of corporate boards as an advisor on digitization and business model disruption. He has lived and worked in Britain, Canada, Japan, Norway, Costa Rica, and Switzerland.
Links
LinkedIn: in/MichaelWade
We hope you enjoyed this episode of Follow Your Different™! Christopher loves hearing from his listeners. Feel free to email him, connect on Facebook, Twitter, Instagram, and subscribe on iTunes!