182 From Unicorn Companies To Camels w/ Matthew Cowan, Next47 Venture Capitalist
Monday 25th September 2023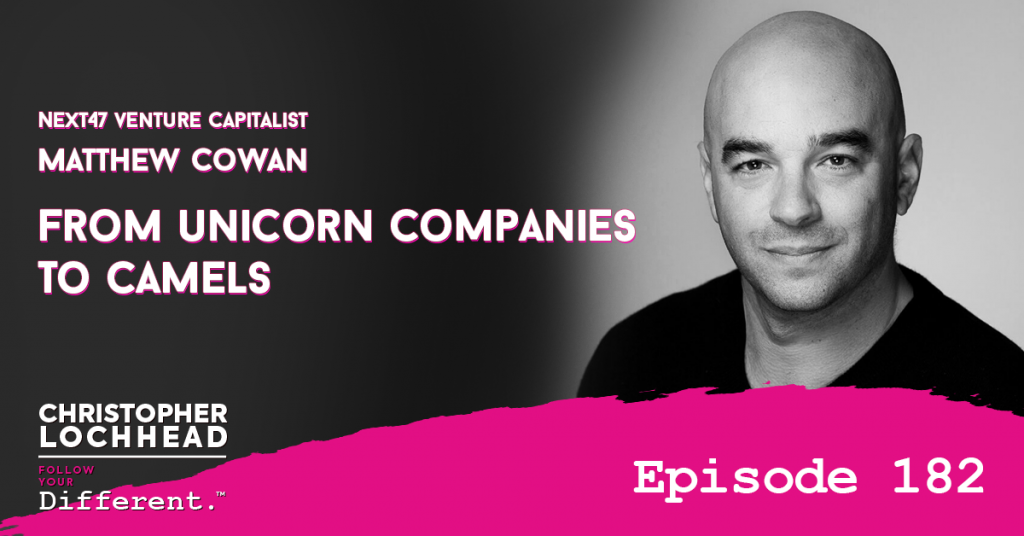 Podcast: Play in new window | Download (Duration: 55:58 — 38.4MB) | Embed
Subscribe: Apple Podcasts | Google Podcasts | Spotify | Pandora | Stitcher | RSS | More
Today, we have none other than Matthew Cowan of Next47. Matthew and Chris have known each other for almost 20 years now. He's been both an investor and an entrepreneur and has invested in a lot of category queens and kings companies.
In this episode, we have a wide-ranging conversation with Matthew about venture capital, entrepreneurship, and a whole lot more.
How The Future Looks Like
Matthew shares that the first question we have to take into consideration is with respect to opportunities. Every evaluation should start with the question: can businesses scale and grow in the current economic environment?
He cites his company as an example, Visible, a platform that has an event management software. Prior to Covid19, they had their fair share of challenges. However, they found themselves on the positive side of this "new normal" as most companies shifted their conferences and events virtually.
"All of our customers said, 'look, I know we can't do these events in person, we still have to do these events. These are mission-critical for our customer relationships, and our forward progress. So we need you to help us figure out how to do events in a virtual construct.' So very quickly Visible figured out a way to deliver you know, near term and experience that satisfies, you know, the key market requirements, and they just closed their best quarter ever by a factor of two x." – Matthew Cowan
Invest In Product Development
Today is a great time for investors to think about the early stages of a new product. Further, Matthew says this is a good time to invest in a team of engineers, lock them in, and come out with a new product to launch. He further shares why this stage of focus is critical for businesses.
"It's okay to lose a lot of money building a company you have to, but if your unit economics have never been positive, the only metric you're going to do is figure out how fast you can burn cash." – Matthew Cowan
The Wrong and Right Way In Investing
Chris cites that there is a wrong and the right way in investing. Obviously the right way is investing in things that hopefully payoff overtime and the wrong way is in unit economics that will not be fixed. Matthew agrees to Chris saying that the greater fool theory is asking: "how do I just get this to the next level and get someone else to buy it — market investors, private equity firms, and others.
"I think we're at the beginning of what's going to be an incredible wave of continued consolidation. We'll probably see that with the scooter companies, as well. Ride-sharing. Companies have to figure out how to create, you know, improve utilization. The way that these businesses could succeed is delivery, density, and utilization. For them to figure out a way to keep the cars full." – Matthew Cowan on Uber
To know more about Matthew Cowan and unicorn and camel VCs, download and listen to this episode.
Bio:
Matthew joined Next47 in 2018 and is based in Palo Alto. His investment focus runs the gamut from the high-growth supply and logistics market to vertical software applications for the enterprise.
Though Matthew is a General Partner in the U.S., he also leads the firm's activities in Israel and views the region as a vital source for deep tech startup activity.
Before joining Next47, Matthew was the CEO and co-founder of Breezeworks, a mobile CRM platform for small business owners.
Prior to Breezeworks, he was the co-founder of Bridgescale Partners, a late-stage venture capital fund with investments in companies such as BitGo, Jasper Wireless, Plum Organics and Proofpoint.
Matthew was also the founding General Partner of Bowman Capital's venture capital group, where he was responsible for leading investments in Arrowpoint Communications (sold to Cisco), Atheros (NASDAQ: ATHR), Broadbase (sold to Kana), epinions (sold to eBay), FastForward Networks (sold to Inktomi), Onebox (sold to Phone.com), ONI Systems (sold to Ciena), RemarQ (sold to Critical Path), SupportSoft (NASDAQ: SPRT), Sycamore Networks (NASDAQ: SCMR) and The Street.com (NASDAQ: TSCM).
Matthew spent the earlier part of his career at Intel Corporation, where he was responsible for investments in CMGI (NASDAQ: CMGI), CNET (sold to CBS), Geocities (sold to Yahoo!), Illustra (sold to Informix), iVillage (sold to NBC), Launch Media (sold to Yahoo!), Liquid Audio and Sportsline, among others.
Matthew holds a BA from Tufts University.
Links:
We hope you enjoyed this episode of Follow Your Different™! Christopher loves hearing from his listeners. Feel free to email him, connect on Facebook, Twitter, Instagram, and subscribe on iTunes! Get amazing, different stories on business, marketing, and life. Subscribe to our newsletter The Difference.