080 B2B & B2C Entrepreneur Strava CoFounder Mark Gainey
Sunday 1st October 2023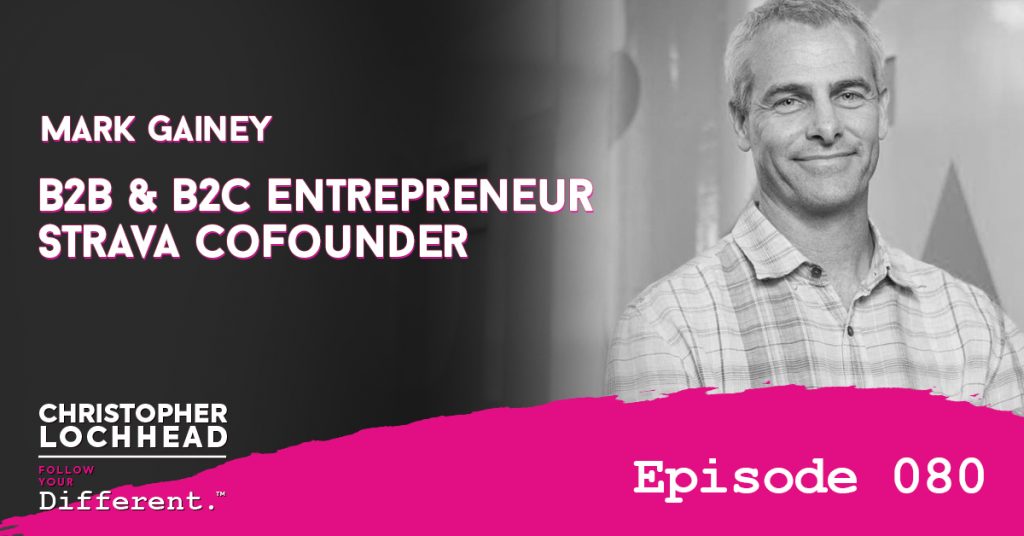 Podcast: Play in new window | Download (Duration: 1:50:26 — 101.2MB) | Embed
Subscribe: Apple Podcasts | Google Podcasts | Spotify | Pandora | Stitcher | RSS | More
In this episode, Mark Gainey, a serial entrepreneur with big-time success B2B and B2C, joins us for another insight-packed conversation. He is the co-founder and chairman of Strava, the athlete's social network. Today, he talks about entrepreneurship and success, despite major setbacks in his life.
The Virtual Athlete's Locker Room
The Swedish word for strive is strava, which is defined as "to make great efforts to achieve or obtain." This is perfect for a team of individuals who have the ambition and attitude to achieve more. Strava's mission is to build the most engaged community of athletes in the world.
Co-founders and former college colleagues Mark Gainey and Michael Horvath dreamt about this company way back in 1995. They had the concept of creating a virtual locker room and they called it "Kana Sports."
"We had this concept at the back of our minds, how Kana sports morphed into Kana communications, we had a great time building that, no regrets." – Mark Gainey
From B2B to B2C
Mark was previously the CEO of Kana Communications which went public late 1999. With a market capital of 11 billion USD and an upcoming new CEO at that time, Mark found himself moving to a different chapter in his life after.
"I distanced myself in a pretty meaningful way. I often joked to people, if you give your child up for adoption, don't stay living in the house." – Mark Gainey, after IPO of Kana Communications
Mark further shares his experiences working in a B2B setting, as a CEO and now B2C setting, as a stockholder.
18 Surgeries in 51 years
One of Strava's irony is they serve the world's cyclists, but Mark quips that he must have been one of the worst ones on the planet. For one, he had been in a major biking accident which required 11 surgeries. These surgeries are on top of other surgeries from skiing accidents and car accidents.
"Nobody is dying anytime soon but it is a test. You just get back to the saddle. You learn and say okay now I can have three more runs, good to play some other day." – Mark Gainey
Mark continues narrating his accident and further says that when he is inactive, he feels like he is a different person. Mark shares that ultimately, this is their goal at Strava: to forget trying to push people to go fast and perform well, just encourage them to engage in activities and sweat at least once in a day.
"I think thats the balance. As much as I know that I take the risk everytime to go out there but the idea of not doing that, that is what would kill me." – Mark Gainey
To hear more about B2B to B2C entrepreneurship and more relevant information from Mark, download and listen to the episode.
Bio:
Mark Gainey is a serial entrepreneur, co-founder, and Chairman of Strava – the social network for athletes.
Mark co-founded Kana Communications Inc. (Kana Inc.), in January 1996 and served as its Chief Executive Officer & President from January 1996 to June 1999.
He has been building successful companies for nearly 20 years. Prior to Kana, from April 1991 to September 1995, Mark Gainey served as an Associate with TA Associates Management, L.P. (TA Associates, Inc.), where he focused primarily on technology and business services investments.
Mark served as President and Chairman of SWK Holdings Corporation. Further, he served as the Chairman of the Board of Directors of Kana Communications Inc., from July 1996 to July 2000.
In addition to these, he has been a Director of Clari Inc. since April 2014.
Mark serves as a Director of TA Associates, Inc.
He served as a Director of GlobalSight Corporation, AlterG, Inc. and BoardVantage Inc.
He served as a Director of Kana Communications Inc., from January 1996 to June 1999 and SWK Holdings Corporation since January 1996. Mark Gainey holds a B.A. in General Studies from Harvard University.
Links:
We hope you enjoyed this episode of Follow Your Different™! Christopher loves hearing from his listeners. Feel free to email him, connect on Facebook, Twitter, Instagram and subscribe on iTunes!