113 Netflix's Founding CEO Marc Randolph
Wednesday 20th September 2023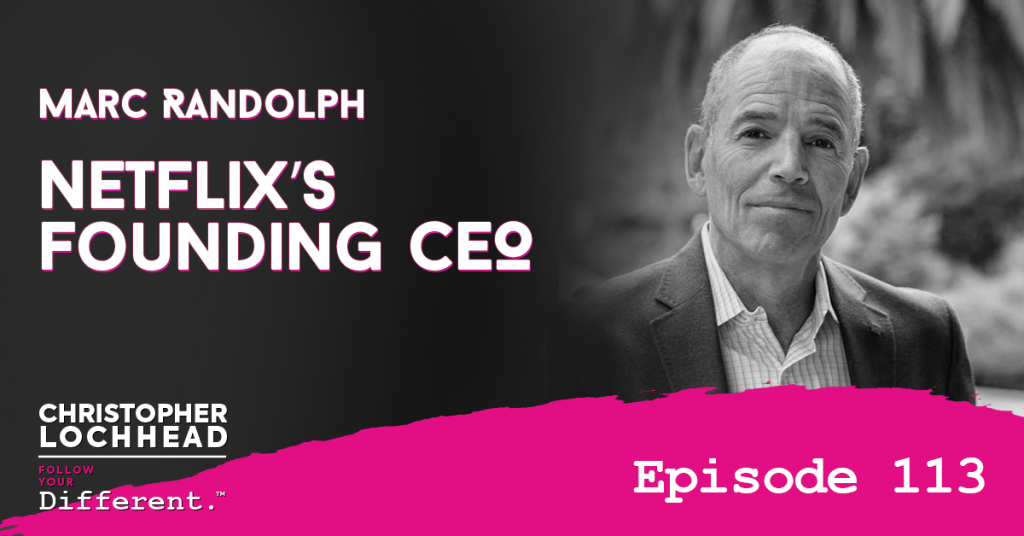 Podcast: Play in new window | Download (Duration: 59:52 — 55.1MB) | Embed
Subscribe: Apple Podcasts | Google Podcasts | Spotify | Pandora | Stitcher | RSS | More
Category King Marc Randolph, the founding CEO of Netflix, joins us today for a stunning conversation about business and life. He's got a legendary bestseller out called That Will NEVER Work: The Birth of Netflix and the Amazing Life of an Idea, which he also talks about in this episode.
This is the first in a special two-part series about two of the most legendary category king companies in the world now Netflix and Amazon. Next episode is with John Rossman, author of "Think Like Amazon."
Book: That Will Never Work
After nearly 16 years after he left Netflix, Marc Randolph talks about his book That Will Never Work. He candidly shares that all those years waiting for the right time to write a book helped him to gain perspective.
First, he says he is wiser business-wise as he worked with a lot of startup companies in the past 16 years. He says he can now identify patterns as they emerge and can safely say he can tell between what works and will not.
"The other cool thing that came out of waiting was, being able to look back and be honest about myself. To really say, 'I don't care how it's perceived. I want this to be a real true portrayal of what it's like in a startup.'" – Marc Randolph
Remembering Moments, Not Details
Marc also shares that he tried to get it right, but since he is writing about events that took place around 20 years ago, he shares how ridiculous it would be to remember every line and dialogue that he featured in the book.
He also shares he focused on remembering the moments, especially the mood of the conversations that he had. Christopher even remarked a portion of the book where Marc wrote: "This is a memoir, not a documentary. This is kind of how I remember things. I'm not trying to get it 100% right."
Everything is Intermingled
Christopher chides with Marc on the part where he mentions that personal life intermingles with business life. Marc stressed the importance of devoting time for spouses and kids, as this is a realistic portrayal of a startup.
"I think part of being successful is having balance in your life. I preach about culture is not about what you say, it's what you do. So I wanted to show how we did it, how do you really have balance in your life." – Marc Randolph
To hear more about life and business lessons from Netflix Founding CEO Marc Randolph, download and listen to the episode.
Bio:
Marc Randolph is a veteran Silicon Valley entrepreneur, advisor, and investor. As co-founder and founding CEO of Netflix, he laid much of the groundwork for a service that's grown to 150 million subscribers and fundamentally altered how the world experiences media.
He also served on the Netflix board of directors until retiring from the company in 2003.
Marc's career as an entrepreneur spans four decades.
He's founded or co-founded six other successful startups, mentored hundreds of early-stage entrepreneurs, and as an investor has helped seed dozens of successful tech ventures (and just as many unsuccessful ones).
Most recently, he co-founded analytics software company Looker Data Sciences, which was recently purchased by Google for $2.6 billion.
Outside of the tech and startup world, Marc sits on the boards of Chubbies Shorts, Augment Technologies, the environmental advocacy group 1% For The Planet, and the National Outdoor Leadership School (NOLS), which he's been involved with for most of his life.
A resident of Santa Cruz, California, Marc travels and speaks all over the world, and still probably manages to go surfing more than you do.
Links:
We hope you enjoyed this episode of Follow Your Different™! Christopher loves hearing from his listeners. Feel free to email him, connect on Facebook, Twitter, Instagram and subscribe on iTunes! Get amazing, different stories on business, marketing, and life. Subscribe to our newsletter The Difference.