035 The Legendary Ken Blanchard
Tuesday 26th September 2023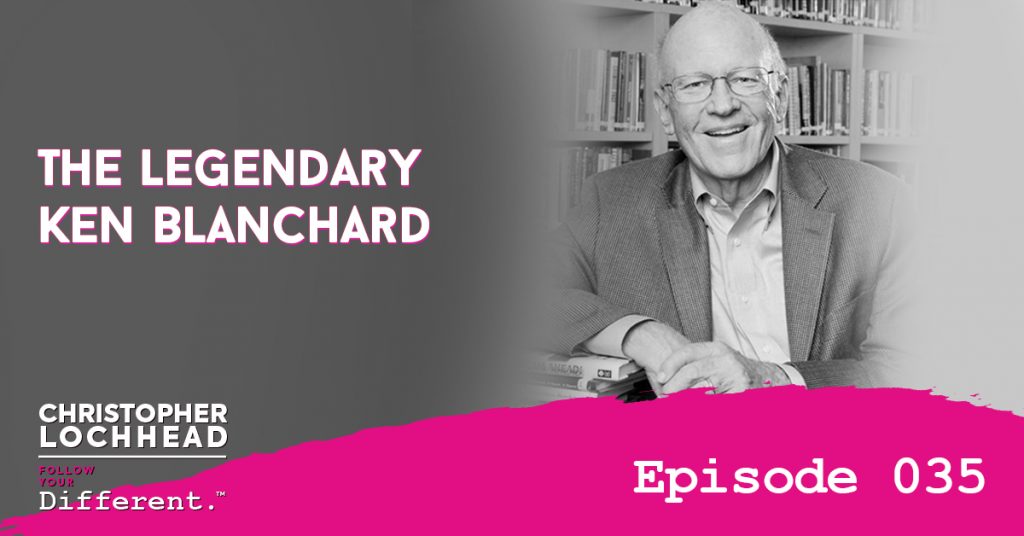 Podcast: Play in new window | Download (Duration: 1:16:01 — 69.8MB) | Embed
Subscribe: Apple Podcasts | Google Podcasts | Spotify | Pandora | Stitcher | RSS | More
Why does great service come from the heart? On today's episode, Christopher sits with his hero Ken Blanchard. One of the greatest authors of all time shares why legendary customer service matters, the power that true servant leadership holds, and so much more.
Exemplifying Simple Truths
Christopher has personally looked up to Ken since reading the life-changing book, The One-Minute Manager. When he dropped out of school and had to seek other ways of learning, Christopher turned to the book that he has given to many others in return.
Simplicity marks everything that Ken writes and teaches. The living legend has written over 60 books, with a new one inspired by the story of Johnny the Bagger, The Simple Truths of Service.
"My mission statement is to be a loving teacher and example of simple truths." – Ken Blanchard
Great, Simple Service
Everyone can make a difference in customer service without having to do anything complicated and by simply reaching out to customers and making them feel important. Great service that makes a difference comes from the heart. However, the human ego often sends people off track of being servant leaders.
Ego gets in the way of service in two ways. One is through false pride or the "more than" philosophy, where you act like you're better than everyone else. And then there is fear or self-doubt, where you have a "less than" philosophy.
"A lot of people say, 'That's an ego problem?' Sure, you focus on yourself." – Ken Blanchard on self-doubt
Writing for People
Growing up, Ken's parents instilled in him the value of staying grounded. When he became president back in junior high, his father reminded him that great leaders are great because people respect and trust them. His mother also taught him to neither think himself beyond others nor let others think they're above him.
He has had a lot of valuable learnings in life. And all these motivate him to continue writing books.
"I just love learning for people." – Ken Blanchard
To hear more about service and being yourself from Ken himself, download and listen to the episode.
Bio:
A prominent, sought-after author, speaker, and business consultant, Dr. Ken Blanchard's friends, colleagues, and clients characterize him as one of the most insightful, powerful, and compassionate individuals in business today. Ken is one of the most influential leadership experts in the world and is respected for his years of groundbreaking work in the fields of leadership and management.
He is also the co-founder and Chief Spiritual Officer of The Ken Blanchard Companies, an international management training and consulting firm that he and his wife, Margie Blanchard, began in 1979 in San Diego, California.
Ken received a master's degree from Colgate University and a bachelor's and Ph.D. from Cornell University. Ken spends time as a visiting lecturer at his alma mater where he is a trustee emeritus of the Board of Trustees. He also teaches students in the Master of Science in Executive Leadership Program at the University of San Diego.
He has received many awards and honors for his contributions in the fields of management, leadership, and speaking. The National Speakers Association awarded him its highest honor, the "Council of Peers Award of Excellence." He was inducted into the HRD Hall of Fame by Training magazine and Lakewood Conferences, and he received the Golden Gavel Award from Toastmasters International.
Ken also received The Thought Leadership Award for continued support of work-related learning and performance by ISA—The Association of Learning Providers. Ken has been inducted into Amazon's Hall of Fame as one of the top 25 best-selling authors of all time. The business school at Grand Canyon University bears his name.
An avid golfer, Ken belongs to the Loch Lomond Golf Club in Scotland.
Links:
We hope you enjoyed Ken Blanchard on this episode of Follow Your Different™! Christopher loves hearing from his listeners. Feel free to email him, connect on Facebook, Twitter, Instagram and subscribe on iTunes!