191 Kara Goldin Founder/CEO Hint Water is Undaunted
Sunday 1st October 2023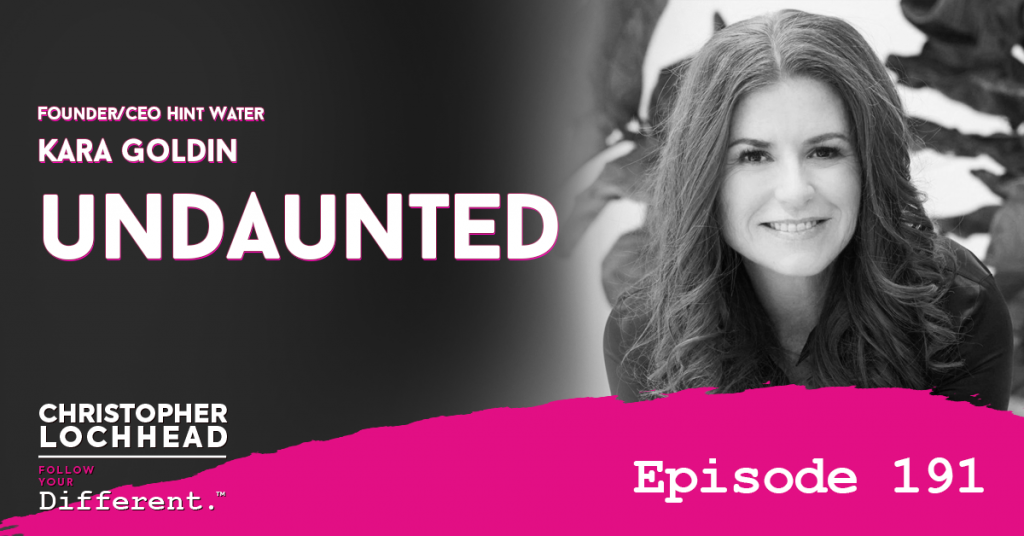 Podcast: Play in new window | Download (Duration: 1:19:34 — 54.6MB) | Embed
Subscribe: Apple Podcasts | Google Podcasts | Spotify | Pandora | Stitcher | RSS | More
In this episode, we do have a world changer. She's both an entrepreneur, author, and podcaster. She's the category queen of a new category of flavored healthy water. Her name is Kara Goldin and she's the founder and CEO of a product you probably have tried and most likely love called Hint water.
Fortune named Kara one of the most powerful women entrepreneurs and Forbes says she's one of the 40 Women To Watch Over 40. Today, she reveals how Hint Water could have just been another idea that never went anywhere if she had let her own doubts or the doubts of others be the end of the story.
Undaunted: Overcoming Doubts and Doubters
Kara has recently launched a new book called Undaunted: Overcoming Doubts and Doubters. It is currently number one on the Amazon charts. IN fact, Sheryl Sandberg, Chief Operating Officer at Facebook says it's a great read for entrepreneurs looking for proof that her dream can come true.
Even if you're not an entrepreneur, you're going to love this conversation with Kara and the story behind her book.
You Don't Need To Know Everything
Christopher asks Kara about the statement, "you don't need to know everything, you just have to know where to start. Kara expounds on her opinion on this statement. A lot of times, people give all sorts of excuses to not get a project starting. Most people say they lack education, or are not well-experienced enough or they spend too much time with their kids.
"Once you ultimately start moving it forward, that actually adds up to getting over challenges, making progress. Whatever it is, you just have to start somewhere in order to ultimately get it going in some direction. You may change direction as well, but at least if you start somewhere. That's ultimately what helps you to achieve your dream success." – Kara Goldin
Looking For The Perfect Job
Kara made a transition from the technology world — where she was an executive handling 200 people — into starting her own business. She was against incredible odds in creating a whole new beverage category and becoming the category queen.
She recounts in this episode what made her decide to do the transition and how while she was looking for the perfect job, she was also scouting to find the best diet and for the best doctors to diagnose her as she gained weight after birthing her kids.
"I saw this, ultimately, this void in the market that would lead me to launch my company Hint. A few steps before that was when I finally decided that the best thing for me to really understand why I wasn't as healthy as I wanted to be, would be to actually look at ingredients and everything that I was eating and drinking." – Kara Goldin
To know more about Kara, her journey to a healthy life, and why she is undaunted, download, and listen to this episode.
Bio:
Kara Goldin is a disruptor, builder, thought leader, and successful entrepreneur.
She is the Founder and CEO of Hint, Inc., best known for its award-winning Hint® water, the leading unsweetened flavored water.
She has been named one of InStyle's Badass 50, Fast Company's Most Creative People in Business, Fortune's Most Powerful Women Entrepreneurs, Fortune's Most Innovative Women in Food & Drink, and EY Entrepreneur of the Year for Northern California.
The Huffington Post listed her as one of six disruptors in business, alongside Steve Jobs and Mark Zuckerberg.
Kara has successfully navigated the world of large companies and startups in many industries including media, tech, and consumer products.
In addition, she understands retail and direct to consumer well. She is an active speaker & writer and hosts the podcast Unstoppable with Kara Goldin where she interviews founders, entrepreneurs, and other disruptors across various industries.
Kara's first book, Undaunted, published by Harper Leadership, will be released in October 2020.
She lives in the Bay Area.
Links:
We hope you enjoyed this episode of Follow Your Different™! Christopher loves hearing from his listeners. Feel free to email him, connect on Facebook, Twitter, Instagram, and subscribe on iTunes!