034 Mindfulness and Music: Julianna Raye
Sunday 1st October 2023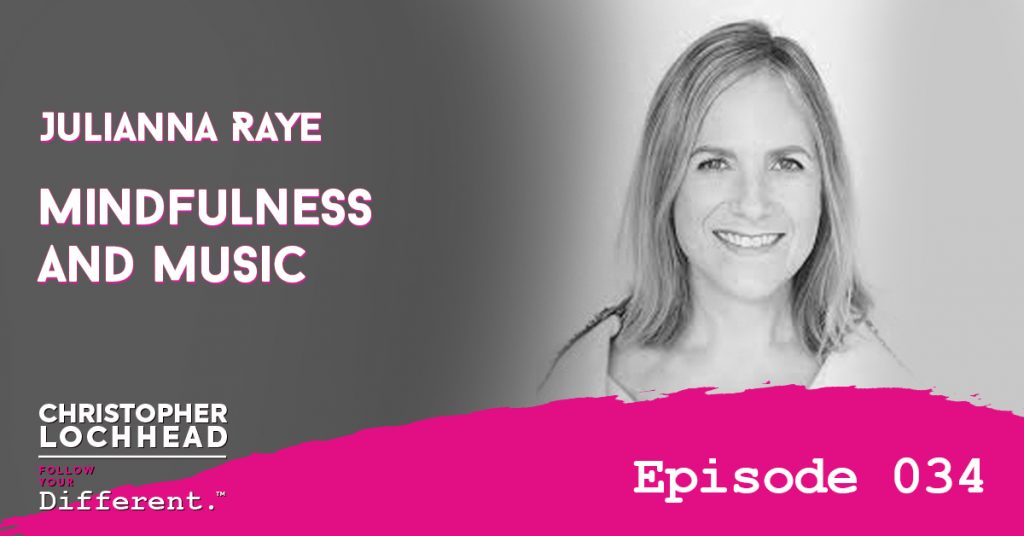 Podcast: Play in new window | Download (Duration: 1:26:55 — 79.8MB) | Embed
Subscribe: Apple Podcasts | Google Podcasts | Spotify | Pandora | Stitcher | RSS | More
Why does being present mean losing oneself? On today's episode, mindfulness guru Julianna Raye shares an insightful conversation with Christopher. Learn how you can apply your attention in ways to truly make your life effective.
Mindfulness and Being Present
Mindfulness practice entails knowing how to apply your attention through optimal ways. Understanding where to focus one's attention alleviates even a simple headache. Opening up to the experience as it is happening will help release the pain, even if not always.
It turns out, there are two ways by which you can handle pain. One is to turn towards the pain and directly work with it or to anchor away from it. And it matters to be present in the situation in order to find a way to deal with it.
"I like to define what it means to be present in a way where people can actually understand how to do it—if they wanna do something." – Julianna Raye on being present
Three Skill States
There are three skill states to consider to achieve mindfulness: concentration, sensory clarity, and equanimity. Julianna says that these are naturally-occurring. And they come up in life all the time, associated with the most fulfilling moments.
"The key is a lot of people don't know that those heightened states—those skills—you can develop them and then they're transferrable." – Julianna Raye
On Concentration
When you achieve concentration, you get to spend more time focusing on what matters to you and less time being pulled into distractions. Nobody succeeds without figuring out how concentration works.
"Concentration is the ability to focus on what you choose." – Julianna Raye
Christopher says that it's interesting how you lose yourself in concentration. This means that the more present we are for us, the less alive we are. And the less present that we are, the more alive we are.
"It's this amazing dichotomy to me that when we lose ourselves the most is when we're alive the most." – Christopher Lochhead
To hear more about the other skill states that affect mindfulness from Julianna herself, download and listen to the episode.
Bio:
Julianna is devoted to deepening people's understanding of research-supported mindfulness and empowering anyone to guide others in its practice. She has been training individuals and groups in the Unified Mindfulness system for nearly two decades.
Julianna is also a founding member of Brightmind Meditation, LLC—the developer of the Brightmind mindfulness app. She also consults and offers private coaching, onsite and online mindfulness training.
She has had more than 100 weeks of immersive silent retreat training in both the mindfulness and Zen traditions. Through these, she has completed over 12,000 hours of formal practice.
Along the way, she has participated in research including a UCLA study comparing long-term meditator's brains with those of non-meditators.
She also designed and led the training for a workplace research study carried out under David Creswell, Ph.D. And that study showed positive outcomes with regards to improved employee well being and lower stress.
Links:
We hope you enjoyed Julianna Raye on this episode of Follow Your Different™! Christopher loves hearing from his listeners. Feel free to email him, connect on Facebook, Twitter, Instagram and subscribe on iTunes!