114 Think Like Amazon w/ John Rossman
Wednesday 6th December 2023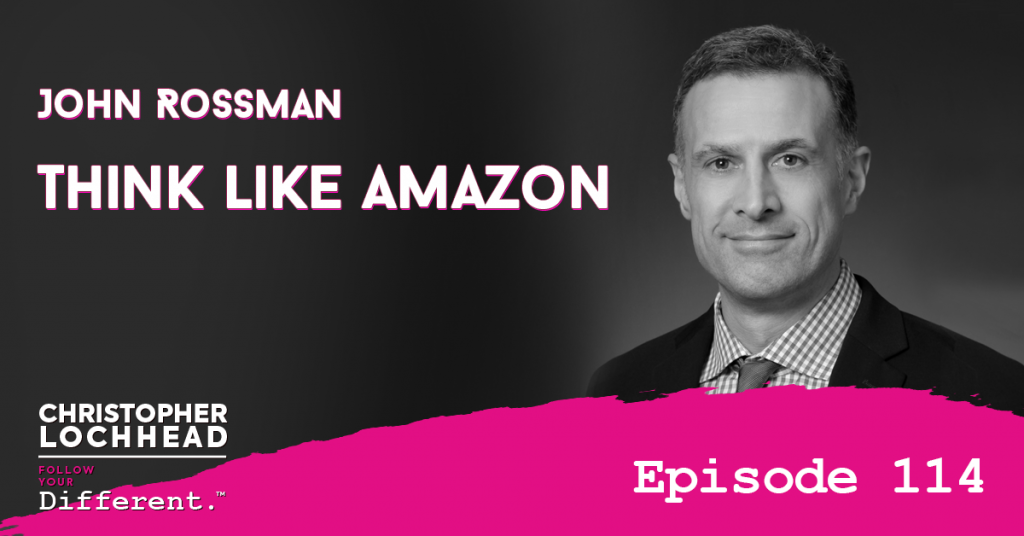 Podcast: Play in new window | Download (Duration: 56:44 — 78.2MB) | Embed
Subscribe: Apple Podcasts | Google Podcasts | Spotify | Pandora | RSS | More
For the second part of our two-part series on legendary category king companies, we are featuring John Rossman, author of "Think Like Amazon."
We have a fun, insightful conversation about how Amazon became arguably the most innovative category king in the world and most importantly, how you can learn to think like Amazon in your career.
Digital vs. Traditional
Christopher probes John on his thoughts about the distinction between traditional businesses versus data-driven, digital ones. John shares that other than the technological aspect, he could relate digital businesses to athletic attributes such as speed and agility.
In detail, John said speed is about doing a repetitive motion, extremely well and efficiently. In business terms, that is considered as operational excellence. The second attribute, agility, is the ability to sense and make change happen.
"Part of being digital is about the eternal pursuit of becoming perfect. How do we reduce cycle times? Improve quality, reduce costs? Cut out little pieces of friction from both our customers and employees?" – John Rossman
Embracing New Niches
John cites Amazon's business strategy in terms of embracing new niches. The other aspect of finding problems, then working on a solution, is the notion of working into the future. He defines the future as a "time and a place for unconstrained thinking."
"Amazon's answer to that, their philosophy or their technique is: start with the customer and work backward. " – John Rossman
When teams are brainstorming, all of these constraints come to the table and they deliberately understand which parts of the solution they are. Afterward, they identify the right mindset, then the right tools and ultimately, the right approach in order to solve the problem.
Architecture is the Business Strategy
Citing some parts of the book, Think Like Amazon, Christopher asks John the idea behind the concept architecture is the business strategy.
"You have to plan forward on how you build things, because the constraints, the flexibility the adaptability on how you build your operations and your technology architecture—will either be a key enabler or key constraint in your ability in going forward." – John Rossman
In the end, John shares that his whole goal is to give a business person, who is not technology architect, a set of tools and questions that they utilize to be a better partner with their technology expert
To hear more about how digital businesses like Amazon innovate across entire the entire value-chain and John Rossman's thoughts on how to make wise bets on new business ideas, download and listen to the episode.
Bio:
John Rossman, Digital and Innovation Advisor
Mr. Rossman is an expert at digital business models, operations and organizing programs. He has led engagements on developing innovation processes, Internet of Things strategies, marketplace and API driven platform business models.
He is a sought after speaker on creating a culture of operational excellence and innovation.
Mr. Rossman has worked with clients across various industries, including retail, insurance, education, healthcare, consumer products, industrial products and transportation.
Mr. Rossman's notable assignments include The Bill and Melinda Gates Foundation, Microsoft, Nordstrom and several of the world's leading retail and insurance organizations.
Prior to Rossman Partners, John was a Managing Director at Alvarez and Marsal, a performance improvement consulting firm.
Prior to A&M, John was an executive at Amazon.com where he launched the Marketplace business and third party selling platform, and ran the merchant services business.
Links:
We hope you enjoyed this episode of Follow Your Different™! Christopher loves hearing from his listeners. Feel free to email him, connect on Facebook, Twitter, Instagram and subscribe on iTunes! Get amazing, different stories on business, marketing, and life. Subscribe to our newsletter The Difference.