124 John McAfee For President
Wednesday 20th September 2023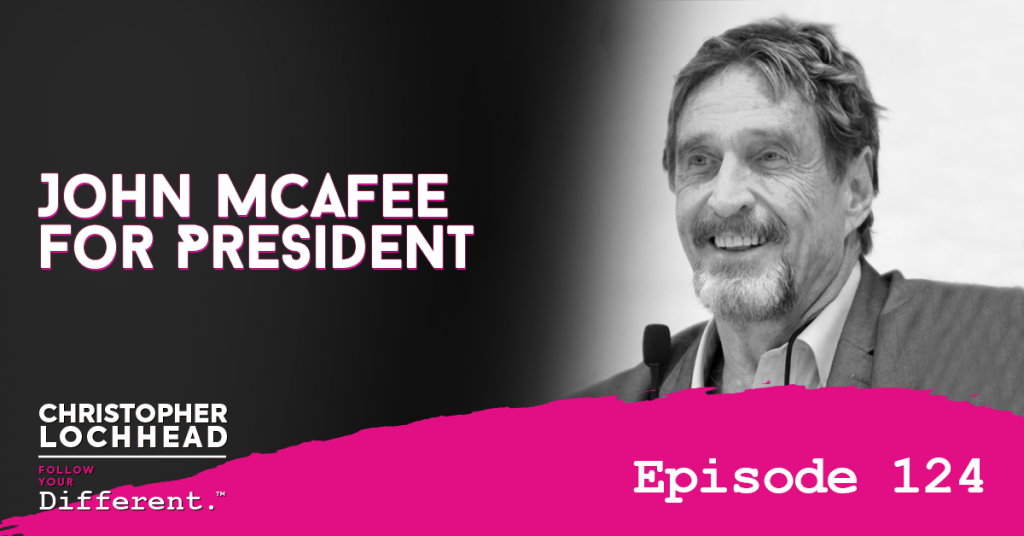 Podcast: Play in new window | Download (Duration: 44:02 — 60.6MB) | Embed
Subscribe: Apple Podcasts | Google Podcasts | Spotify | Pandora | Stitcher | RSS | More
After breaking the internet with our Mia Khalifa Episode 111, we are bringing you another episode with John McAfee, Legendary Silicon Valley entrepreneur, and 2020 U.S Presidential candidate. He joins us to share his experiences in Silicon Valley and talks about why he thinks "it doesn't matter who the President is. This will no doubt be one of our most controversial episodes.
Then and Now
John has been called "The most interesting man in the world." He was an outlaw, from parts unknown, He has lived part of his adult life, on the run, somewhere in Latin America. Today, John is a candidate for US President in 2020
If his name rings a bell, that is because he is the founder of McAfee The Security Company. John also got into a well-publicized Twitter war with Kim.com, the founder of now-defunct file hosting service Megaupload.
Garden of Eden of Technology
John passionately describes Silicon Valley then as the Garden of Eden of Technology. It was known as a tech hub for the world. He also shared interesting thoughts on Steve Jobs, Larry Ellison, Bill Gates, and Nolan Bushnell.
"Most of the personalities in Silicon Valley were pleasant, creative, very different. Steve Jobs, as an example, never find time to take a bath. I can smell him across the room. That was just his thing, he did not have the f*cking time to take a bath. He is a serious businessman who took a bath at least once a month, I know I did. But I also work 18 hours a day, 7 days a week for 2 years. Not because I had to, but because I f*ckin' want it. I love what I was doing." – John McAfee
In the past, John describes Silicon Valley as heaven. He is also candid that he does not know anything about it now, as he left it 25 years ago.
"Everyone you met in your circle, did something or showed you something which opened your mind to the potential of digital technology. Trust me that's not there anymore." – John McAfee
The President Doesn't Matter
John shares why he thinks it doesn't matter who sits in the Oval Office. He claims that the CIA is running the show. He says there are instances that the CIA manipulates information, information that the President refers to when making decisions that affect not only the country but the whole world.
John shares more of his insights on CIA, one of the biggest clients of McAfee Security Company in the past.
"Selective information is the ultimate power." – John McAfee
To hear more information about John McAfee and to listen to his ideas on his bid to U.S. Presidency for 2020, download and listen to the episode.
Bio:
John David McAfee (/ˈmækəfiː/ MAK-ə-fee;[1][2] born September 18, 1945) is a British-American computer programmer and businessman. He founded the software company McAfee Associates in 1987 and ran it until 1994, when he resigned from the company. McAfee Associates achieved early success as the creators of McAfee, the first commercial antivirus software, and the business now produces a range of enterprise security software. The company was purchased by Intel in 2011 and spun back out in 2017 with TPG Capital owning a majority stake, though the software has always borne the McAfee brand name.
McAfee's wealth peaked in 2007 at $100 million, before his investments plummeted in the financial crisis of 2007–2008.
Since leaving McAfee Associates, he has founded the companies Tribal Voice (makers of the PowWow chat program), QuorumEx and Future Tense Central, among others, and has been involved in leadership positions in the companies Everykey, MGT Capital Investments and Luxcore, among others.
His personal and business interests include smartphone apps, cryptocurrency, yoga, and all-natural antibiotics.
He resided for a number of years in Belize, but later returned to the United States in 2013.
McAfee is also a political activist, who sought the 2016 Libertarian Party nomination for President of the United States in the 2016 election, losing to former New Mexico governor Gary Johnson.
Links:
John McAfee kicks off Presidential campaign with the aim of smashing the system
We hope you enjoyed this episode of Follow Your Different™! Christopher loves hearing from his listeners. Feel free to email him, connect on Facebook, Twitter, Instagram and subscribe on iTunes! Get amazing, different stories on business, marketing, and life. Subscribe to our newsletter The Difference.