111 Mia Khalifa Digital Media Super Star
Monday 25th September 2023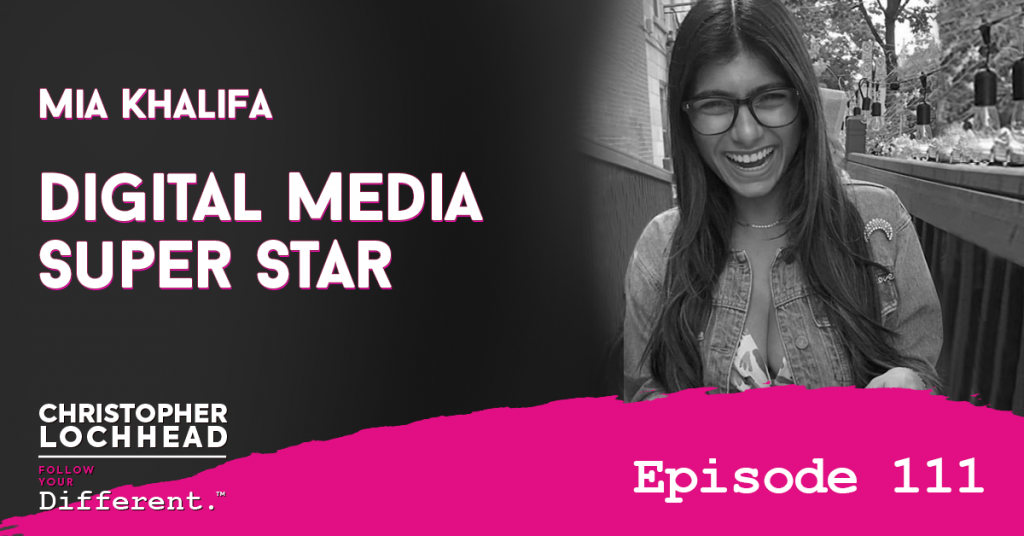 Podcast: Play in new window | Download (Duration: 1:21:13 — 74.7MB) | Embed
Subscribe: Apple Podcasts | Google Podcasts | Spotify | Pandora | Stitcher | RSS | More
Former adult actor and now digital media star, Mia Khalifa, joins us today for another riveting conversation. She walked away at the peak of her popularity to design a new life and career. She shares with us today about her past and how low self-esteem affected her decisions and how she's moving forward with her life.
Sports, Punk Rock, and Pets
Mia Khalifa is a sports commentator, with a special love for The Washington Capitals Hockey team. Other than hockey, she used to watch basketball a lot when she was a young immigrant from Lebanon.
"It's kind of just been a common ground that I could have with people and a way for me to connect, a way for me to feel like I am part of something or feel like I'm a part of this group even if I don't know anyone. Sports is the unifying factor in this world." – Mia Khalifa
Other than being a huge sports fan, she is a self-proclaimed foodie and she loves punk rock. She also shares in this episode how she loves her pet dogs so much and how she is trying her best to be the person her dogs think she is: a better human being.
Battling Low Self-Esteem
Mia is also a digital celebrity, raking a total of 17.7 million followers on Instagram alone. In fact, she met her fiance on Instagram. Her fiance is a Swedish Chef, whom she candidly shares, as someone who doesn't know who she is.
She has never gotten used to fame as she shares how she battled low self-esteem when she was younger. She admits that due to low self-confidence, she made decisions that she regret at the present time.
"I think it was being overweight for such a large part of my life and on top of that, I didn't really have many friends in highschool. I never fit in in any certain group or the popular crowd or anything. I think it also had a lot to do with never feeling like I belong." – Mia Khalifa
The Ugly Side of Adult Entertainment
Most of her followers had known her from her previous career as an adult entertainment actor. In fact, she used to be #1 in the biggest Adult sites in the world. She started her adult film career when she was just 21 years old.
What most people do not know is her career only lasted 3 months. She shot about twelve scenes, where produces paid her only $12,000. Adult actors do not receive any kind of royalty, while producers amass millions.
"I was fooled into thinking they had my best interest at heart, when in reality, they were just looking out for themselves. They looked at me and saw a huge paycheck." – Mia Khalifa on Adult Entertainment Producers
To hear more about #1 Adult Actor to Digital Media Star Mia Khalifa, download and listen to the episode.
Bio:
Mia Khalifa is a social media personality, sports commentator and former adult film actor.
She's a passionate Washington, D.C. sports fan with a love for the Washington Capitals hockey team.
Links:
Mia Khalifa is among the world's most-watched women. Yet the porn industry is keeping the profits.
Mia Khalifa: Why I'm speaking out about the porn industry – BBC News
We hope you enjoyed this episode of Follow Your Different™! Christopher loves hearing from his listeners. Feel free to email him, connect on Facebook, Twitter, Instagram and subscribe on iTunes! Get amazing, different stories on business, marketing, and life. Subscribe to our newsletter The Difference.