327 Queer In The C-Suite with Jim Fielding, Bestselling Author of All Pride No Ego: A Queer Executive's Journey to Living and Leading Authentically
Wednesday 20th September 2023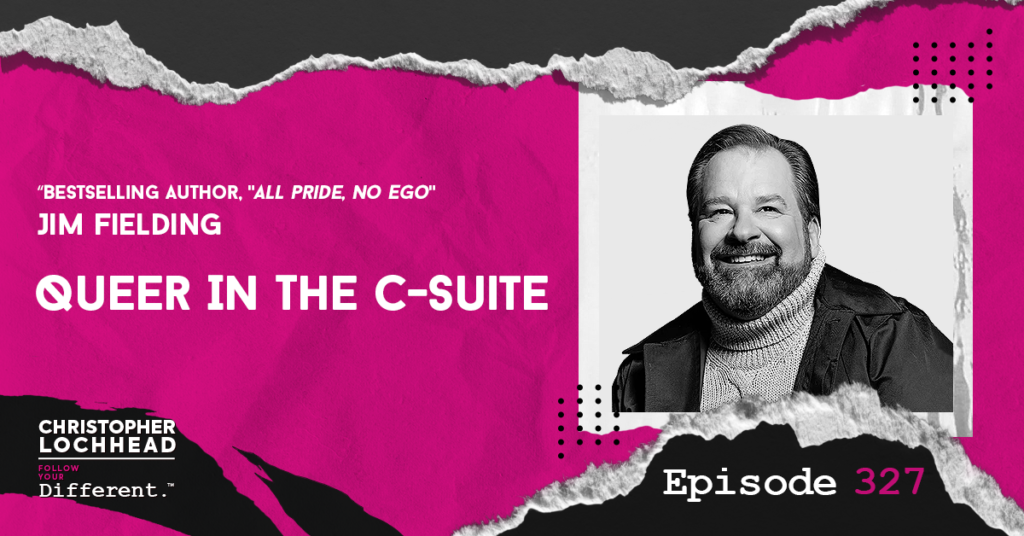 Podcast: Play in new window | Download (Duration: 1:38:32 — 67.7MB) | Embed
Subscribe: Apple Podcasts | Google Podcasts | Spotify | Pandora | Stitcher | RSS | More
Many of us are different; and for many of us being different is a superpower. But what do you do if your different is not always accepted in the business world? How can you use your different as an advantage? We get into that and much more with our guest, Jim Fielding.
Jim Fielding has had an extraordinary executive career, working at the highest levels of some of the most well-known and respected corporations in the world companies like The Gap, Disney, DreamWorks, and 20th Century Fox. And Jim's got a stunning new book out. It's called All Pride, No Ego: A queer executive's journey to living and leading authentically.
Today, we get into all of it: from how to have a legendary career as an openly gay man and how to be different. We also dig into many of the thorny social dynamics that are being discussed and dealt with right now around the LGBTQ+ community in modern America.
You're listening to Christopher Lochhead: Follow Your Different. We are the real dialogue podcast for people with a different mind. So get your mind in a different place, and hey ho, let's go.
Jim Fielding on being Different and having the Freedom to follow it
The conversation starts off with Jim's younger years, as he reveals that he felt different around the age of six or seven and had a sense of destiny beyond his hometown.
He grew up in Toledo, Ohio, near Lake Erie, and had a middle-class upbringing with a firefighter father and stay-at-home mom. But he has always felt that his parents gave him a sense of freedom early on.
Jim's book, which was initially meant for 2024, has taken on more urgency amid the evolving LGBTQ+ rights movement. He shares how it has evolved into a platform for conversations, community building, and addressing inequities. They then talk about the impact of the book and how Jim is using his platform to advocate for marginalized communities and human rights.
Jim Fielding on the state of queer communities then and now
They then talk about the state of queer communities over the years. Jim Fielding discusses the evolution of attitudes towards LGBTQ+ individuals and their experiences.
Jim reflects on the changing landscape and the challenges faced by the queer community. He notes that the current situation feels like a mix of progress and regression, with moments of hope interspersed with concerning headlines about anti-LGBTQ legislation and discrimination. Jim emphasizes the need to own the narrative and stand up against efforts to push the community back into the closet. He draws parallels to historical moments, such as the fight for rights in the 1960s and the AIDS crisis in the 1980s.
Despite all these, Jim's optimism remains strong, bolstered by the resilience of the queer community and the activism of younger generations.
On standing up and being an Ally
The conversation then shifts to Christopher's perspective as an ally and his observations about changing attitudes. He contrasts the comparatively accepting atmosphere of the 1970s and 1980s, exemplified by cultural icons like David Bowie and Annie Lennox, with the challenges faced during the AIDS epidemic and subsequent backlash. He expresses confusion about the shifts in attitudes and experiences, wondering if his memories of acceptance were naive or if there has been a recent shift.
Jim offers insights into the impact of the AIDS epidemic on perceptions of the LGBTQ+ community and the subsequent challenges it faced. He discusses how this period led to a more pronounced demonization of LGBTQ+ individuals, especially by conservative groups. They also touch on the struggle for marriage equality and the ongoing fight for LGBTQ+ rights.
Bio
Jim Fielding, a proud Ohio native and Indiana University Hoosier, started his career on the department store floor.
Over the next 30 years, he would lead some of the world's most beloved media and retail brands, including The Gap, Disney, Claire's, Dreamworks, and 20th Century Fox.
Jim is known for his ability to combine storytelling and product merchandising into unforgettable consumer experiences. As culture builder and talent spotter, he has recruited and trained global leaders in a variety of disciplines and at all levels.
Today, Jim spends his time and talents on independent media, entrepreneurship, higher education, and philanthropy.
He's a Partner at Archer Gray, an independent media company inspiring change through storytelling and innovative brand collaborations.
Jim is also the founder of the boutique consultancy, Intersected Stories, and proudly serves as part-time Executive-In-Residence for IU Ventures and The Office of Diversity, Equity, and Inclusion.
He is also an active angel investor and advisor to early-stage startups and their founders.
Jim has been active in philanthropy for over 25 years, serving on the boards of charitable organizations like Make-A-Wish, GLSEN, Kidspace Children's Museum, and the American Red Cross.
He was recognized by the Walt Disney Company as Executive Volunteer of the year in 2011.
More recently, Jim has become a vocal advocate for LGBTQ+ rights and social justice.
Jim currently lives in Atlanta, Georgia with his partner, Joseph, and their dogs, Cricket and Olive. In the summers, you will find him lounging lakeside in Northern Michigan.
Links
Connect with Jim Fielding!
Archer Gray | LinkedIn | Instagram | All Pride, No Ego | More about Jim
We hope you enjoyed this episode of Christopher Lochhead: Follow Your Different™! Christopher loves hearing from his listeners. Feel free to email him, connect on Facebook, Twitter, Instagram, and subscribe on iTunes!