298 Is Sam Bankman-Fried the Crypto Madoff? with "Madoff Talks" Bestselling Author Jim Campbell
Friday 1st December 2023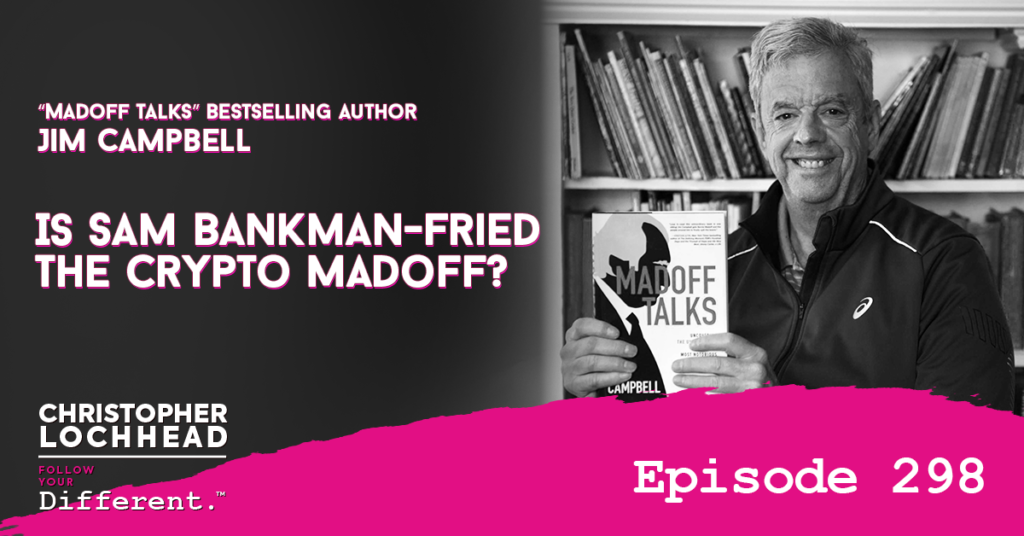 Podcast: Play in new window | Download (Duration: 1:29:13 — 61.3MB) | Embed
Subscribe: Apple Podcasts | Google Podcasts | Spotify | Pandora | RSS | More
Given recent events in the world of Cryptocurrency, almost everyone in business is currently pondering the following question: Is Sam Bankman-Fried, founder and CEO of the crypto exchange FTX, the Bernie Madoff of Crypto? Or is he merely an entrepreneur who made some horrible errors? Today at Christopher Lochhead: Follow Your Different, we are joined by the legendary Jim Campbell to examine this question.
Jim Campbell is the author of the bestselling definitive book on Bernie Madoff called Madoff Talks. We did a deep dive with him on the book and on the topic of Madoff himself. Check it out if you're interested in how Madoff manipulated everything before it all fell apart (FYD 217).
On this episode of Christopher Lochhead: Follow Your Different, we go deep with Jim Campbell on the similarities and the differences on old school scammers like Bernie Madoff and the disaster that is Sam Bankman-Fried and the fate of FTX.
Jim Campbell on Sam Bankman-Fried: Madoff 2.0 or not?
The dialogue starts off direct to the point: is Sam Bankman-Fried Madoff 2.0?
Jim responds that there are similarities but also differences between the two. The biggest similarities is that both Madoff and Bankman-Fried comingled their firm and customer assets to boost the value of its company, with Bankman going so far as to use said money to create more connections in the tech, business, and even so far as government and politics.
Both were also involved in something like a Ponzi scheme, though FTX allegedly took it a step further by using its own FTX tokens as collateral to further increase its own valuation, which is a form of market manipulation.
The baffling behavior of Sam Bankman-Fried
When you are accused of a crime as big as the one Sam Bankman-Fried is currently facing, it's normal to avoid the public eye for a while, and make no statements unless in the presence of their lawyer, lest they say something incriminating.
Which is why Sam Bankman-Fried's behavior baffles everyone, as he goes so far as guest for certain podcasts and interviews. Yet he still had the arrogance and audacity to say that he didn't know what he has done would result in a loss of $32 billion dollars for their investors and consumers.
Jim Campbell on doing your due diligence
The thing is, there were a lot of questionable aspects to FTX, once you dug into their model. Unfortunately, doing the due diligence seems to be a rare thing nowadays, due to the fear of missing out. With the boom of crypto in the latter half of the 2010s and even more so during the pandemic, investors wanted to hop it to latest coin or token, should it increase in value exponentially like what happened to Bitcoin.
Some tech companies and businesses are also guilty in this regard. Take for example on what happened to Theranos. Businesses were so eager to jump in even with just a concept, because they think it'll be more expensive to establish connections and partnerships later on. Some were dazzled by the names attached to the concept, others by the "projected" earnings should it be developed. In the end, they all lost their investments because they couldn't be bothered to do their due diligence beforehand.
To hear more from Jim Campbell, download and listen to this episode.
Bio
Jim Campbell is the host of the nationally syndicated radio show Business Talk with Jim Campbell. He is known for his hard-hitting interviews of leading figures from the worlds of business, politics, and sports.
Known for "firsts," Campbell snagged the first extensive interview with former New York Governor Eliot Spitzer after his resignation, the first interview with former Tyco CEO Denis Kozlowski after his release from prison, and the first broadcast interview with former stock analyst Roomy Kahn, a government informant in one of the biggest insider trading busts in American history.
Campbell's extensive corporate, consulting, and entrepreneurial business background includes roles at KPMG Consulting, Dean Witter Financial Services (now Morgan Stanley), and IBM. He is founder and president of JC Ventures, Inc., a management consulting business.
Links
LinkedIn: in/JimCampbell
Book: Madoff Talks: Uncovering the Untold Story Behind the Most Notorious Ponzi Scheme in History
More about Bernie Madoff and Madoff Talks:
Wall Street Journal: Bernie Madoff Dead at 82
CNBC: Bernie Madoff dies, Mastermind of the Nation's Biggest Investment Fraud
More about Sam Bankman-Fried:
Exclusive: SBF secretly funded crypto news site
We hope you enjoyed this episode of Follow Your Different™! Christopher loves hearing from his listeners. Feel free to email him, connect on Facebook, Twitter, Instagram, and subscribe on iTunes!