270 Free Speech with Jacob Mchangama, Author of "Free Speech: A History from Socrates to Social Media" 
Monday 25th September 2023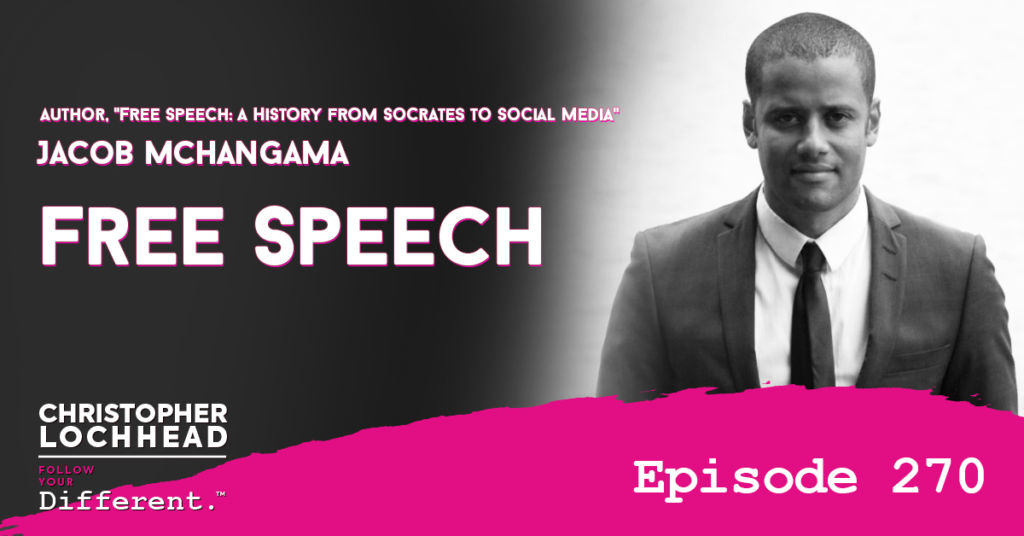 Podcast: Play in new window | Download (Duration: 1:25:40 — 58.8MB) | Embed
Subscribe: Apple Podcasts | Google Podcasts | Spotify | Pandora | Stitcher | RSS | More
Free speech is often called the first freedom and the bedrock of democracy. Our guest today says that on one hand, free speech around the world has never been better. But right now, we are experiencing a free speech entropy in the United States. On this episode of Christopher Lochhead, we have a deep dialogue about Free Speech with Jacob Mchangama.
Jacob Mchangama is a global expert on free speech. Political satirist PJ O'Rourke says that his new book is. "The best history of free speech ever written, and the best defense of free speech ever made." That book is called Free Speech: a history from Socrates to social media, and it is out now. Jacob is a Danish lawyer, and the founder of Justicia, a Copenhagen-based think tank that focuses on human rights, freedom of speech, and the rule of law.
So if you want to learn more about free speech, how it has evolved through history, and what it will look like in the future, stay tuned to this episode.
Jacob Mchangama on Free Speech
The conversation begins on Jacob's work on free speech, and his new book about it. He was then asked about what his thoughts on the current state of free speech in the world today.
According to Jacob, we've never had it better. It may not be as apparent in the US, but if you consider the rest of the world, people get to speak out more than ever before. Most of which was born with the proliferation of the internet, and the wide reach it provides.
"You and I can speak there's no censor, making sure that we don't say inappropriate things. And you know, so technology, internet has given us unprecedented opportunities." – Jacob Mchangama
Recession of Free Speech
It is really the golden age of free speech. Though according to Jacob, it is an age that is currently in decline.
As things enter a more stable period after a boom of ideas, a state of entropy starts to set in. It is no different with free speech, as Jacob explains:
"Every time there's a period in history where free speech is now sort of secure and we've turned the corner, a process of free speech entropy sets in. " – Jacob Mchangama
This comes after the European Union is in the process of adopting a law which would, which says that social media companies have to remove your illegal content within a short timeframe or risk huge fines. Social media themselves are almost self-censoring to a point, restricting certain content from appearing on people's search results and feeds.
The Evolution of Free Speech in the US
Moving the topic to the US side of things, Jacob finds the US and its take on free speech fascinating. According to him, it seems that free speech has evolved and grown over the years, and yet the first amendment and its wording has remained the same.
The evolution stems on how the US society interprets these words, leading to the growth of its scope and reach. As Jacob puts it, nowadays it's difficult to imagine what you could say to a sitting US president that would get you in jail, short of direct threats or incitement of violence. Yet in the old days, you could go to jail for making a snide remark about an incumbent president.
But this same flexibility and reach is what's putting free speech in a tight spot. With the wide reach of the internet also comes rampant misinformation. The issue is some of the people peddling misinformation is hiding behind the notion of free speech, which makes it difficult to remove once and for all.
Though for Jacob, it will all boil down to how we, as a society, will decide on what's acceptable or not.
"Ultimately, I think that the culture of free speech is probably more important than the legal language, or a legal statute, or constitutional protection. Because ultimately, the culture of free speech is what will inform where we draw the limits, and how we interpret the legal protections that we have." – Jacob Mchangama
To learn more about Jacob Mchangama and the current state of free speech in the US and around the world, download and listen to this episode.
Bio
Jacob Mchangama is the founder and executive director of Justitia and a visiting fellow at the Foundation for Individual Rights in Education in Washington. In 2018 he was a visiting scholar at Columbia's Global Freedom of Expression Center.
He has commented extensively on free speech and human rights in outlets including the Washington Post, the Wall Street Journal, The Economist, Foreign Affairs and Foreign Policy. Jacob has published in academic and peer-reviewed journals, including Human Rights Quarterly, Policy Review, and Amnesty International's Strategic Studies.
Jacob is the host and narrator of the podcast Clear and Present Danger: a history of free speech and the author of the critically acclaimed and award-winning book, MEN Ytringsfrihedens Historie i Danmark (BUT: The History of Freedom of Expression in Denmark).
He is the author and presenter of the short documentary Collision: Free speech and religion (2013). Jacob is a 2016 Marshall Memorial Fellow. He is the recipient of numerous awards for his work on free speech and human rights.
Links
Connect with Jacob Mchangama
Twitter | Wiki | Free Speech: a history from Socrates to social media
We hope you enjoyed this episode of Christopher Lochhead: Follow Your Different™! Christopher loves hearing from his listeners. Feel free to email him, connect on Facebook, Twitter, Instagram, and subscribe on Apple Podcast! You may also subscribe to his newsletter, The Difference, for some amazing content.