090 The Green "Circular Economy" w/ #1 Amazon Bestselling Author Heather Clancy
Wednesday 20th September 2023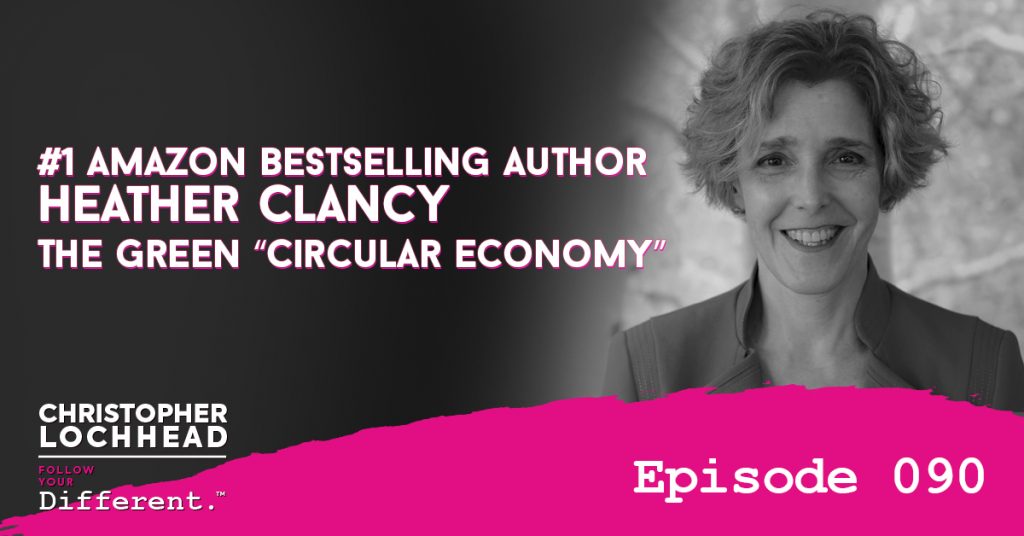 Podcast: Play in new window | Download (Duration: 1:10:08 — 64.4MB) | Embed
Subscribe: Apple Podcasts | Google Podcasts | Spotify | Pandora | Stitcher | RSS | More
Today, Amazon-best-selling author Heather Clancy gives us insights about a very timely topic — the green economy. We talk about what she's learning about the green economy, the controversy around carbon taxes and how companies are creating new offerings centered on sustainability.
The Sustainability Journalist
Heather is the editorial director of GreenBiz.com. She is an award-winning journalist who covers transformative technology for business readers. Media outfits such as Entrepreneur, Fortune, The International Herald Tribune and The New York Times have featured her articles.
She discusses with Christopher the concept of circular economy and how major corporations have played a major role in its growth and acceptance among consumers.
"For many individuals, there's a lot of different reasons for this, the idea of the circular economy is 'something can be reused in someways.' Not necessarily recycled, but potentially remanufactured." – Heather Clancy
The Circular Economy
Heather shares some of the efforts of major corporations to address sustainability issues in the market. A recent company called The Real Real raised 300M in their last week's IPO. It is one indication that the circular economy is on the rise.
Moreover, she shared about the company Loop, formed by Terracycle, which offers common household products in reusable packaging.
"The idea behind Loop is: big consumer brands like Procter & Gamble and Unilever, should be thinking about reusable containers. They are now designing packaging using aluminum or glass, which you think about as old packaging, but they're kinda beautiful." – Heather Clancy
This effort of Terracyle challenges packaging designers to offer consumers a different kind of product, one that still creates brand affinity. Additionally, Heather thinks that this switch from single-use plastic to reusable packaging would be a good talking point for PR.
Are all the efforts worth it?
Loop partnered with grocery store Walgreens and drugstore Kroger as drop-off points for the empty reusable packaging. UPS then collects the empty bottles for the refill and redelivers them to the customers. With this supply-chain set-up, Christopher posed a very important question: are all efforts worth it?
We are very much aware of the carbon emissions for transporting these goods. Likewise, Christopher also mentioned an article about Tesla and how "unsustainable" it is. The cost of manufacturing one car is alarming, in terms of carbon emissions.
"I don't have an impact statement for you there, but the companies who are making them, are basically giving a 2nd life to them." – Heather Clancy
To hear more about the green "circular economy" w/ #1 amazon bestselling author, Heather Clancy, download and listen to the episode.
Bio:
Heather Clancy is a veteran journalist working at the intersection of information technology, entrepreneurship, and green technology.
Heather is the Co-author of #1 Amazon bestseller, Niche Down: How To Become Legendary By Being Different.
Heather's articles have appeared in Entrepreneur, Fortune, The International Herald Tribune and The New York Times.
She is the editorial director for GreenBiz.com, and the launch editor of FORTUNE Data Sheet, a daily dose of enterprise technology news.
Links:
The Real Real: Luxury Consignment Sales
Terracycle – Closed Loop Solutions
Wired.com – Teslas Electric Cars Might Not Be As Green As You Think
We hope you enjoyed this episode of Follow Your Different™! Christopher loves hearing from his listeners. Feel free to email him, connect on Facebook, Twitter, Instagram and subscribe on iTunes!