265 How To Design The Future, The Power Of Communities, What We Can Learn About Native Digital Marketing From President Zelenskyy with Gina Bianchini, Founder & CEO of Mighty Networks
Wednesday 20th September 2023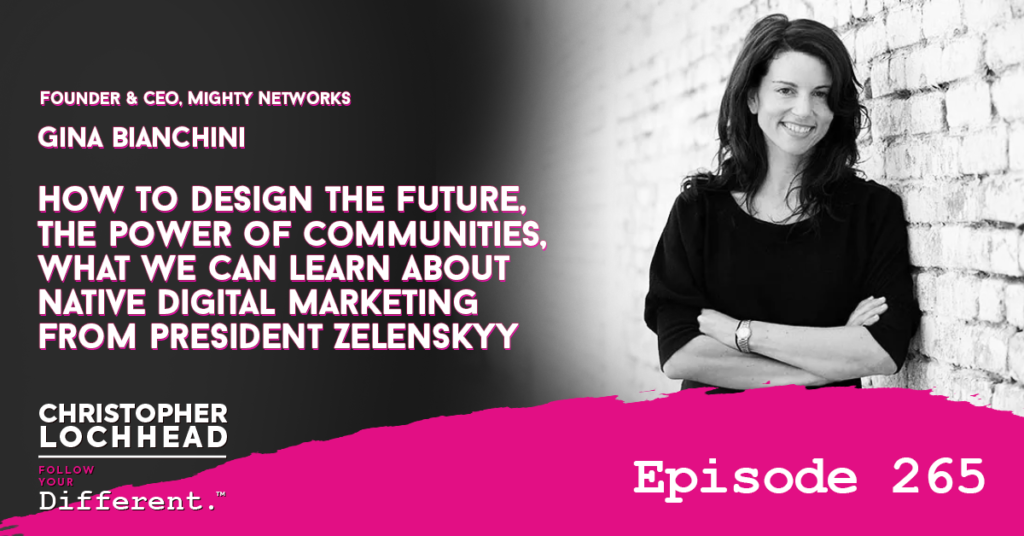 Podcast: Play in new window | Download (Duration: 1:02:57 — 43.2MB) | Embed
Subscribe: Apple Podcasts | Google Podcasts | Spotify | Pandora | Stitcher | RSS | More
We live in a time of radical acceleration in the creation of very different futures with marketing category after marketing category. That goes the same for the world overall as well, which also adds a threat and challenge to most businesses. But at the same time, it can also be a great opportunity. On this episode of Christopher Lochhead: Follow Your Different, we make sense of it all with our guest, Gina Bianchini.
Gina Bianchini is the founder and CEO of Mighty Networks. She is in the business of creating different futures. She has raised over $67 million in top tier Venture Capital, and a pioneer in the digital and social space on creating a platform for businesses and creators to build communities.
Gina has also been a guest before. You can check out what she has said on The Power of Niche Networks in FYD episode 65. So if you want to hear more from her about the power of communities, stay tuned to this episode.
The Importance of Knowing Category Design
Gina starts off the conversation by stating that she loved what they were doing with Category Pirates, and how it being a collaboration means ideas are more fleshed out and multi-POV than just having one person do it.
That said, she mentions being in a conference recently that was showing a product that she immediately recognized as someone who took category design and ran with it.
"I was at this conference yesterday, I saw one of the best category design presentations in like, eight minutes. It was it was it was a masterclass in category design. It's a company called Coalition. And they do cyber insurance. And their category that they have is active insurance." – Gina Bianchini
Gina could tell that the company was not going to compete in the cybersecurity market, it was creating a new market for itself with a new category. So if all things go well, Coalition could find themselves the Category Kings in this new market they are trying to create.
Overdone Languaging is Bad Languaging
They then talk about how languaging seems to be going to a bad trend nowadays. While languaging in business itself is not bad, it is bad when done to an excess. We call it Technobabble, and it's when you just spout out jargons and techspeak just to make yourself sound competent in the tech field and to potential clients.
While smooth-talkers who sell snake oil are not new in the business world, it screams lazy and incompetent when you just take a bunch of technobabble and dump it in your company's mission statement, in hopes of sounding smart.
Languaging is supposed to help you differentiate yourself from the rest, not to obscure and hide your business' lack of ingenuity.
The Big Brand Lie
Gina brings up one of the articles and minibooks that Category Pirates has created, which was the Big Brand Lie.
I share with her the story on what happened after we released that article on Category Pirates. Because a lot of marketing people were upset, some as a knee-jerk reaction, others because it challenged their prior knowledge and ideas in marketing.
But at the end of it all, whether it changed someone's ideas on marketing or not, it did start a conversation on how to approach marketing. If nothing else, that spark alone is rewarding in and of itself.
Gina agrees and also echoes the sentiment that product alone is not enough to dominate a market. And if you want to create different futures, you need to look at how you can drag that future into the present.
To hear more from Gina Bianchini and her thoughts on Category Design and the power of building a community, download and listen to this episode.
Bio
Gina Bianchini is an American entrepreneur and investor. She is the Founder & CEO of Mighty Networks. Before Mighty Networks, she was CEO of Ning, which she co-founded with Marc Andreessen.
In addition to Mighty Networks, Gina serves as a board director of TEGNA, a $3 billion broadcast and digital media company, and served as a board director of Scripps Networks, a $12 billion public company which owns HGTV, The Food Network, and The Travel Channel that merged with Discovery Communications in 2018.
Links
Connect with Gina Bianchini!
We hope you enjoyed this episode of Follow Your Different™! Christopher loves hearing from his listeners. Feel free to email him, connect on Facebook, Twitter, Instagram and subscribe on iTunes!