210 How To Build a Business That Makes Money And A Difference with Gero Leson of Dr. Bronner's
Monday 25th September 2023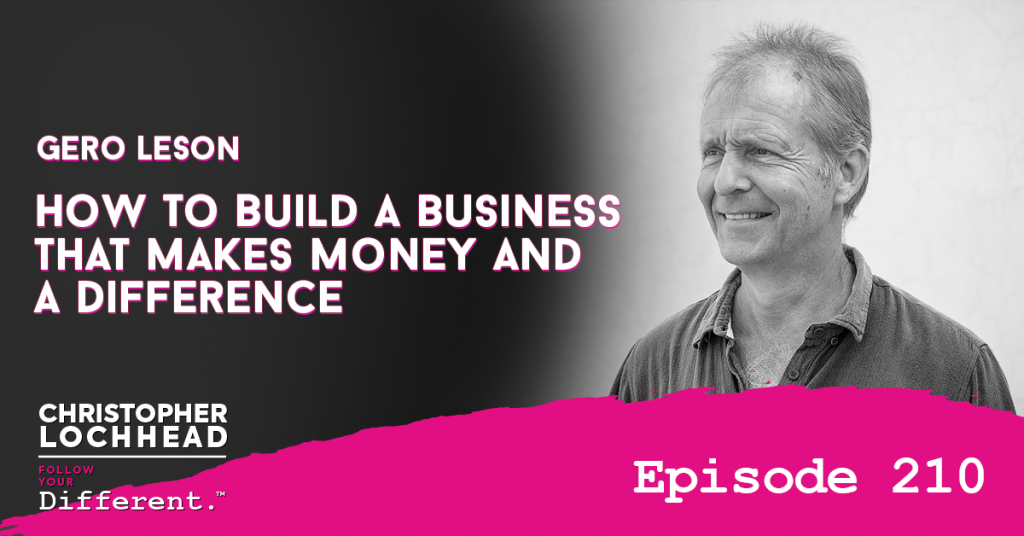 Podcast: Play in new window | Download (Duration: 1:10:12 — 48.2MB) | Embed
Subscribe: Apple Podcasts | Google Podcasts | Spotify | Pandora | Stitcher | RSS | More
Most leaders want to build a legendary business and be socially and environmentally responsible at the same time. Sadly, many get caught in a false dilemma between doing good in business and doing good in the world. In spite of that, there are companies that strive to do both and continue to prosper to this day.
In this episode of Follow Your Different, Dr. Gero Leson shares how Dr. Bronner's has become the pioneer in the global movement to establish socially just and environmentally responsible supply chains. So if you care about building a long term, successful business that dominates its niche and makes a giant difference in the world, you're going to love everything about this conversation.
Having an Impact on the World
If you're looking for a company that has an impact on the world, look no further than Dr. Bronner's. They have spent 70 years showing everyone that you don't have to choose just one to maintain good growth. They back up this claim by ranking as the second highest scoring B Corp in the world.
Dr. Gero Leson attributes this success to having an authentic brand and being consistent about it all these years. He believes that the causes they address speak to the general public, particularly to people who advocate saving the planet.
"There are many other things. Of course, it's the quality of our product, no doubt. But I think it's also the messaging and then the action (we take). It's what we do to have an impact beyond just making soap. I think that package speaks to people, and we have a fantastic team that's all driven by the same vision." – Dr. Gero Leson
Standing the Test of Time
Dr. Gero shares his thoughts on how Dr. Bronner's is still relevant after all these years. Despite having new ideas and products launched, they have stayed true to their desire to have more natural and sustainable products and ingredients in the market.
As for their sustained growth, Dr. Gero explains that they don't focus on it. He knows it sounds like a cliché, but that mindset helped them explore new ideas that others would find risky.
"This is not about cashing out, getting a few millions in the bank and then retire and just sit on the board of philanthropic organizations. The Bronners' and most of our executive team just love being able to make decisions and bring about change, and that drives me alive. This is the biggest fun ever. I could retire, but that would be so boring. It's just so much fun to use your business to bring about change, honestly." – Dr. Gero Leson
Precision and Creativity
Nowadays, it is normal to have your Executive offices and your production line separate. Yet for the longest time, Dr. Bronner's has kept it all in one place. This leads to a unique contrast of seeing everything work with exact precision, but in an environment driven by everyone's creativity and individuality.
"It is really fun to watch normal people respond to this. I sometimes bring in the chiefs of our projects and they're very normal people. They come there and they say, "Huh, there's a very interesting, great atmosphere here". Its a very unique contrast of normality, efficiency, planning and at the same time, you have wildness and independence driving." – Dr. Gero Leson
To hear more from Dr. Gero Leson and his thoughts on building a business that thrives while making a difference, download and listen to this episode.
Bio:
DR. GERO LESON is Vice President of Special Operations at Dr. Bronner's, the top-selling brand of natural soaps in North America.
After joining the company in 2005, he helped it transition to sourcing all its major ingredients directly from certified fair trade and organic projects.
Under his leadership, Dr. Bronner's has become a pioneer in the global movement to establish socially just and environmentally responsible supply chains.
Leson speaks regularly on business, sustainability, fair trade, and regenerative agriculture. He lives in Berkeley, California.
Links
Website: DrBronner.com
Facebook: fb/DrBronner
Instagram: @DrBronner
Twitter: @DrBronner
Get the Book: Honor Thy Label
We hope you enjoyed this episode of Follow Your Different™! Christopher loves hearing from his listeners. Feel free to email him, connect on Facebook, Twitter, Instagram, and subscribe on iTunes!