156 Samsung Rising: Geoffrey Cain, Bestselling Author
Monday 25th September 2023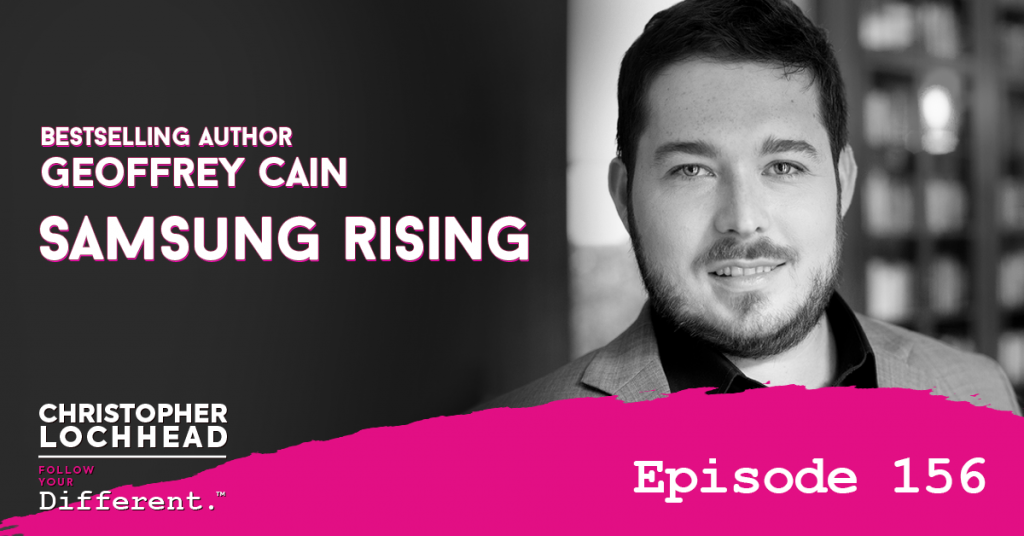 Podcast: Play in new window | Download (Duration: 1:53:29 — 77.9MB) | Embed
Subscribe: Apple Podcasts | Google Podcasts | Spotify | Pandora | Stitcher | RSS | More
We continue our run of legendary authors with best selling author of the brand new book Samsung Rising, Geoffrey Cain. He takes us into both South and North Korea, what it's like to live in both places and how relatively small South Korea gained out-sized economic power. We also talk about how Samsung grew from a fish market to a mega-empirical, multi-national, with 300,000 employees. There's a ton here you'll find fascinating.
South Korea
Geoffrey gives a great visual description of both North and South Korea in this episode. He lived on and off in South Korea from 2009 to 2016 and have visited North Korea as well for two weeks as a reporter.
He further describes how South Koreans practice their right to assemble to petition about issues such as powers of major corporations, labor unions, and the like. He relates South Korea to the French who have massive protests, too.
"Korean democracy is quite young, it was only 1987 that Korea became a democracy. It wasn't until many years later that it really became a full democracy. It was a corrupted democracy for a long time. The fascinating thing was the fact that I'm standing in the Square, and I could turn north and look north and I would realize that about 45 minutes or an hour drive away from me, is the border of North Korea." – Geoffrey Cain
North Korea
On the border of South Korea lies what they call the DMZ or the Demilitarized Zone. It is one of the most heavily mined places on Earth. Former President Bill Clinton even visited and said: "its the scariest place on Earth."
South Korea (SK) is described as orderly but with bustling cars and noise, he describes the DMZ in North Korea as barren land. There were no lush trees like in SK and the whole vibe of Pyongyang, the capital was similar to a dystopian sci-fi movie.
Miracle in Han River
The unexpected growth of South Korea is often called as the Miracle in Han River. The country was able to come out of nowhere and take on the world. This is what Geoffrey discussed in his book Samsung Rising.
"The story of this nation that has been overlooked in the past—it is small, it is seen as inconsequential, it is this little peninsula next to this major giant, China, smash right there with Japan, which is also a big power subject to all kinds of war and sufferings in the past—but somehow managed to become this powerhouse of technology and economy and industry and democracy." – Geoffrey Cain
To hear more about Geoffrey's views on China and Asia more broadly, the Coronavirus and the battle for worldwide AI supremacy, download and listen to this episode.
Bio:
Geoffrey Cain is an award-winning foreign correspondent, author, commentator, anthropologist, and scholar of East and Central Asia.
His first book, Samsung Rising: The Inside Story of the South Korea Giant That Set Out to Beat Apple and Conquer Tech, from a decade of his coverage of the world's largest technology conglomerate, was published in March 2020 by Currency at Penguin Random House.
A former correspondent at The Economist, Cain is a regular commentator in The Wall Street Journal, Time, Foreign Policy,
The New Republic and The Nation, and a frequent guest on CNN, MSNBC, BBC and Bloomberg.
Cain writes about the ways that technology is upending our lives, communities, governments and businesses.
His work takes him to the world's most authoritarian and far-off places, from inside North Korea to the trans-Siberian railway across Russia, from investigations into genocide in Cambodia to experiments in technological surveillance in China.
Cain is sought out as a consultant on government, business and technology, having advised the World Health Organization, Open Government Partnership, the United Nations humanitarian affairs office, and major multinational corporations and investment firms.
A Fulbright scholar, he holds a master's with distinction from London's School of Oriental and African Studies and a bachelor's at The George Washington University, which he attended on a music scholarship.
He is a term member of the Council on Foreign Relations and a security fellow at the Truman National Security Project.
Born in Los Angeles and raised in Chicago, Cain lives in Istanbul, Turkey, and Washington, DC. He plays the jazz trombone.
Links:
The NY Times: Samsung: The Tech Monster That Conquered the World
We hope you enjoyed this episode of Follow Your Different™! Christopher loves hearing from his listeners. Feel free to email him, connect on Facebook, Twitter, Instagram and subscribe on iTunes!