097 Legendary Writer Dushka Zapata
Saturday 2nd December 2023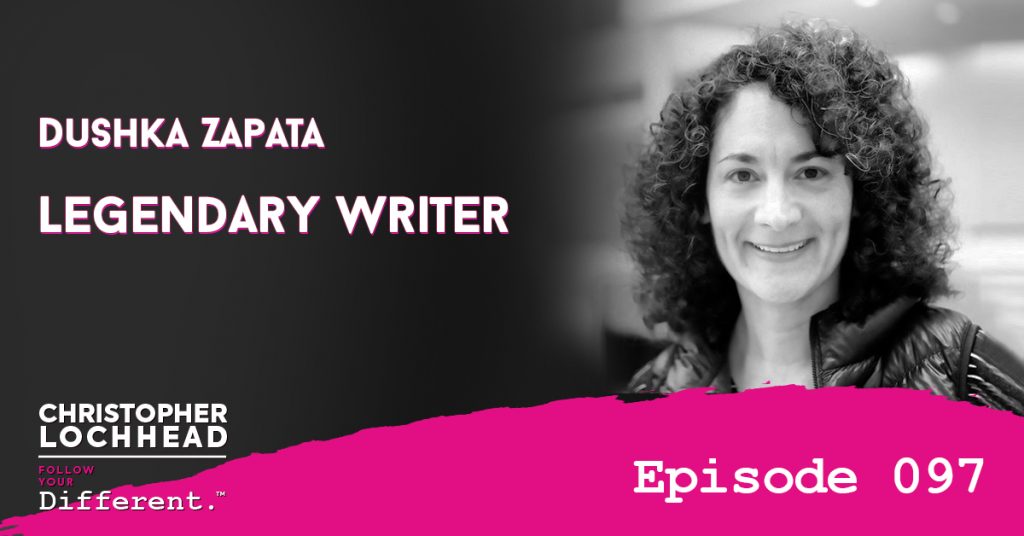 Podcast: Play in new window | Download (Duration: 35:44 — 32.9MB) | Embed
Subscribe: Apple Podcasts | Google Podcasts | Spotify | Pandora | RSS | More
One of the most prolific and important writers in the world and our most regular guest Dushka Zapata, joins us today. We had a heartfelt conversation about mending broken-hearts, why grief is worst when you're young, why discipline is better than inspiration and many more!
Writing Beautiful Answers at Quora
You may find Dushka lounging in Question and Answer site Quora, where her writings receive 140 million views. Her life-affirming, fun and powerful answers have garnered her quite a following, including Christopher himself.
During this conversation, she shared a wonderful passage where we can learn a thing or to about mending a broken heart. She shares a story about a big, crowded yoga class she attended. The intention was to heal the physical and non-physical aspects of the person ⁠— whether a sprain, a wound or even sorrow, anxiety and loneliness.
"At this point, I sneaked a peek. I opened my eyes and slowly panned the room. I would say that 97% of the people on the room had placed both their hands over the left side of their chest." – Dushka Zapata
She left a powerful message to readers, reminding everyone to tread very carefully in this world because, in reality, almost everyone is desperately trying to mend a broken heart.
Grief is Worse When You're Young
Dushka shares another question lifted from Quora about a young 16-year old who wanted to marry her girlfriend. She crafted a very creative and wholehearted response: she affirmed what the young lad was feeling and then informed him that this feeling is temporary.
"Feelings ⁠— real and deep ⁠— change. Feelings change and the fact that they do is what breaks me. The fact that it changes, saves me and it will save you too." – Dushka Zapata
She concludes that the younger you are, the more confusing things are because you don't know you can survive them.
Discipline Matters More Than Being Inspired
Dushka shares to Christopher about some days in her career, where she counts on being disciplined, rather than inspired., which she believes is the secret to anything.
"I don't think there is such a thing as motivation. I think that you just do it because, you said you are gonna do it every day." – Dushka Zapata
More on this Oddcast, Christopher, and Dushka discuss the importance of being an amateur. She also conversed about her new book, You Belong Everywhere and Other Things You'll Have to See for Yourself.
To hear more about Legendary Writer Dushka Zapata, download and listen to the episode.
Bio:
Dushka Zapata is one of the most prolific and popular writers working today.
On question and answer site Quora her work has been viewed over 140 million times.
She's the author of eight best-selling books.
Dushka has over 20 years experience as a senior communications executive in Silicon Valley.
When she's not writing, she serves as a communications executive at tech juggernaut Zendesk.
Links:
New Book: You Belong Everywhere and Other Things You'll Have to See for Yourself
We hope you enjoyed this episode of Follow Your Different™! Christopher loves hearing from his listeners. Feel free to email him, connect on Facebook, Twitter, Instagram and subscribe on iTunes!