300 Legendary Author Dushka Zapata
Monday 20th November 2023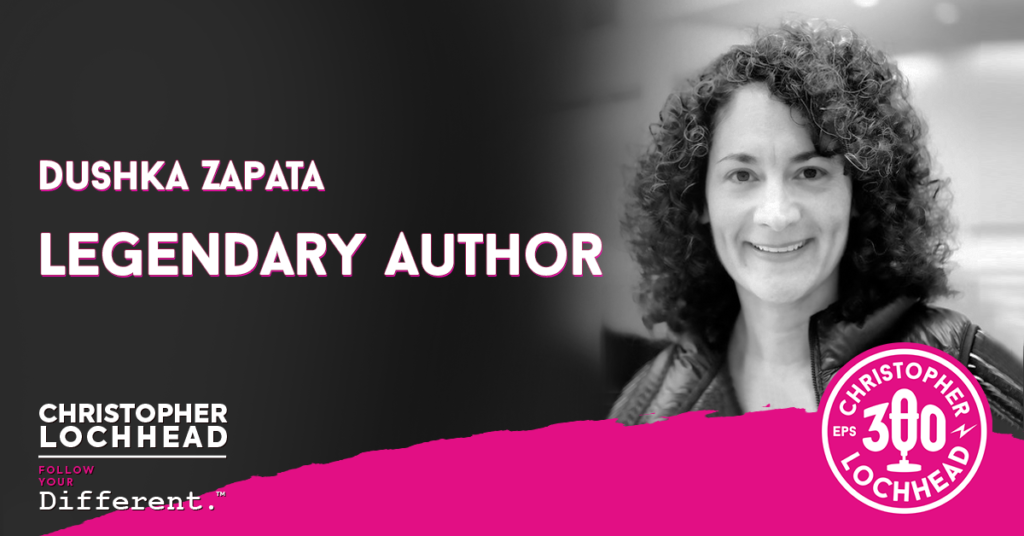 Podcast: Play in new window | Download (Duration: 59:57 — 41.2MB) | Embed
Subscribe: Apple Podcasts | Google Podcasts | Spotify | Pandora | RSS | More
Today marks the 300th episode of Christopher Lochhead: Follow Your Different. And who better to have a dialogue with on this episode than one of our very first guests in the podcast, the amazing Dushka Zapata.
Dushka Zapata is a regular here on the podcast, and is one of my absolute favorite people in the world. She's the author of many legendary books. Her most recent is called How to Write a Book: or tackle anything you find daunting, which is part of the How to be Ferociously Happy series. When she's not writing, she has had an extraordinary career as a PR communications executive and coach.
A Period of Creativity
The dialogue starts off with a reversal of roles, as Dushka asks Christopher about how he has been, and congratulating him on his most recent works.
Christopher attributes it to having partners in the craft in Eddie Yoon and Nicolas Cole. He feels grateful that he has been able to work with both in what he refers to as his "business writing band".
"I think in my case, on the writing side with Cole and with Eddie, when you have partners, we sort of feel like a band. We call ourselves a business writing band, in so far as we've committed to do work together for years, and do meaningful work over a meaningful amount of time. And while the three of us have other interests and do other things, we do the vast majority of our writing together. So what being in a creative band means is the quality of the work changes radically."

– Christopher Lochhead
Christopher adds that while they have overlapping interests, they also each have expertise in other areas, which allows for a multiple perspective on what they write, and can reach out and connect to different audiences.
Creativity as a Way to Connect with Yourself
On the topic of connecting to people, Dushka shares that creativity in a way has a purpose of connecting you more with yourself. She also finds it wonderful that while you are doing so, other people can join you on that path of self-connection.
"I feel like being connected to the part of me that creates, which in my case is mostly writing. But it can be anything. Creativity can be baking, or raising a child or anything that creates something from nothing. But I think it's us at our most us."

– Dushka Zapata
Writing as a Superpower
It usually is the case for people who create is that the more they get older, the less they create. Though it does not seem like it for Dushka, as she continues to write and share new things enthusiastically as time goes on.
For Duskha, she feels like she has even become more creative as she grew older. Because for her, it's something that she genuinely enjoys doing.
"My relationship with writing is idyllic. I have heard great writers like Hemmingway say that you have to bleed at the keyboard. And I have never associated writing with anything that hurts. I have never felt frustrated with it. Or I've never experienced writer's block. I've never felt that I have to suffer at the keyboard or with my pencil. It's just pure joy. It always has been."

– Dushka Zapata
To hear more from this amazing dialogue with Dushka Zapata, download and listen to this episode.
Bio
After working for more than 20 years in the communications industry, Dushka noticed a theme.
People find it very difficult to articulate who they are and what they do.
This holds true for both companies and for individuals.
For companies, this is an impediment to the development of an identity, a reputation, a brand.
It makes it hard for customers to see how companies are different from their competitors.
For individuals, in a new world order of personal brands, it makes it hard to develop one that feels real.
This is the focus of Dushka's work: she helps companies and people put into simple terms who they are, what they do, and where to go next.
Her work comes to life through message development, presentation training, media training and personal brand development.
It comes to life through executive coaching, workshops and public speaking.
It comes to life through what she writes.
Dushka has written ten bestseller.
Her work has been consumed on Q&A site Qoura 180M times.
Links
Connect with Dushka Zapata!
Amazon Authors | Quora | LinkedIn | Instagram | Twitter
We hope you enjoyed this episode of Christopher Lochhead: Follow Your Different™! Christopher loves hearing from his listeners. Feel free to email him, connect on Facebook, Twitter, Instagram, and subscribe on iTunes!