172 Feelings Are Fickle | Dushka Zapata, Best Selling Author
Monday 25th September 2023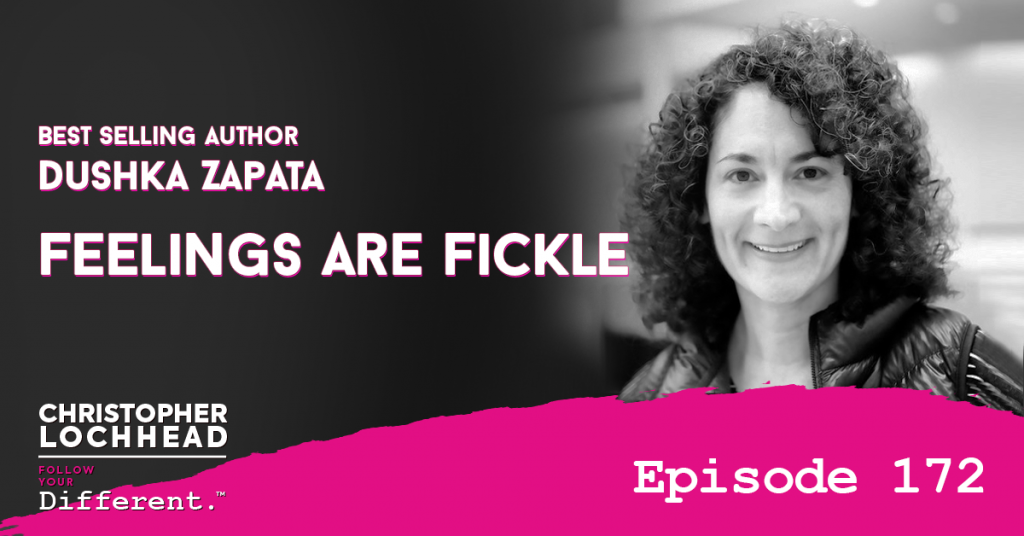 Podcast: Play in new window | Download (Duration: 49:50 — 34.2MB) | Embed
Subscribe: Apple Podcasts | Google Podcasts | Spotify | Pandora | Stitcher | RSS | More
Today, we have one of our regular guest Dushka Zapata, one of the most prolific and important writers on planet Earth. Her work has been viewed on the Question and Answer site Quora, 165 million times. She's got a brand new book out called Feelings are Fickle, and Other Things I Wish Someone Had Told Me. We have a great conversation and she will definitely help you make sense of all that is happening in the world today.
How Are You?
Christopher and Dushka discuss how this question has been asked a lot of time during this time of Covid19. They shared how you can respond to this question or how to ask other the same question. Dushka shares the importance of intently asking since most people are suffering during this time.
"I think that anyone that you encounter today, anyone is isolated, scared, overwhelmed, maybe unemployed, stressed. It's just like a really, really a moment of reckoning." – Dushka Zapata
Writing During Covid19
Dushka also shares about how she stopped posting online and started listening. She shares her process now as compared to pre-Covid19. The themes of her writing are more about shared experiences and now more than ever, everybody is experiencing the same thing. She finds it universal that everybody can relate now to her writing.
"I have friends everywhere. I've lived in many places in the world throughout my life, and I have friends in Italy and friends in Switzerland and friends across Asia. We're all going through the same thing, through similar concerns and similar fears. It's horrible and fascinating." – Dushka Zapata
Cocoon Time and Optimism
Christopher asks Dushka about her thoughts about the world being in a cocoon time, where there is pre-Covid19 and then there's the future. Dushka describes it beautifully as she says this metaphor is full of optimism, as it relates to a caterpillar turning into a colorful and iridescent butterfly.
"I think I would want to make a distinction between optimism and toxic optimism. Toxic optimism is: 'I believe that things will work out in a good way.' That is optimism. Toxic optimism is 'me believing that things will work out in a good way' is a wall between me and understanding the possibilities. So am I putting up other possibilities that people have not considered or am I blind to what's actually happening today?" – Dushka Zapata
To hear more about Dushka and why feelings are fickle, download and listen to this episode,
Bio:
Dushka Zapata is one of the most prolific and popular writers working today.
On question and answer site Quora her work has been viewed over 165 million times.
She's the author of ten best-selling books.
Dushka has over 20 years experience as a senior communications executive in Silicon Valley.
When she's not writing, she works as a communications executive in San Fransciso.
Links:
We hope you enjoyed this episode of Follow Your Different™! Christopher loves hearing from his listeners. Feel free to email him, connect on Facebook, Twitter, Instagram, and subscribe on iTunes!