126 Grief & Happiness For The Holidays w/ Dushka Zapata
Monday 25th September 2023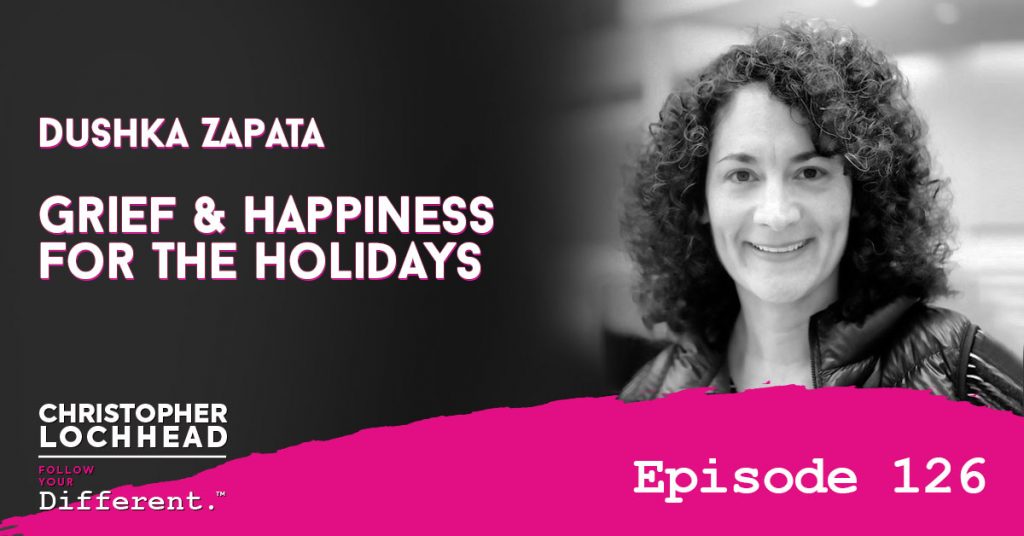 Podcast: Play in new window | Download (Duration: 33:26 — 46.1MB) | Embed
Subscribe: Apple Podcasts | Google Podcasts | Spotify | Pandora | Stitcher | RSS | More
Today, one of the most prolific and important writers in the world, Dushka Zapata, joins us for a very unusual but moving discussion. They talk about grief, happiness and why its okay to opt-out for the holidays. Her work has been viewed over 150 million times on Q & A site Quora.
This might be the most different conversation you've ever heard about the holidays!
Remembering Those We Have Lost
The holidays are wonderful celebratory times for us to focus on our friends, family and for many of us, our faith. For many of us, the holiday season can be a happy season. However, there are quite a number who have moments of some sorrow. The holidays, intentionally or unintentionally, reminds us of the people we have lost.
"As you know, I write a lot at Quora. A lot of questions I answer are about people who are asking permission.'Is it normal for me to be sad? How long should grief last? i lost my dog four years ago and I'm still mourning, is that normal?' To me, my answer is always, 'who cares?' Who cares if it's normal? You should feel whatever it is that you're feeling. Who is it that is an authority on regulating what other people should or shouldn't be feeling?" – Dushka Zapata
The 7 Steps To Overcome Grief
Christopher shares that there are no 7 steps to overcome grief. Some people advise those who are grieving with tips on how to cope but the reality is, there are no stages to grief and Dushka says its totally acceptable.
"I think so many people want to help but I'm going to tell you, asking someone to cheer up when they're grieving is like sitting on someone's chest when they're trying to breathe." – Dushka Zapata
A Happy Person Who Grieves
Dushka shares some personal stories on how she considers herself as a happy person who grieves. The primary reason she grieves during December was her father passed away that month. Ever since, she has not celebrated the holiday.
"I just feel like we should all be making that space for others. It's okay to grieve, it's okay to be sad, it's okay to hate the holidays, its okay to not want other people to have a happy holiday because you just can't do that to another person, to be happy, forceful happiness, its okay." – Dushka Zapata
To hear more information about Dushka Zapata and to listen to why its okay to feel grief over the holidays, download and listen to the episode.
Bio:
Dushka Zapata is one of the most prolific and popular writers working today.
On question and answer site Quora her work has been viewed over 150 million times.
She's the author of eight best-selling books.
Dushka has over 20 years experience as a senior communications executive in Silicon Valley.
When she's not writing, she serves as a communications executive at tech juggernaut Zendesk.
Links:
Love Yourself: and Other Insurgent Acts That Recast Everything
You Belong Everywhere: and Other Things You'll Have to See for Yourself
We hope you enjoyed this episode of Follow Your Different™! Christopher loves hearing from his listeners. Feel free to email him, connect on Facebook, Twitter, Instagram and subscribe on iTunes! Get amazing, different stories on business, marketing, and life. Subscribe to our newsletter The Difference.