053 The Difference Between Fact & Stories w/ Dushka Zapata
Wednesday 20th September 2023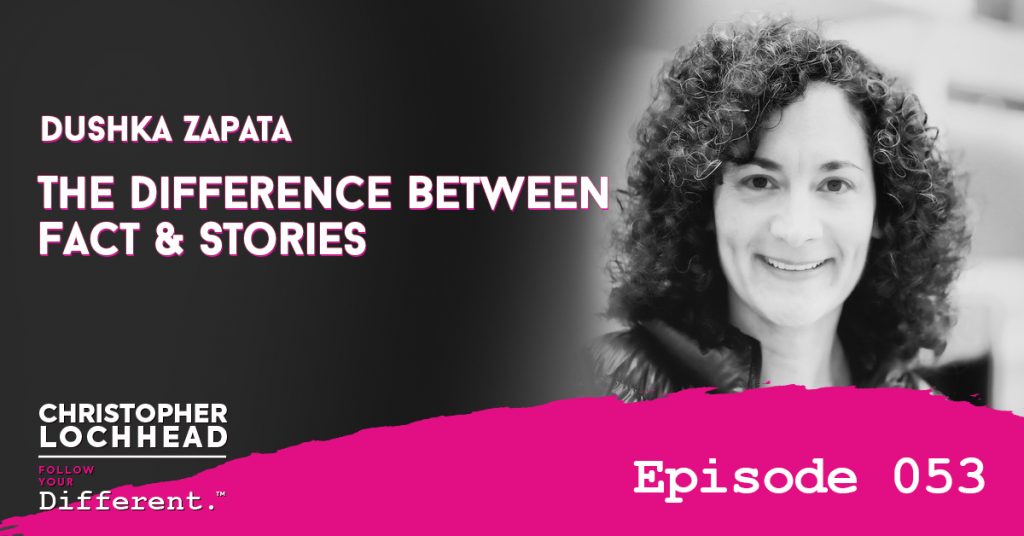 Podcast: Play in new window | Download (Duration: 48:07 — 44.3MB) | Embed
Subscribe: Apple Podcasts | Google Podcasts | Spotify | Pandora | Stitcher | RSS | More
Dushka Zapata joins us for another fun and life-affirming conversation. Dushka and Christopher talk about the origins of her soon-to-be-released book, how recounting something differently is valid, and how stories differ from facts.
Recounting Things Uniquely
Dushka is very aware of her unique thought process that translates into her writing. Oftentimes, her recollection of shared experiences differs from that of other people.
She finds this fascinating. Regardless of what other people say, these instances remind her that she has the license to say things in a different way in order to tell a story. She knows it is not some conscious effort but her recounting of things as exactly as she can.
"I've known for a long time that I look at things differently than other people. I think that's what makes me worth reading—because it's less about what happened but more of my perspective about it." – Dushka Zapata
Different is Valid
She will soon be releasing a book about stories from her childhood and her family. She shared some of these stories to her siblings and as expected, they were surprised with the way she saw things. And for such a book, what title can be more fitting other than, This is How I Remember It?
Her book not only celebrates the uniqueness of each individual's perspective but also nullifies the notion that one point of view is superior to another. The memory of a loved one's passing is generally painful, but for some people like Dushka, it can also be beautiful.
"I feel really strongly about the way I remember things. It matters to me about how other people claim that I'm not recounting something right… I think that's a gift. I'm so happy that the way I remember things is like that." – Dushka Zapata
A Thin Line Between Facts and Stories
Dushka puts simply the difference between facts and stories through an answer to a Quora question. We often make assumptions about people's behaviors that seem out of the ordinary. And these assumptions, those add-ons, are usually the stories that embellish facts.
Failure to see the difference between the two results in struggles for most people.
"It's a wonder we understand each other at all because we look at the world through our assumptions and our insecurities, but I also think that we look at the world through a lot of things that never actually take place." – Dushka Zapata
To hear more about Dushka's powerful answers to Quora questions, her deeper take on stories and facts, download and listen to the episode.
Bio:
Dushka Zapata is one of the most prolific and popular writers working today.
On question and answer site Quora her work has been viewed over 135 million times.
She's the author of eight best-selling books.
Dushka has over 20 years of experience as a senior communications executive in Silicon Valley.
When she's not writing, she serves as a communications executive at tech juggernaut Zendesk.
Links:
New Book – You Belong Everywhere: and Other Things You'll Have to See for Yourself
Quora Answers:
We hope you enjoyed Dushka Zapata on this episode of Follow Your Different™! Christopher loves hearing from his listeners. Feel free to email him, connect on Facebook, Twitter, Instagram and subscribe on iTunes!