040 Veteran Mental Health w/ Duane France
Wednesday 20th September 2023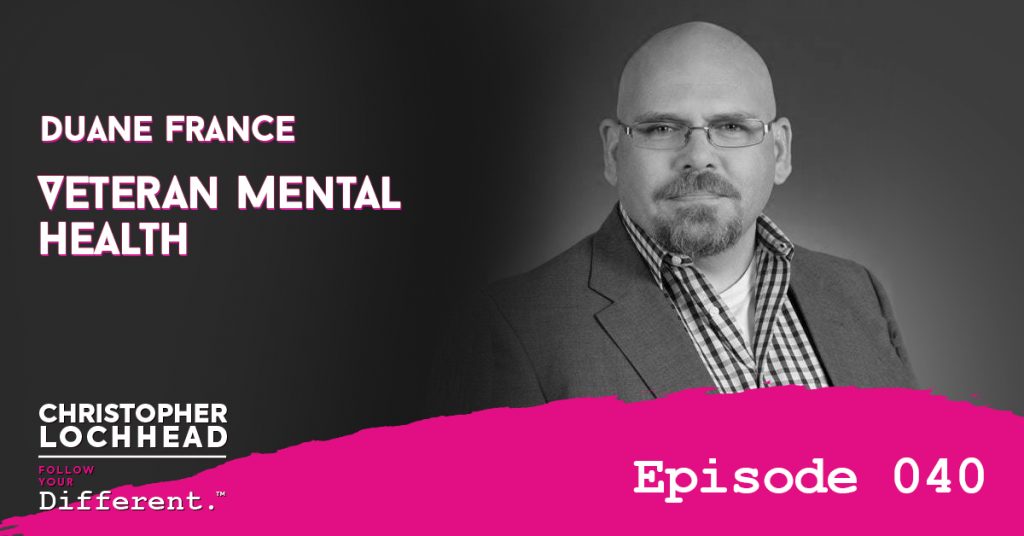 Podcast: Play in new window | Download (Duration: 1:11:29 — 65.6MB) | Embed
Subscribe: Apple Podcasts | Google Podcasts | Spotify | Pandora | Stitcher | RSS | More
For the second installment of this 3-part series on mental health and well-being, US combat veteran turned mental health counselor, podcaster and author Duane France joins Christopher. They share a powerful conversation about living a life of service, the challenges faced by veterans who leave the military and the power of having purpose and meaning.
"The military's purpose is not to kill and destroy. It's to protect and preserve." – Duane France
On Veteran Stereotypes
When asked about what he would want the average American to know about the people in the military, Duane said that they are just like everybody else. Sadly, people like to stereotype the military veteran in three ways.
One, some would think of the veteran as a berserker suffering from PTSD. Sometimes, other people treat them as victims that need taking care of for the rest of their lives. And then there is the stereotype as a hero.
"There's just a lot of stereotypes that go along with especially current era military… and it's just simply not true." – Duane France
Not So Different
All veterans want is for people to understand what they live through. Duane's clients would say that they want people to know what they experience and to hear their stories. But at the same time, they don't know how to tell these, feeling like no one can really understand the struggles of a veteran.
To help a military veteran reintegrate into civilian life, it is best to not treat them differently. They want to be seen not as victims or as villains, but as the average American with interesting stories.
Finding Purpose After Service
No matter how unique their stories go, veterans will always struggle to regain their footing on civilian soil. The transition is the hardest part, but with the help of people around them, they can achieve a new purpose.
Some of them can even become amazing and legendary entrepreneurs.
"When we leave the military, we wanna find a place for ourselves in the world. We wanna find purpose and meaning in our lives because what we did was really meaningful." – Duane France
To hear more about the separation of war from the warrior and why veterans make great entrepreneurs from Duane, download and listen to the episode.
Bio:
Duane K. L. France is a combat veteran of both Iraq and Afghanistan, as well as a mental health counselor practicing in the state of Colorado.
He's the host of the HEAD SPACE AND TIMING podcast and the author of Combat Vet Don't Mean Crazy: Veteran Mental Health in Post-Military Life.
Links:
We hope you enjoyed Duane France on this episode of Follow Your Different™! Christopher loves hearing from his listeners. Feel free to email him, connect on Facebook, Twitter, Instagram and subscribe on iTunes!