326 The Well-Lived Life with 102-year-old Dr. Gladys McGarey, "Mother of Holistic Medicine" & Bestselling Author
Wednesday 20th September 2023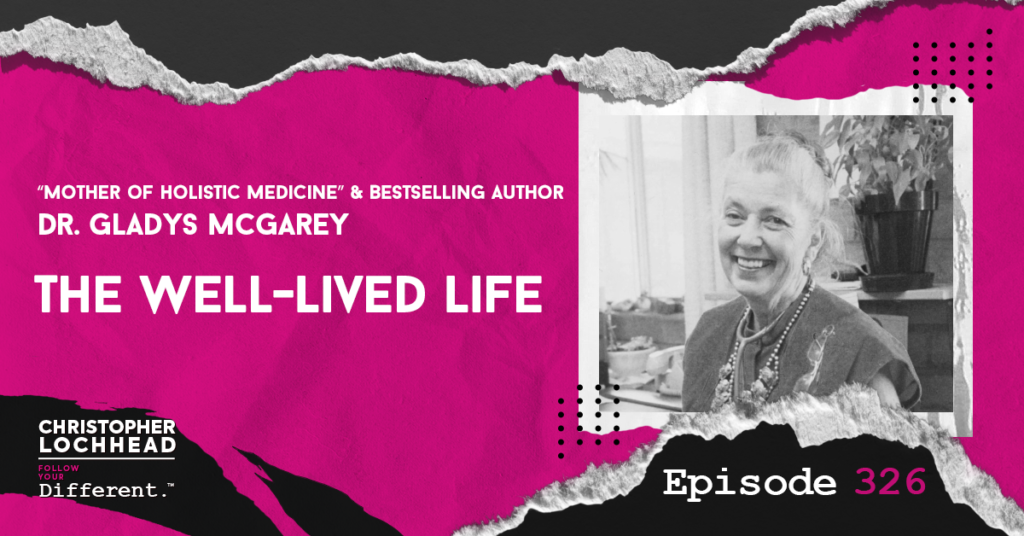 Podcast: Play in new window | Download (Duration: 1:13:48 — 50.7MB) | Embed
Subscribe: Apple Podcasts | Google Podcasts | Spotify | Pandora | Stitcher | RSS | More
We all want to live life well and long but oftentimes, life gets in the way of having a legendary life. But what if there are secrets to a well lived life? Today, we have a life affirming real dialogue with the legendary Dr. Gladys McGarey.
Dr. Gladys McGarey is a general practitioner, co-founder of the American Holistic Medical Association, and she's a category designer who is considered the mother of holistic medicine.
Dr. Gladys is 102 years old; she began her medical practice at a time when women couldn't even have their own bank accounts. She's got a new number one best seller out and it's already in its second printing, called The Well Lived Life, a 102-year-old doctors six secrets to health and happiness at every age. This conversation takes some fascinating and unexpected turns, and we hope you join us for it.
You're listening to Christopher Lochhead: Follow Your Different. We are the real dialogue podcast for people with a different mind. So get your mind in a different place, and hey ho, let's go.
Dr. Gladys McGarey on the Importance on focusing on Life and Love
We start the conversation with Dr. Gladys, who is more than 100 years old, and they discuss how amazing it is to communicate through modern technology.
Dr. Gladys expresses her conflicted views on technology's impact, suggesting that the lack of real-life experiences and love in young people's lives might contribute to violence.
She then shares a story about using dogs in the classroom to provide children with a sense of real love, which could prevent harmful behaviors. She also talks about the power of animals to bring joy and love, and how Dr. Gladys' upbringing in India reinforced the importance of love in healing and how it is a powerful medicine, as described in Dr. Gladys' book.
Dr. Gladys McGarey on how to make do with what you have
Dr. Gladys discusses the benefits of modern technology, as well as acknowledge some concerns that herself has. She reflects on her medical career, recognizing the limitations of past practices and the importance of evolving with new knowledge.
She shares a dream that led to the realization of the interconnectedness of masculine and feminine energies. They explore the concept of feminine gestation and manifestation, emphasizing the need to understand and appreciate this process in addition to traditional manifestations. Dr. Gladys suggests that acknowledging and accepting this holistic approach could lead to better outcomes, instead of rejecting them outright.
Find her Voice in her 90s
In her 90s, Dr. Gladys had a breakthrough in finding her voice and embracing her true humanity.
She had always sought validation from others and struggled to trust her own voice. Through a dream, she had a profound realization that her voice mattered and was essential to express her soul essence. This led her to write a book with a deeper focus on the inner aspect of the Divine, emphasizing life and love.
She believes that as humans, we are reaching for our true humanity, understanding the importance of caring for each other and the Earth rather than seeking dominance. Dr. Gladys sees simplicity in embracing life and love as essential elements of our existence.
To hear more from Dr. Gladys McGarey and her views on how to live a fulfilled life, download and listen to this episode.
Bio
Dr. Gladys McGarey is 102 years old in 2023, at the time of the publication of her book "The Well-Lived Life: A 102-Year-Old Doctor's Six Secrets to Health and Happiness at Every Age"
Dr. Gladys is also still a consulting doctor.
Recognized as a pioneer of the allopathic and holistic medical movements, she is also a founding diplomat of the American Board of Holistic Medicine.
She is the cofounder and past president of the American Holistic Medical Association, as well as the cofounder of the Academy of Parapsychology and Medicine and the founder of The International Academy of Clinical Hypnosis.
Dr. Gladys lives and works in Scottsdale, Arizona, where for many years she shared a medical practice with her daughter.
She currently has a medical consulting practice, maintains a healthy diet, and enjoys a good piece of cake every now and then.
Links
Connect with Dr. Gladys McGarey!
Dr. Gladys' Website | The Well-Lived Life | More info on Dr. Gladys
We hope you enjoyed this episode of Christopher Lochhead: Follow Your Different™! Christopher loves hearing from his listeners. Feel free to email him, connect on Facebook, Twitter, Instagram, and subscribe on iTunes!