259 The State of America with Dr. Cedric Alexander, Former Police Chief & President of the National Organization of Black Law Enforcement Executives
Wednesday 6th December 2023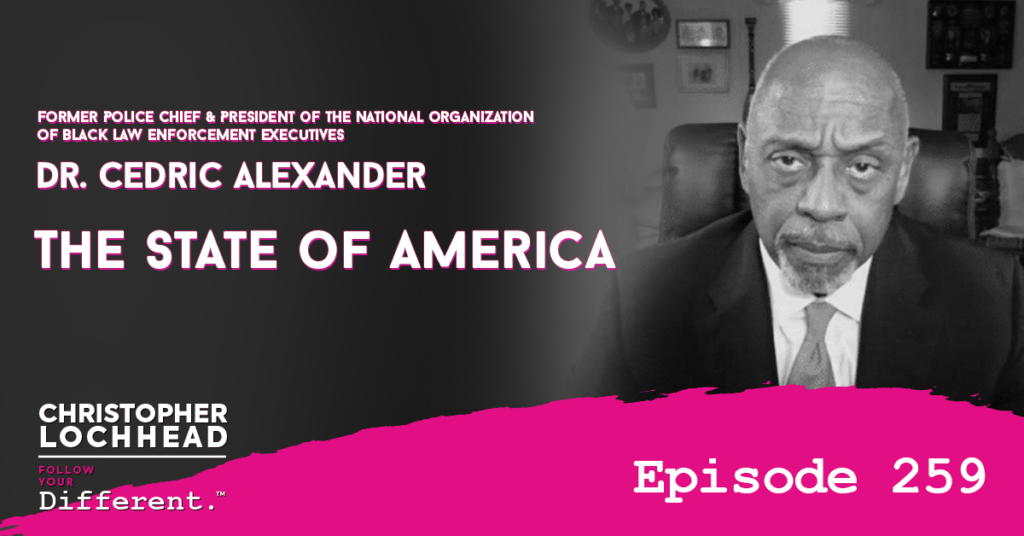 Podcast: Play in new window | Download (Duration: 1:00:47 — 41.7MB) | Embed
Subscribe: Apple Podcasts | Google Podcasts | Spotify | Pandora | RSS | More
On today's special episode of Christopher Lochhead: Follow Your Different, we have a deep conversation about the State of America. The United States of America is facing some meaningful challenges right now, and who better to help us unravel everything than Dr. Cedric Alexander.
Dr. Cedric Alexander had a 40-year career in policing, public service, and mental health. He is the former police chief and Public Safety Director in DeKalb County, Georgia. He is also the former police chief of Rochester, New York, where he served as the federal security director in the TSA. Dr. Alexander also served on President Obama's Task Force on 21st century policing. He is also the author of the hit book, The New Guardians: Policing in America's Communities for the 21st century.
Now, you often see Dr. Alexander on TV, or even up on a stage giving a speech. But unlike the TV where you only get a few minutes with him, today we go deep in an incredibly thoughtful conversation in a way that you only can on a real dialogue podcast.
Dr. Cedric Alexander on the Upcoming Elections
The conversation started off on the topic of the upcoming midterms on 2022, and the subsequent presidential election on 2024. Particularly, on whether people could expect violence during these times, with regards to the events that unfolded last election.
Being a former lawman himself, Dr. Cedric Alexander can't help but think about it as well. With regards to what happened in the 6th of January in 2021, it has certainly created a great deal of pause and concern for the country.
As for his perspective, Dr. Alexander thinks that there is too much politics and taking sides involved that the Right and the Left are so divided. He finds it difficult to take sides with one or the other, because his concern and ideas require both sides to work together to fix the nation.
"It's very difficult to me for me to take sides with one over the other, because I think politics get played all the way around. What I'm concerned about is not their politics, but this nation as we know it." – Dr. Cedric Alexander
Sit Down and Talk
When asked if there is a chance for both sides to have a more civil dialogue as opposed to inciting violence whenever they don't get the desired results, Dr. Alexander has this to say:
"My thought is that both sides of the aisle, in my humble opinion, struggle for good leadership. Leadership that is not grounded in the party you belong to. Leadership that is grounded in the fact that we have to work together to find a way, or we're going to continue to be in this very risky posture that we are in right now. "  – Dr. Cedric Alexander
In order to avoid a repeat of what happened on January 6, it's going to take leadership coming from both sides of the aisle. Not political leadership, but humanistic leadership. A leadership with proper morals, and one that comes from the heart.
The Perpetuation of the Election Fraud Claims
They then talk briefly about the continuous perpetuation that the election was stolen, despite numerous proofs and actual recounts done in some states.
Dr. Alexander says that this is a dangerous precedent.
"We're almost at a point where even if I show you that clear evidence of anything, is still not believed. That is dangerous, brother." – Dr. Cedric Alexander
According to him, this also all boils down to leadership problems, as some of the leaders themselves are perpetuating this belief, in order to curry favor or not be ostracized by their party.
To hear more from Dr. Cedric Alexander and the State of America, download and listen to this episode.
Bio
Dr. Cedric L. Alexander
A visionary leader who has served over four decades in law enforcement and public service, there's few more qualified to speak on the growing strife between race, communities, and the police.
In his frequent, high profile commentary on CNN's Amanpour, NBC News, and MSNBC, he poses the hard questions about systemic racism in our country and the need for police reform.
Dr. Alexander remains front and center on these issues that have inflamed our nation.
He speaks out on the violence while providing concrete solutions about how to navigate these troubled waters to address the problems plaguing law enforcement and the communities of color they serve.
Dr. Alexander brings to the conversation lengthy experience as the former Chief of Police in DeKalb County, GA, President of the National Organization of Black Law Enforcement Executives, and member of President Obama's Task Force on 21st Century Policing. Throughout his career, he has been pivotal in reforming troubled police departments and restoring trust between them and their communities.
He is also the author of In Defense of Public Service: How 22 Million Government Workers Will Save Our Republic that features endorsements from the late U.S. Representative Elijah Cummings, Retired Major General James "Spider" Marks, and attorney Barry Scheck from the Innocence Project.
His insight into the non-elected "fourth branch" of government—our nation's public servants, civil servants, and first responders—as those who will save the nation by helping bring our greatly divided society together is uncanny during today's times.
Cedric has testified before the House Oversight and Reform Committee on Facial Recognition Technology, as well as on the pros and cons of using body cameras, drones, and crime mapping in law enforcement.
He sits on the board of the Innocence Project, working to exonerate the wrongly convicted through DNA testing and reforming the criminal justice system to prevent future injustice.
He is also consulting with companies such as AT&T FirstNet, the first nationwide network dedicated to public safety to help law enforcement, fire service, and EMS do their jobs safely and effectively.
With a doctorate in clinical psychology from Wright State University, Cedric is equipped to address the prevailing issues nationwide. In every situation, he conveys a sharp understanding of human nature, the breadth of issues facing our communities, and how to break through to create a solution everyone can unite behind. Widely respected for his ability to lead thoughtfully and respectfully, he transcends both public and private sectors in an effort to foster positive change.
Links
Linkedin: in/CedricLAlexanderPsyD
Twitter: @CAlexLaw
Amazon Books: The New Guardians
Other information about Dr. Cedric Alexander:
This is a Job for Cedric Alexander
Dr. Cedric Alexander on Capitol Security
We hope you enjoyed this episode of Follow Your Different™! Christopher loves hearing from his listeners. Feel free to email him, connect on Facebook, Twitter, Instagram, and subscribe on iTunes!