314 How to build a startup with Doug Camplejohn, Founder of Airspeed
Monday 25th September 2023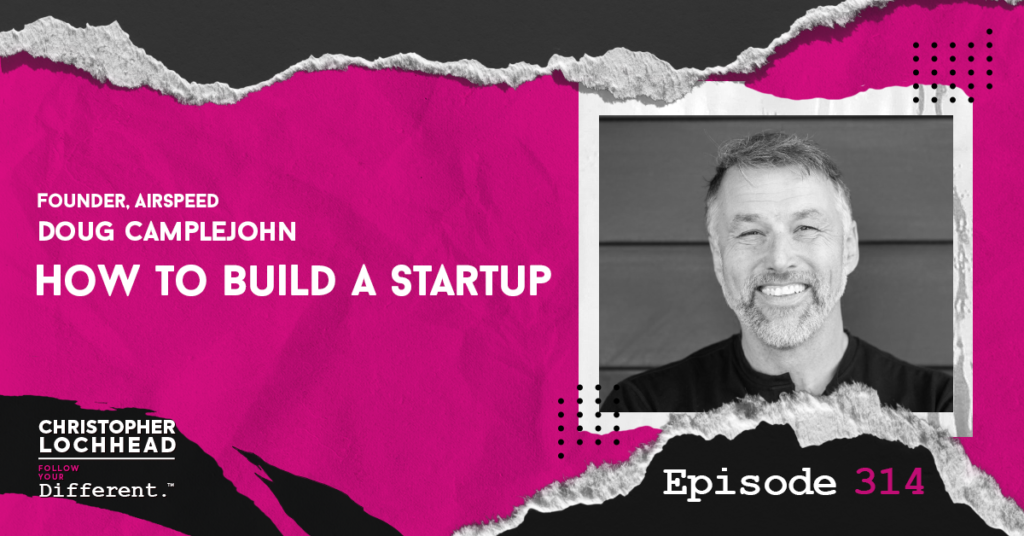 Podcast: Play in new window | Download (Duration: 1:06:40 — 45.8MB) | Embed
Subscribe: Apple Podcasts | Google Podcasts | Spotify | Pandora | Stitcher | RSS | More
How do you take a startup, or really any game-changing idea, from conception to launch and success in the new native digital world? And how do we connect and celebrate with our colleagues in this new native digital world? Our guest Doug Camplejohn, has given a lot of thought to both of those questions.
Doug Camplejohn is the founder and CEO of Airspeed. And it has been remarkable to see how Doug and his team has stayed true to a true north vision to solving a problem that matters, but at the same time be super flexible in both thinking, product development, and marketing.
With over two decades of experience in the tech industry, Doug has held leadership roles at some of the world's most innovative companies, including LinkedIn, Microsoft, and Salesforce.
Pay special attention to Doug's wisdom about why the questions, "are you having fun?" and "do you care if you get fired?" are such powerful questions, and how they can affect a person's business decision-making.
You're listening to Christopher Lochhead: Follow Your Different. We are the real dialogue podcast for people with a different mind. So get your mind in a different place, and hey ho, let's go.
Doug Camplejohn on how to create a Startup
The conversation starts with Doug sharing his approach to creating a startup.
Doug explains that entrepreneurs are constantly looking for patterns and problems to solve, and he keeps a "suck list" of bad things and ideas that stick with him. He believes in being firm on the vision but loose on the details, and that good ideas don't die but instead become something he can devote the next decade of his life to pursuing.
Doug further explains that he and his team at Airspeed started with a clear goal in mind: to make employees feel more connected and celebrated, even if the details of how they got there changed along the way.
The Trap of following the "Perfect Plan"
The importance of having a clear problem direction rather than being solely focused on a product vision is further addressed by Christopher and Doug. They discuss how some entrepreneurs can become obsessed with a particular product idea and then struggle to pivot when it fails.
Doug also believes in solving a problem that is personally meaningful and resonates with others, rather than chasing after the latest hot technology. He maintains that if the problem statement is genuine and resonates with people, the solution and approach to solving it can be flexible and evolve over time.
Product Direction vs Problem Direction
They then talk about the importance of having a problem direction rather than a product direction. They discuss how many entrepreneurs become too obsessed with a product vision and then realize they need to pivot one day. Because there are other factors to consider, from the top to the bottom of the organization.
Finding a problem that is personally meaningful to the entrepreneur and resonates with others, according to Doug, is critical. They also discuss the difficulty of changing product direction and how it affects morale. Doug believes that taking a balanced approach, planning ahead of time, and breaking it down into smaller chunks, can help with flexibility and adaptation while still maintaining a clear vision.
To hear more from Doug Camplejohn and how one could create a legendary startup from the ground up, download and listen to this episode.
Bio
Doug Camplejohn is an accomplished tech executive, entrepreneur, and startup advisor with over two decades of experience in the industry. He is the Founder and CEO of Airspeed, a platform designed to connect and celebrate employees digitally.
Prior to founding Airspeed, Doug held several leadership roles at innovative tech companies such as LinkedIn, Microsoft, and Salesforce. At LinkedIn, he was the Vice President of Product Management for Sales Solutions, where he led the development of LinkedIn's Sales Navigator product. Doug also worked at Salesforce as an EVP and GM of Sales Cloud.
Doug is also an active investor and advisor to several early-stage startups, including Metadata.io, a B2B demand generation platform. He is a frequent speaker at industry events and has been featured in various publications such as the Wall Street Journal, Forbes, and TechCrunch.
Doug attended Carnegie Mellon University. He is passionate about leveraging technology to drive innovation and improve people's lives, which is reflected in his work at Airspeed.
Links
Connect with Doug Camplejohn!
We hope you enjoyed this episode of Christopher Lochhead: Follow Your Different™! Christopher loves hearing from his listeners. Feel free to email him, connect on Facebook, Twitter, Instagram, and subscribe on iTunes!