027 David Osborn Wealth Can't Wait
Tuesday 26th September 2023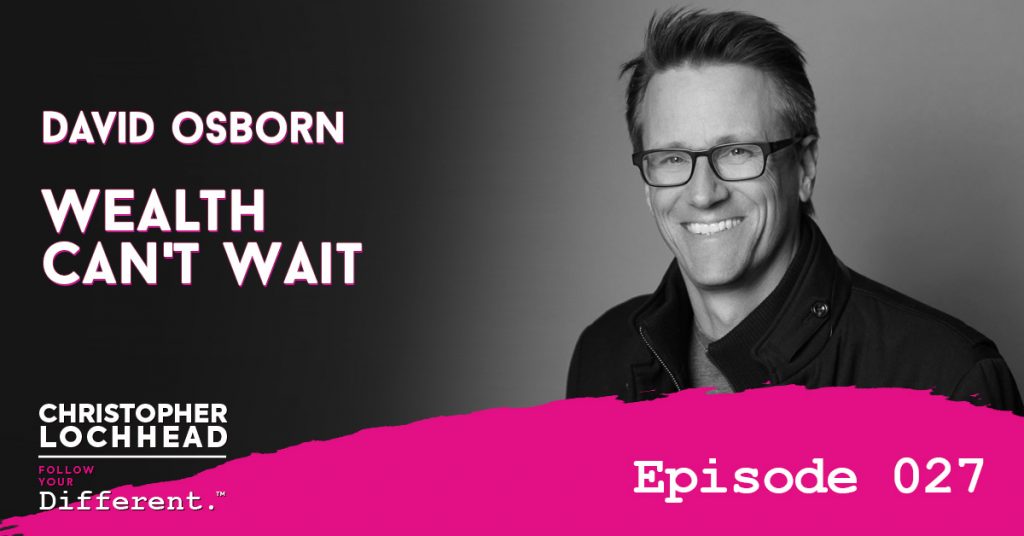 Podcast: Play in new window | Download (Duration: 1:08:49 — 63.2MB) | Embed
Subscribe: Apple Podcasts | Google Podcasts | Spotify | Pandora | Stitcher | RSS | More
How do you overcome a compounded fear of failure to become legendary? On today's episode, author, entrepreneur, and real estate investor David Osborn joins us in a conversation about making money, building capital, and so much more.
"You go to work for capital so your capital can eventually go to work for you." – David Osborn
Thinking Big, Not Delusional
David started out as a realtor, working under his mom's team for three years. Over time, he realized he no longer wanted to sell so he ventured out into setting up franchises. With the right company, time and work ethic as well as a dash of mistakes and failures, he and his team have sold billions.
When you focus on the delta of where you are and where you want to be, it becomes clear that making the first million is way too hard. But it's just as important to think massively big, and not delusional, to get started. It takes so much longer and harder than people can imagine and be willing to admit, after all.
"People always look at the credit and the money that an entrepreneur makes and they way underestimate the amount of risk and amount of failure." – David Osborn
An Idiot Prior to Success
David first opened up a franchise in 1996, and it took ten long years before he could make money. It was a sweet two years, until the massive crash of 2008. Luckily enough, he had a great company to support him through it. But not all entrepreneurs are on equal footing.
An entrepreneur that has to scramble all the way up will look like an idiot for ten years before they get rewarded. And sometimes, the rewards could be more than they probably should get.
"The reason is you spent those ten years where every day there's a chance you could have nothing the next day." – David Osborn
Overcoming Fear Through Crazy
It takes experiencing hurt and failure for fear to manifest. We find punishment, pain, and psychological difficulty so aversive that we steer clear of ladders going up.
Even the most successful entrepreneurs get afraid. But it's finding the crazy force to drive you through the journey that spells all the difference.
To hear more about David's views on free will and capital building, download and listen to the episode.
Bio:
After sticking out his thumb and traveling the world, David returned home to Austin, Texas broke and unemployed, at the age of 26. Though his travels may not have yielded wealth, they instilled the key motivation that he brings to every part of his life to create it — freedom.
Because to have everything you ever wanted takes the opportunity to design your life and believe it can happen.
Through this intention, David began to test his entrepreneurial merits alongside his business-partner mom in the world of real estate. The results were nothing short of remarkable. In less than 10 years, David would go on to build one of the top real estate brokerages in the world, founding over 50 companies.
Yet, more than anything else, the inherent freedom derived from his success awards him the time to focus on the importance on what matters most: being a proud father of two beloved daughters, a son, and husband to the wonderful and talented Traci Osborn.
Today, still rooted in his boundless sense of adventure, David continues to travel the world not only to be enlightened by new experiences but to share his insight and expertise with others so they, too, can truly be free.
Links:
Homo Deus: A Brief History of Tomorrow – Amazon
We hope you enjoyed David Osborn on this episode of Follow Your Different™! Christopher loves hearing from his listeners. Feel free to email him, connect on Facebook, Twitter, Instagram and subscribe on iTunes!