089 Entrepreneurs: Know the Difference Between "Craft Venture Capitalists" & Wall St VCs
Sunday 1st October 2023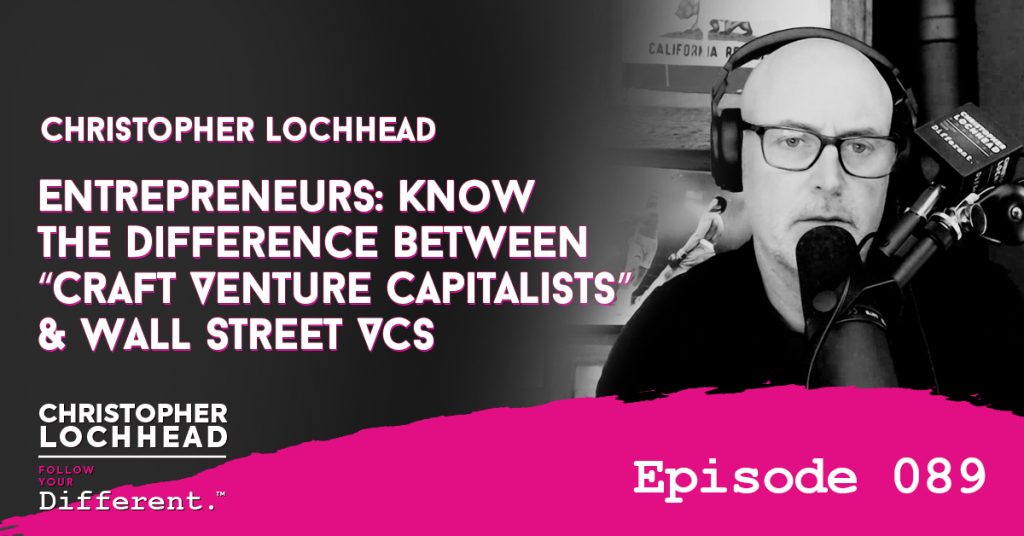 Podcast: Play in new window | Download (Duration: 7:58 — 7.5MB) | Embed
Subscribe: Apple Podcasts | Google Podcasts | Spotify | Pandora | Stitcher | RSS | More
In this episode, Christopher Lochhead explores the distinction between Craft Venture Capitalists and Wall Street Venture Capitalists (VCs) and why is it very important for entrepreneurs to know the difference.
This is a special episode for entrepreneurs who are contemplating on raising funds from VCs.
The Power of Venture-backed startups
In a study published by Brookings, they claimed that "in recent decades Venture Capital (VC) has generated more economic and employment growth in the U.S. than any other investment sector. Further, venture-backed startups make up 0.2% of GDP, in terms of investment and they deliver an astonishing 21% of U.S. GDP
"Venture-backed startup entrepreneurs who seek VC, produce an extraordinary outcome, not just for themselves, their people, customers, investors but for the US economy overall." – Christopher Lochhead
So, What's The Issue?
Lochhead frankly discussed a disturbing trend in Silicon Valley over the last 15 years or so. The emergence of Wall Street type VCs ⁠— who are principally focused on value extraction. This is in opposition to "Craft VCs" who helped build Silicon Valley.
"Here's the problem: the wall street types come in and they whisper sweetly into the ears of entrepreneurs and they convince them to delay going public. They convince them to make money with them." – Christopher Lochhead
Lochhead clarified that these folks are focused on value extraction from the entrepreneurs. These Wall Street VCs impose terms and conditions which are often fairly punitive to entrepreneurs and to employees.
Entrepreneurs: Pay Close Attention!
Lochhead forewarns entrepreneurs who are considering Wall Street VCs versus Craft VCs. First and foremost, Craft VCs prioritizes relationship with the founder and the employees. They focus on providing experience, as they are former entrepreneurs themselves.
"Craft VCs partner to create value with entrepreneurs and the terms and conditions reflect this over time. The wall street folks? They just wanna come in, make money and frankly, they don't care who else is successful. They don't care who else they hurt, they're in for themselves." – Christopher Lochhead
To hear more about the difference between craft VCs and Wall Street VCs, download and listen to the episode.
Bio:
Christopher Lochhead is a Top 25 podcaster and #1 Amazon bestselling co-author of books: Niche Down and Play Bigger.
He has been an advisor to over 50 venture-backed startups; a former three-time Silicon Valley public company CMO and an entrepreneur.
Furthermore, he has been called "one of the best minds in marketing" by The Marketing Journal, a "Human Exclamation Point" by Fast Company, a "quasar" by NBA legend Bill Walton and "off-putting to some" by The Economist.
In addition, he served as a chief marketing officer of software juggernaut Mercury Interactive. Hewlett-Packard acquired the company in 2006 for $4.5 billion.
He also co-founded the marketing consulting firm LOCHHEAD; was the founding CMO of Internet consulting firm Scient, and served as head of marketing at the CRM software firm Vantive.
Links:
Brookings – As the venture capital game gets bigger, the Midwest keeps missing out
We hope you enjoyed this episode of Follow Your Different™! Christopher loves hearing from his listeners. Feel free to email him, connect on Facebook, Twitter, Instagram and subscribe on iTunes!