085 Conversations vs Interviews
Monday 25th September 2023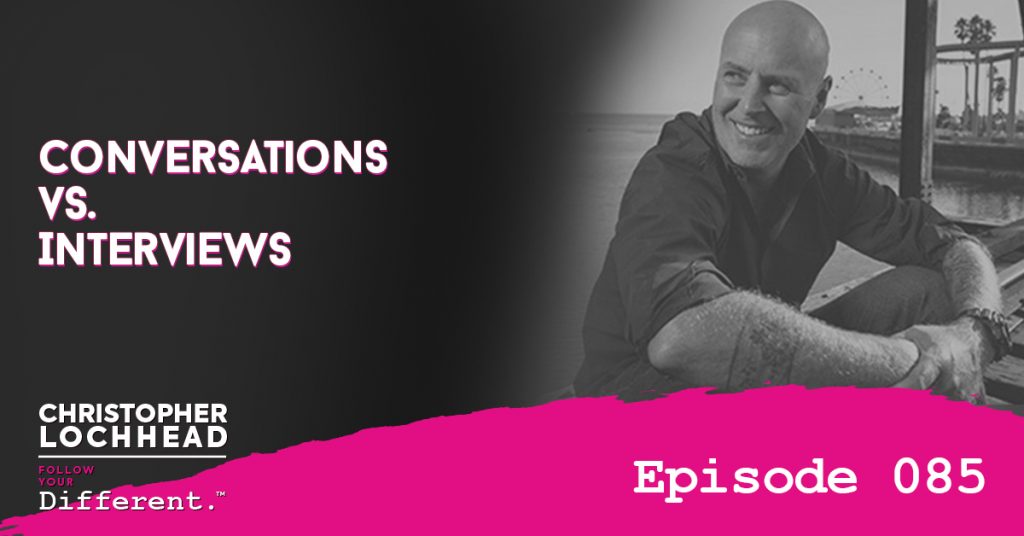 Podcast: Play in new window | Download (Duration: 16:18 — 15.1MB) | Embed
Subscribe: Apple Podcasts | Google Podcasts | Spotify | Pandora | Stitcher | RSS | More
In this episode, Christopher Lochhead shares some insights about conversations (or dialogue) and interviews. Two gentlemen, a guy who messaged him on Linkedin and actor Tom Hanks, were the inspiration for this episode. Both underscored the difference between real conversation and typical interviews.
Safe, bankable and professional
Tom Hanks is one of the most successful and cleanest, most professional, family-friendly actors of all time. His movies have grossed over $5 Billion. He would unlikely get drunk and urinate in a hotel lobby on a press tour ⁠— which is why Disney hired him.
To shine a light on our topic, Tom Hanks was recently on Jimmy Kimmel to promote the newest Toy Story. He talked about how Disney enforced strict control over what he can and can not say about the movie.
"Ever wonder why you rarely hear a Fortune 500 CEO say anything interesting? Ever wonder why politicians don't really answer questions? High profile people have been taught by lawyers and PR people to 'bridge back' to their talking points." – Christopher Lochhead
Everything is Scripted
As Lochhead observed, many politicians, celebrities and even CEOs say the same thing over and over again during interviews. The reason for this is: it is scripted!
Interviews are almost 100% predictable and inauthentic ⁠— from the host looks, clothes to the shots, content, and substance. The whole interview focuses on PR talking points, legal constraints, predetermined narrative. Further, the whole "conversation" is rehearsed in advance.
"Interviews are more like classical music. Conversations are different. They are more like rock 'n roll; they feel a little more exciting and are free form." – Christopher Lochhead
Conversations are like rock and roll
Conversations are different, as most of the time, the guest and host go off-script. Interestingly, one guy from Linkedin messaged Lochhead and provided feedback. He mentioned things such as "make it shorter, edit it to cut out the non-essential parts and seems not prepared enough in terms of the questions, seems more like an informal conversation."
Lochhead further explained that that was not the objective of this podcast. However, he does understand that this style of odd-cast is not for everyone.
"People think out loud. They jam. They go beyond well rehearse lines. As a marketing guy, I've understood this for a long time. Conversations are way more interesting than interviews." – Christopher Lochhead
In this episode, we included some of the feedback we received from listeners about how they would describe the podcast to a friend.
To hear more about conversations vs interviews and more relevant information from Christopher, download and listen to the episode.
Bio:
Christopher advised over 50 venture-backed startups. He is a venture capital limited partner and a former three-time Silicon Valley public company CMO, entrepreneur. In addition, he co-authored two bestsellers: Niche Down and Play Bigger.
After he flunked school, with few other options, Christopher started his first company at the age of 18.
He was a chief marketing officer of software juggernaut Mercury Interactive. Hewlett-Packard, in 2006, acquired that company for $4.5 billion.
Further, he also co-founded the marketing consulting firm LOCHHEAD. Christopher was the founder/CMO of Internet consulting firm Scient. He also served as head of marketing at the CRM software firm Vantive.
Christopher loves his family and friends. He thinks the Ramones are legendary and loves riding the mountains and waves of Northern California.
Link:
Tom Hanks Revealed the Secret of How He Avoids Dropping Toy Story 4 Spoilers
We hope you enjoyed this episode of Follow Your Different™! Christopher loves hearing from his listeners. Feel free to email him, connect on Facebook, Twitter, Instagram and subscribe on iTunes!