162 Tangentially Speaking w/ Dr. Christopher Ryan Bestselling Author & Podcaster
Sunday 1st October 2023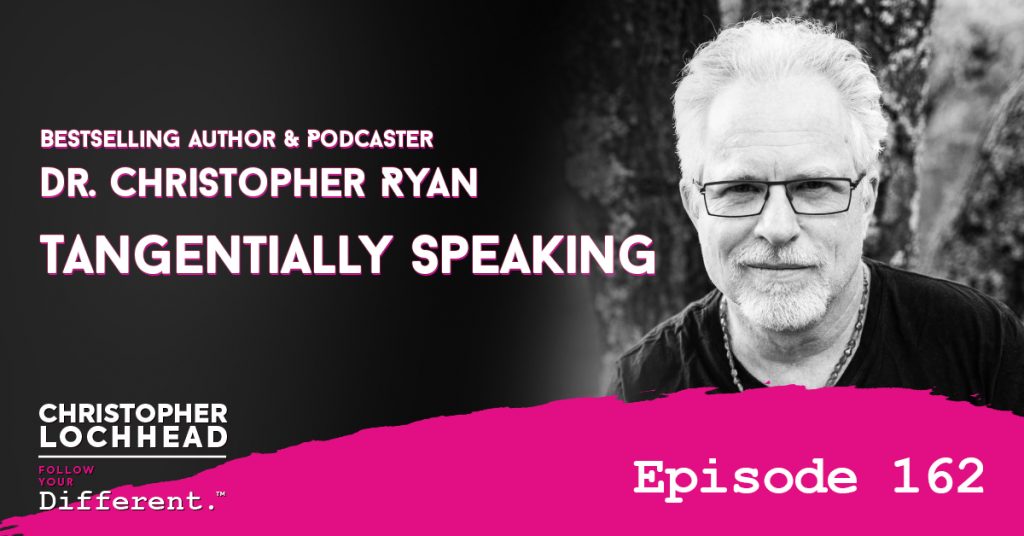 Podcast: Play in new window | Download (Duration: 1:19:27 — 54.6MB) | Embed
Subscribe: Apple Podcasts | Google Podcasts | Spotify | Pandora | Stitcher | RSS | More
Today, we continue our run of legendary authors and podcasters with Dr. Christopher Ryan, author of New York Times bestsellers, Sex at Dawn: How We Mate, Why We Stray, and What it Means for Modern Relationships and Civilized to Death: The Price of Progress. He has a chart-topping dialog podcast is called, Tangentially Speaking,
We have a fun, some times provocative discussion about everything from Muhammad Ali, what's wrong with modernity, how the world is fundamentally changing, why living in a van is awesome, to what it's like making a living as roving, smart person.
The Legendary Muhammad Ali
Christopher Ryan and Christopher Lochhead went into an insightful exchange of stories about Muhammad Ali. Chris shares during this lockdown, he discovered a YouTube channel that featured several classic fights and he enjoyed binge-watching on these.
Chris mentions Pete McCormick, the guy behind a documentary called "Facing Ali" and he interviewed guys who fought Ali. The interesting backstory was, during these tune-up fights, Ali would handpick his opponent.
"He would tell his agent, he heard one guy, his wife had been killed in an accident, so he will get a quarter-million dollars. He's beating people up in a charitable, generous way." – Christopher Ryan
Podcasting Has Been Instrumental
Lochhead describes Ryan as "an insanely smart Ph.D. dude who seems to make a living being a smart guy, writing smart shit, podcasting smart shit, generally being the smart guy in the world." He says podcasting has been instrumental in getting his message across.
"It used to be, if you want to sit down and share your opinions to a hundred young smart people who are interested in hearing an old guy like me, you had a gig in the university. Universities are designed to filter out people like me or Joe Rogan or you, people who are liable to say something outlandish, to challenge this status quo." – Christopher Ryan
He further shares that he is generally pessimistic about the modern world, but one of the wonderful things that happened recently is that podcasting exploded.
"It is almost like a printing press, it just exploded, the opportunity to have direct contact between someone in the audience and the audience chooses whether or not it's worth listening to. It is not the administrators of the university or publishing house, you know the gatekeepers." – Christopher Ryan
What It Is Like Living In A Van
Christopher says he owned an apartment for a while until last fall when he spent 5 months in the van. He ditched his apartment, rented a storage space, and continued living life on the road since then. He traveled across the United States during the summer and flew to tropical countries during the wintertime.
"When this stuff got weird, end of January, I flew back. I didn't want to get stranded in Asia. I rented a house in a tiny little town in Colorado. I've been here, it is fantastic, there's no problem with social distancing. I like solitude. I like a good solid chunk of quiet and distance." – Christopher Ryan
To hear more about Christopher and what's wrong with modernity and how the world is fundamentally changing, download and listen to this episode.
Bio:
Christopher and his work have been featured just about everywhere, including Netflix, HBO, MSNBC, Fox News, CNN, NPR, The New York Times, The Times of London, Playboy, The Washington Post, Time, Newsweek, and The Atlantic.
Chris has been a featured speaker at TED, SXSW, The Festival of Dangerous Ideas at the Sydney Opera House, the Einstein Forum in Pottsdam, Germany, and is a frequent guest on The Joe Rogan Experience and many other podcasts.
He's also provided expert testimony in a Canadian constitutional hearing and appeared in dozens of documentary films and television shows.
Even before co-authoring the New York Times best-seller, Sex at Dawn: How We Mate, Why We Stray, and What it Means for Modern Relationships (translated into 18 languages), with Cacilda Jethá, MD,
Chris was on a wild ride.
After receiving a BA in English and American literature in 1984 he spent the next two decades traveling around the world, pausing in unexpected places to work at decidedly odd jobs (e.g., gutting salmon in Alaska, teaching English to prostitutes in Bangkok and self-defense to land-reform activists in Mexico, managing commercial real-estate in New York's Diamond District, helping Spanish physicians translate and publish their research).
In his mid-30s, Chris decided to pursue doctoral studies in Psychology at Saybrook Graduate School, in San Francisco, CA, using his dissertation to critique mainstream views of human sexual evolution — providing the core arguments later advanced in Sex at Dawn.
Chris's latest book, Civilized to Death: The Price of Progress (Simon & Schuster/Avid Reader Press, 2019), questions whether civilization has actually been a net benefit to our species. He hosts a weekly podcast, Tangentially Speaking, often recorded from the road, while traveling in his van, Scarlett Jovansson.
The podcast features conversations with famous comics, bank robbers, drug smugglers, porn stars, authors, and rattlesnake experts.
Links:
We hope you enjoyed this episode of Follow Your Different™! Christopher loves hearing from his listeners. Feel free to email him, connect on Facebook, Twitter, Instagram and subscribe on iTunes!