317 Women's Right To Orgasm: A Different Dialogue on Women's Health with Dr. Christi Pramudji, Urologist-Gynecologist
Wednesday 6th December 2023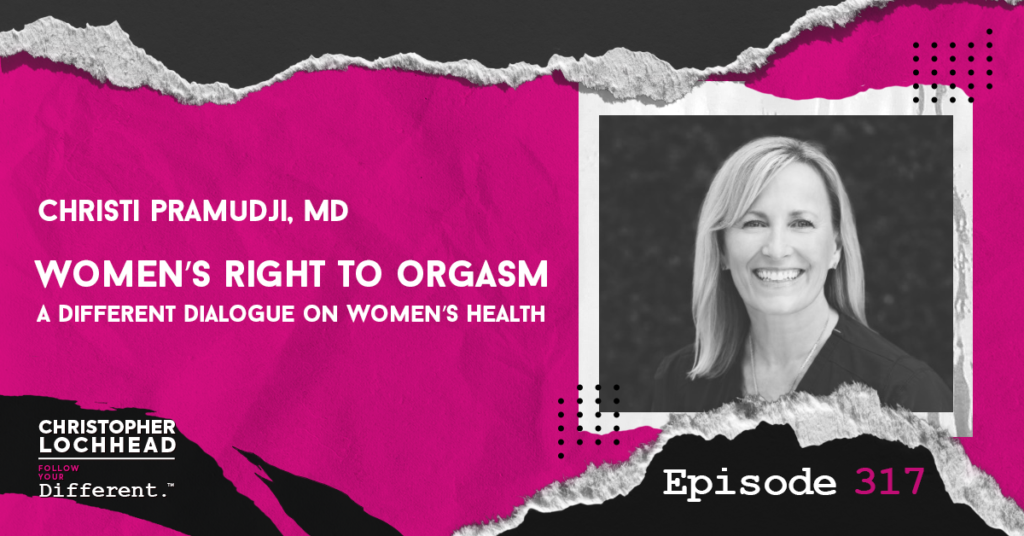 Podcast: Play in new window | Download (Duration: 1:01:39 — 42.3MB) | Embed
Subscribe: Apple Podcasts | Google Podcasts | Spotify | Pandora | RSS | More
Women's Health is a topic everyone cares about, and sexual health is an important part of living a legendary life. But it can also be a tough topic for both women and men to address. On this episode of Christopher Lochhead: Follow Your Different, we go deep into the topic of Women's Health with our guest, Dr. Christi Pramudji.
Dr. Christi Pramudji, MD is a fascinating doctor because she followed her different to become one of the very few Urologist-Gynecologist. Dr. Christi is considered to be a true pioneer in Pelvic Health and Regeneration.
By the end of this episode, you'll gain real insights into why Dr. Christi says orgasm is a right, how the female orgasm works, and what it takes for women to have them. She also presents a holistic approach, including some new recent medical interventions that help women have breakthroughs in their sexual health.
You're listening to Christopher Lochhead: Follow Your Different. We are the real dialogue podcast for people with a different mind. So get your mind in a different place, and hey ho, let's go.
Dr. Christi Pramudji on niching down
The conversation starts off with the question as to why Dr. Christi decided to niche down to being a urologist for women, rather than a more general practice.
Dr. Christi clarifies that she still has male clients from time to time, though looking at the overall clientele, 99.5% of it would be women. She explains that once clients found out that there was a female urologist, they all started flocking to her practice. Over time, she grew to love the role, and it became her specialty.
"When I got into practice, it immediately became female. As soon as women learned that there was a woman urologist, they wanted to come see me. And I kind of fought against it for a couple years. And then I decided that I really like this part of urology and I wanted to embrace it, and I just wanted to be really great at it."

– Dr. Christi Pramudji
Why Women prefer female urologists
When asked why women tend to prefer female urologists over male urologists. Dr. Christi explains that many women feel more comfortable discussing private and intimate issues with a female doctor. Conditions like a leaky bladder can make women feel less feminine and embarrassed, leading them to prefer talking to a female urologist.
While most male urologists are easy to talk to and have a good sense of humor, women may still worry about feeling uncomfortable. Dr. Christi also mentions that a sense of humor and a warm, down-to-earth demeanor can help put patients at ease when discussing such personal matters, regardless of gender. They also share an example of a doctor with a unique bedside manner who is well-respected and successful in his field.
Dr. Christi Pramudji on the female orgasm
The topic then shifts to female orgasms and the numerous misconceptions about it. Dr. Christi explains that female orgasm is frequently portrayed in the media as easy to achieve during intercourse, which is unusual. Orgasm in women typically requires clitoral stimulation as well as full integration of the body and mind.
Dr. Christi also mentions how the lack of effective treatment options for female orgasm issues makes dealing with the issue difficult. She emphasizes that, unlike men, female orgasm is not required for procreation and is considered a sex bonus.
Christopher then asks if women can experience pleasure without orgasm, and Dr. Christi emphasizes that sex should be pleasurable even without orgasm. She does, however, clarify that the clitoris is the primary pleasure organ for women, and that most women require direct stimulation of the clitoris to experience intense pleasure.
To hear more from Dr. Christi Pramudji and other topics regarding women's health, download and listen to this episode.
Bio
Dr. Christi Pramudji is a Urologist-Gynecologist whose expertise is unmatched as a true pioneer in pelvic health and regeneration and has helped thousands of women heal and get their fulfilling sex lives back." The clitoris is made for pleasure, and we must tap into that.
Every woman deserves an enjoyable sex life and the tremendously positive effects an orgasm has on the body, from increased mood and decreased stress levels to strengthening relationships," says Pramudji.
Dr Pramudji advocates that women should be enjoying sex at all stages of their lives, and encourages them to take back their sex life, as this can have a profound effect on women's overall health, wellness, and happiness.
While there are many ways to treat libido changes due to menopause and female sexual dysfunction post-menopause, the most exciting is a treatment called Cliovana, a gentle, non-invasive alternative to rejuvenation surgery, which Dr Pramudji describes as a game changer.
Links
Connect with Dr. Christi Pramudji!
ChristiMD Medical Group | LinkedIn | Youtube
We hope you enjoyed this episode of Christopher Lochhead: Follow Your Different™! Christopher loves hearing from his listeners. Feel free to email him, connect on Facebook, Twitter, Instagram, and subscribe on iTunes!