091 Crowd Funding For Good w/ DonorsChoose.org's Charles Best & Oliver Hurst-Hiller
Wednesday 20th September 2023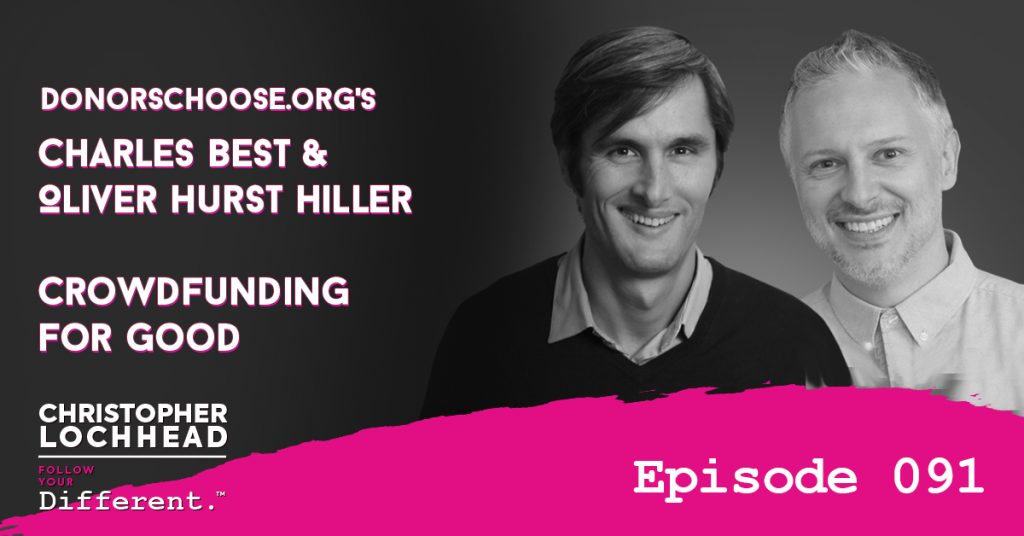 Podcast: Play in new window | Download (Duration: 59:26 — 54.6MB) | Embed
Subscribe: Apple Podcasts | Google Podcasts | Spotify | Pandora | Stitcher | RSS | More
Today's inspiring guests are from DonorsChoose.org, CEO and Founder Charles Best and entrepreneur Oliver Hurst-Hiller. These two, together with a small group of people, came together and made our world a different place, through crowdfunding.
DonorsChoose.org
Donorschoose.org is a non-profit which enables teachers who need help to go straight to the public and seek financial assistance. Charles Best, a former high school teacher turned activist founded the organization. Together with Oliver Hurst-Hiller, the Chief Technology Officer of the org, they have pioneered the category of crowdfunding.
"I was like teachers all over the country. I was spending my own money on school supplies for my students. My colleagues are doing the same. We would talk about all the stuff we want our students to have, but we couldn't go into our own pockets to buy." – Charles Best
Merging Technology with Advocacy
Charles Best and Oliver Hurst-Hiller share the current education situation in the US — it is underfunded — and teachers and students need help. In the past, millionaires have been the common benefactors of organizations. Charles, however, thought about regular citizen donors and how their collective power can benefit this cause.
Regular donors will have the ability to pick, choose, donate and hear directly from the beneficiaries. All the donors — whether they donated 50 dollars or 5 million dollarngets the same appreciation, feedback, and transparency direct from their beneficiaries.
"If the internet/technology can enable a regular person giving 50 bucks to have that experience of directness, transparency, reporting and feedback, something magical might happen and 840 million dollars later, I think it has." – Oliver Hurst-Hiller
The "Philanthropic eBay"
Stanford Business School and Amazon dubbed DonorsChoose.org as "the most innovative non-profit." The organization is for school front-liners who have an idea or project and is seeking microloans to fund it. The organization connects them to patrons and philanthropists.
"The first news story about our site compared us to a philanthropic eBay. That's the only parallel that they could draw at that time  — with its two-sided marketplace and people connecting." – Charles Best 
Charles Best and Oliver Hurst-Hiller talk more about the organization, crowdfunding. Further, they discussed more on the power-houses backing them up as board of directors. They are Stephen Colbert and LinkedIn CEO Jeff Weiner, to name a few.
To hear more about the DonorsChoose.org crowdfunding for good and more information about Charles Best and Oliver Hurst-Hiller, download and listen to the episode.
Bio:
Charles Best, Founder / CEO
Charles Best leads DonorsChoose.org, a nonprofit website that enables anyone to help a classroom in need. He launched the organization in 2000 at a Bronx public high school where he taught history for five years. To date, teachers at more than 80% of all the public schools in America have created classroom project requests on DonorsChoose.org, and more than 3 million people have given to those projects.
DonorsChoose.org is one of Oprah Winfrey's "ultimate favorite things." It made the cover of Fast Company as one of the "50 Most Innovative Companies in the World." It is the first time any charity has received such recognition.
Oliver Hurst-Hiller, Chief Technology Officer and Head of Product
Oliver is responsible for the technology and user experience that power DonorsChoose.org's unique philanthropic marketplace.
Prior to joining the team in 2006, Oliver managed product engineering projects for Microsoft's new search engine, now called Bing. He helped start Microsoft Live Labs, an applied research laboratory for Internet technologies. Further, he is also the co-inventor of 22 issued U.S. patents related to Internet search technologies.
In 2011, the Microsoft Alumni Foundation honored Oliver with the Integral Fellows Award. He is the Chair of CTOs For Good and on the Advisory Council on Computing & Information Technology for Brown University.
Links:
We hope you enjoyed this episode of Follow Your Different™! Christopher loves hearing from his listeners. Feel free to email him, connect on Facebook, Twitter, Instagram and subscribe on iTunes!