302 How To Start Strong & Win Big with Floodgate Investor Carly Malatskey
Monday 25th September 2023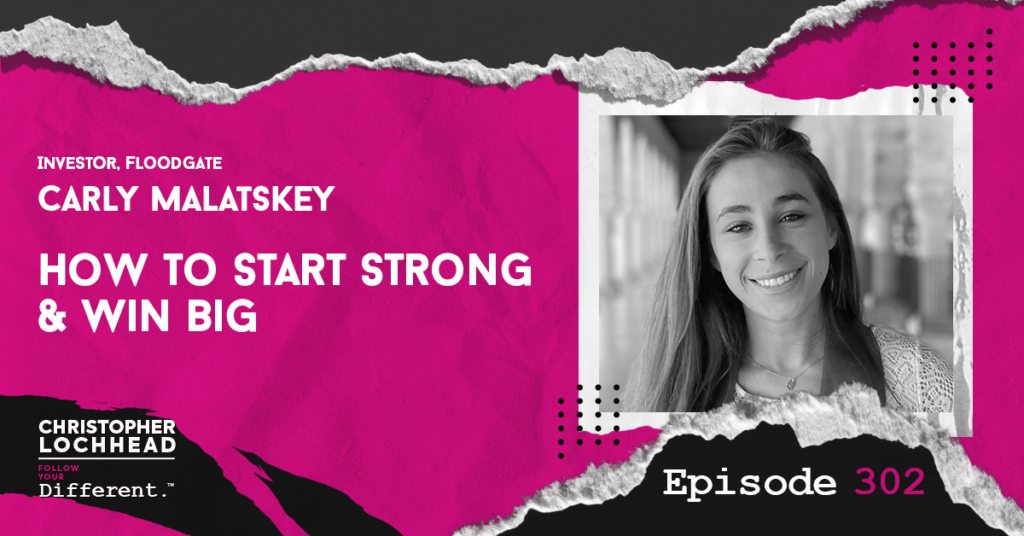 Podcast: Play in new window | Download (Duration: 57:26 — 39.4MB) | Embed
Subscribe: Apple Podcasts | Google Podcasts | Spotify | Pandora | Stitcher | RSS | More
Position yourself or be positioned has long been one of my favorite expressions. Most people think of life as something that happens to us, and that we have no agency to design our lives. It turns out, successful people like our guest Carly Malatskey, tends to think differently from that. They learn to create and seize upon opportunity before they succeed, they position themselves for success.
Carly Malatskey hosts the SheLeads podcast, which is a podcast network made by women for women. Carly is also a two-time Stanford National Soccer champion, and has also started off her career as a new Venture Capital Investor at the legendary Floodgate in Silicon Valley.
On this episode of Christopher Lochhead: Follow Your Different, what you're about to experience is a real dialogue about how to seek out legendary mentors and surround yourself with legendary people. We also talk about what it takes to win championships at the highest level, and how to start your career in a strong, powerful way and much, much more.
Carly Malatskey on Starting a Podcast
The conversation starts off with Carly being asked as to why she started her own podcast, and the types of dialogues she wants to have in it.
Carly explains that she has always loved listening to podcasts. But she also thought that as a young leader, she has the opportunity to talk to other leaders in different fields, and have a conversation from the view point of a young woman who has the youthful energy of coming out of the academe but still has a lot to learn and experience in the field.
This also comes at the cusp of COVID, so she along with countless leaders and individuals are currently stuck at home and pretty much open to doing conversations over zoom and the like. It just seemed to Carly that it was the right time to take a chance at it and reach out to different types of people so they can share their experiences with her and other young aspiring leaders.
SheLeads Podcast: A Podcast for Women by Women
Carly shares that one aspect of SheLeads podcast is that it is from the perspective of incredible female leaders in different fields and industries.
"I talked to Olympians, founders, lawyers, and I thought, "why not have this aspect where these women are also talking to someone like me?" And thinking of how they started their career, what were their first steps, or how were they thinking through their career."

–  Carly Malatskey
Men and Women Communicate Differently
When asked about the saying that men and women communicate differently, Carly shares her thoughts on the matter.
For Carly, it's much more natural for women to sit across from someone and really just sit for hours, talking. The topics could range from their experiences this past week or so, something that worries them in the future, or their feelings about certain matters.
For men, they need an activity to distract them from the fact that they're actually sharing their thoughts with another individual. It's almost like it's an excuse to talk and bond over something, though it was their original intention to begin with.
Carly found the question quite interesting, and was even thinking if there was a scientific reasoning for these types of behaviors.
To hear more from Carly Malatskey on how to win big and start your career stronger, download and listen to this episode.
Bio
Carly Malatskey is an Investor at seed-stage VC firm, Floodgate.
Prior to Floodgate, she earned her Bachelors in Science, Technology and Society from Stanford University and was a Mayfield Fellow at Stanford as well. She also played for the Stanford Women's Soccer team for 4 years and won 2 National Championships!
Shortly before graduating, she started a podcast called SheLeads with Carly, where she speaks to powerful female leaders from all industries. With 80+ episodes, she explores their unique paths to becoming leaders in their fields as well as the lessons they learned along the way. It is available on Apple Podcasts, Spotify, and Facebook (video version).
Links
Connect with Carly Malatskey!
Floodgate | Twitter | Apple Podcast | Spotify | SheLeads Show on Facebook
We hope you enjoyed this episode of Christopher Lochhead: Follow Your Different™! Christopher loves hearing from his listeners. Feel free to email him, connect on Facebook, Twitter, Instagram, and subscribe on iTunes!