118 Why Are We Yelling w/ Buster Benson
Friday 1st December 2023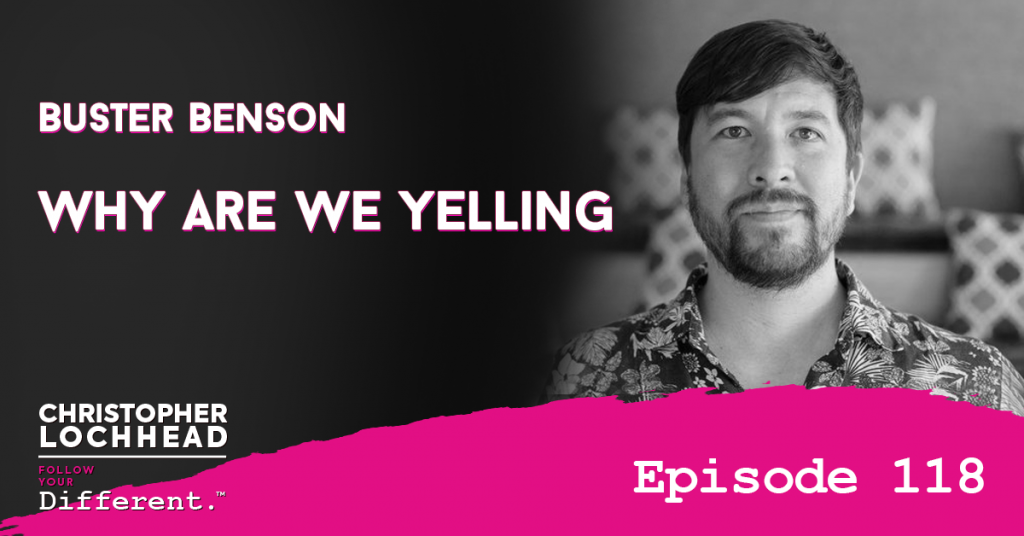 Podcast: Play in new window | Download (Duration: 52:31 — 72.1MB) | Embed
Subscribe: Apple Podcasts | Google Podcasts | Spotify | Pandora | RSS | More
In this episode, we continue our run of legendary authors as we feature Buster Benson and his new book, "Why are we yelling?: A fascinating look at why and who we argue." Buster shares with us the inspiration of his book, the constant-learning that he is having and how it can be applied to work and life, in general.
Agree to Disagree
Buster candidly shared with Christopher that of all the hard topics he decided to take on, it was the topic about disagreements that he deemed to be one of the hardest. He still pursued this topic as he was challenged to tackle this topic. He also admits that the inspiration for the book was his curiosity on cognitive bias.
"That is the initial problem. in order to have a conversation about disagreement, we have to be open to the idea that we don't have the right answer." – Buster Benson
Birds and Biases
Buster shares that cognitive bias is an evolutionary term. It is a threat that could potentially lower our survival. It has the connotation that if we're wrong, we would want to avoid it. In modern society, being wrong leads to being ousted from a certain group.
To illustrate this, Buster shared the habits of birds looking for a nesting ground. These birds fight off other birds and other animals to have authority over a tree. In real life, human beings as a bird, are not going to engage other "birds" in civil disagreement.
"You're going to just try to be the bigger bird and force the other one out. When we're no longer in a situation and there's only one tree and we have to have a nest here, or else we're gonna die, we ask, is this tree big enough for multiple birds?" – Buster Benson
Growth is the Consequence
The consequence of being wrong is actually growth. Further, Buster shares that if we are good at several skills, it makes us more skilled at everything else. For example: talking, being literate, being able to self reflect magnifies the value of other skills. He introduces the importance of productive disagreement as well in this episode.
"'How do I treat somebody that is normally a threat to my survival, as an opportunity for growth' is the core cognitive dissonance in disagreement." – Buster Benson
To hear more about the author of "Why are we yelling?" Buster Benson, download and listen to the episode.
Bio:
Buster Benson wrote the book titled "Why Are We Yelling? The Art of Productive Disagreement". He also run 750words.com with my wife.
His interests include creative businesses, collaborative disagreements, cognitive biases, enterprise software, messaging platforms, behavior change, social games, silly drawings, making life a little bit better through technology.
Read more about his through this link.
Links:
We hope you enjoyed this episode of Follow Your Different™! Christopher loves hearing from his listeners. Feel free to email him, connect on Facebook, Twitter, Instagram and subscribe on iTunes! Get amazing, different stories on business, marketing, and life. Subscribe to our newsletter The Difference.