295 How To Have A Legendary Career In Tech, Designing The A.I. Category, & IPOing with Bruce Cleveland, Bestselling Author of Traversing the Traction Gap
Wednesday 20th September 2023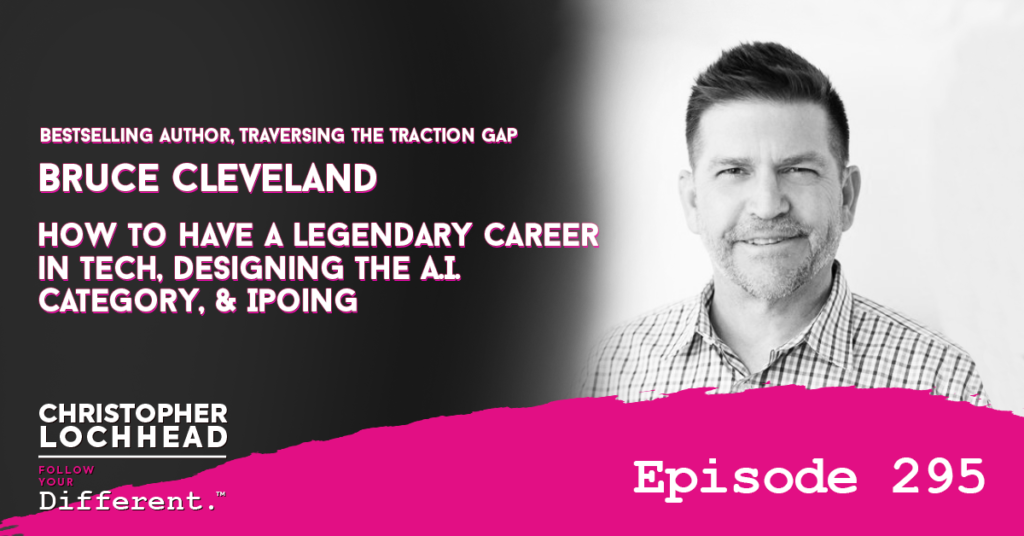 Podcast: Play in new window | Download (Duration: 1:16:17 — 52.4MB) | Embed
Subscribe: Apple Podcasts | Google Podcasts | Spotify | Pandora | Stitcher | RSS | More
On this episode of Christopher Lochhead: Follow Your Different, we go deep with one of my favorite people in Silicon Valley, Bruce Cleveland.
Bruce Cleveland has had a career in Silicon Valley for over 40 years. And he's pretty much done it with building companies, technologies, categories, and brands, as well as working on and with some of Silicon Valley's best executive teams and entrepreneurs. He's been a successful investor.
He's also a bestselling author. In fact, one of my favorite books is Traversing the Traction Gap, which he wrote. And I recommend it to all entrepreneurs.
By the end of this dialogue, we hope you'll have gained radical new insights into how you can do legendary things in your life and career.
Traversing the Traction Gap
The conversation begins with a discussion of Bruce Cleveland's book, Traversing the Traction Gap. His best-selling book was praised by Silicon Valley insiders and many entrepreneurs for the information and insights it provided.
Bruce shares that his reason for writing the books stems from people trying to make VC seem like a mystical thing, rather than explaining things in a clear way.
"The reason I wrote it was because I began to grow pretty weary of really, really smart people not making it. Their companies not surviving for a variety of reasons. And they all tended to be pattern-matched against those reasons. I was also not happy with the venture community in its entirety, because I don't think it was honest with a lot of these entrepreneurs as to why they weren't getting investments, etc. And I kind of wanted to demystify those issues."

– Bruce Cleveland
Bruce Cleveland on helping out entrepreneurs
Another reason Bruce gives for writing out the book is that he wanted to help out fellow entrepreneurs who may be feeling lost, or guide those who are doing well into things that could make their ventures better.
"The purpose and objective of this book was to share with entrepreneurs that, "hey, here's some things you could possibly do to significantly enhance the probability of success."

You know, we only get one shot at this life, I felt like I owed it back to the entrepreneurs of the world who take all the risk as to what I saw, from my vantage point, both as an operating exec and as an investor, to why I thought things weren't working for the vast majority of startups."

– Bruce Cleveland
C3.ai and Enterprise AI
The conversation then goes to Bruce's latest ventures into category creation. Together with Tom Siebel, they founded C3.ai, which delves into enterprise AI.
Bruce then talks about how it came to be, and how working on C3.ai has been so far.
"I think this is one of the benefits of having a CEO who understands and believes in category creation, is that it as your job as CMO becomes much easier to do."

– Bruce Cleveland
When they started conceptualizing and creating the category of enterprise AI, the term wasn't even on the radar. While there were companies who were doing something similar to a lesser degree, it wasn't clearly defined, and no one was pursuing rapid advancement on it.
Now, it's something that a lot of companies are looking at, and C3.ai is at the forefront of it.
To hear more from Bruce Cleveland and how to have a legendary career in VC and tech, download and listen to this episode.
Bio
Bruce Cleveland's career in Tech spans more than 40 years as a venture investor and operating executive.
He was a first investor and a board member of Marketo, which held an IPO in 2013 and was acquired in 2018 by Adobe for $4.75B.
He was an early-stage investor in other notable companies such as C3.ai, Doximity, Vlocity, and Workday. Bruce also held senior executive roles in engineering, product management and product marketing at Apple, AT&T, C3.ai, Oracle and Siebel Systems.
His book, Traversing the Traction Gap, is a prescriptive guide for startups and new product initiatives within larger companies helping teams to use 'market engineering' techniques to successfully transition from Ideation to Scale.
He attended the US Military Academy, West Point, New York, and received a BS in business administration from CSU, Sacramento. He lives in the San Francisco Bay Area.
Connect with Bruce Cleveland!
Check out his book here: Traversing the Traction Gap
We hope you enjoyed this episode of Follow Your Different™! Christopher loves hearing from his listeners. Feel free to email him, connect on Facebook, Twitter, Instagram and subscribe on iTunes!