100 Grumpy Old Geeks Co-Host Brian Schulmeister
Wednesday 20th September 2023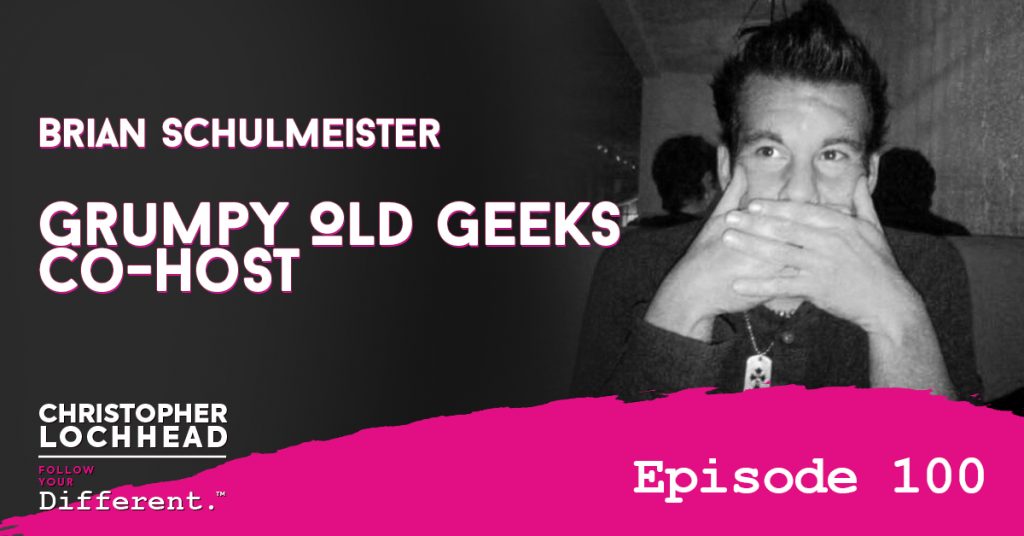 Podcast: Play in new window | Download (Duration: 1:11:39 — 65.8MB) | Embed
Subscribe: Apple Podcasts | Google Podcasts | Spotify | Pandora | Stitcher | RSS | More
Today, we have a super fun conversation with Brian Schulmeister, the co-host of Grumpy Old Geeks podcast. We shared stories about music and what it was like doing websites for top bands and names in the industry. Of course, we got our grump on! We talk about what's in the news: undersea data cables, A.I, data breach and many more!
Websites For Music Artists
Brian Schulmeister is the co-founder of Slender Fungus, a design company working primarily within the music industry. His vast experience in building websites landed him projects with big names such as Goo Goo Dolls, Alanis Morisette, Green Day, Coldplay and Rihanna, among others.
He started his career way back in 1996 and he shared some interesting points on how he went on to pursue clients on his own. He also commented on the music industry at the present time and how consumers are consuming it so poorly.
"The generation now and the way people experience music now is so shallow and disconnected from the artist and its singles. Spotify playlist through horrible headphones, it's just bad." – Brian Schulmeister
Grumpy, Angry and Too Depressed
Brian Schulmeister is the co-host of the podcast Grumpy Old Geeks, with Jason DeFelippo. The podcast, which is included in Christopher's Top 5 list, has originally started as a joke but the hosts later realized they were admittedly angry about a lot of topics. Brian admits he is angry and still is but they try to pepper the episodes with humor.
"The funny thing is at one point I literally wanted to quit the podcast. I felt I was getting too grumpy, too angry, too depressed. I really did. It was shortly after the birth of my child and I started to realize that I really need to have a better outlook in life right now." – Brian Schulmeister
Let's Get Our Grump On!
In relation to technology topics, Christopher says that it is easy to be cynical and be fun and grumpy on technology but the reality is, technology has made the world a better place. It has created more opportunities and breakthroughs in the lives of human beings.
"We are at a tipping point right now, at least for technology. We can very easily lose control of sh*t right now. There are some important movements going on right now, the whole data and human rights." – Brian Schulmeister
Christopher discusses some topics that are on the news such as the 8000 undersea data cables from Hong Kong to Los Angeles, or the data breach at Capital One that allegedly also compromised another 30 companies. They also shared a good laugh about different kinds of farts and shared their reactions about a man collapsing his lungs after a 2-hour karaoke session.
To hear more about the Grumpy Old Geeks Co-Host Brian Schulmeister, download and listen to the episode.
Bio:
Brian lives in Venice, CA, frequents Toronto and London and has spent a lot of the last 10 years happily living out of a suitcase – and a large backpack filled with laptops, cords, wires and various bits and bobs that bloop and bleep.
He's the co-founder of Slender Fungus, a design company working primarily within the music industry.
He is also the co-writer with Rob Takac of the Goo Goo Dolls in Amungus, an electronica based music project that's released an EP and played a few festivals.
Brian started with technology at the dawn of time, even running his own BBS at the age of 13, and has stuck with it since then.
And as the co-host of the wildly popular Grumpy Old Geeks Podcast, needless to say, he's quite grumpy.
Links:
Topics discussed in this Oddcast:
National Security Concerns Threaten Undersea Data Link Backed by Google, Facebook
Everything We Know About the Capital One Hacking Case So Far: A new indictment against alleged Capital One hacker Paige Thompson includes a few fresh details about the case.
Too Much Karaoke Sent a Man to the Hospital with a Collapsed Lung
AI can predict when someone will die with unsettling accuracy
The world's funniest fart sounds messy, lasts four seconds and is embarrassing, scientists say.
French 'Flying Man' crosses Channel on jet-powered hoverboard
We hope you enjoyed this episode of Follow Your Different™! Christopher loves hearing from his listeners. Feel free to email him, connect on Facebook, Twitter, Instagram and subscribe on iTunes!