059 Bill Walton NBA Legend, The Power of A Positive Life
Wednesday 19th June 2019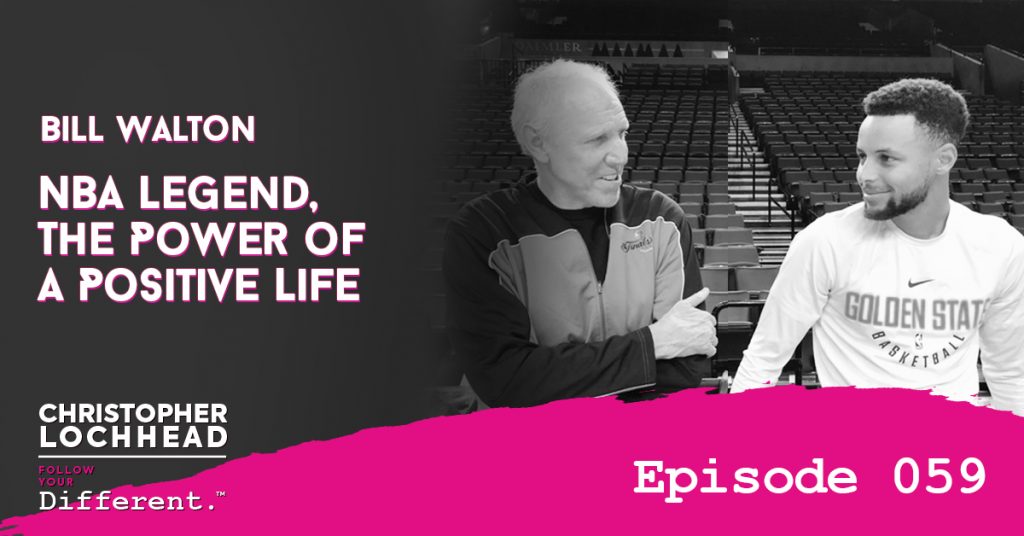 Podcast: Play in new window | Download (Duration: 1:18:17 — 72.0MB) | Embed
Subscribe: Apple Podcasts | Android | Google Podcasts | Stitcher | TuneIn | Spotify | RSS | More
In celebration of the NBA finals, we're releasing a special re-issue of an episode with the legendary Bill Walton. Originally aired in February 2018, let us revisit this conversation full of Bill's enthusiastic view of life through its many ups and downs.
"When you wanna get someplace, you have to have the dream. And then you have to have a teacher, somebody who has been where you wanna go because the surest way to find out how get there first is to talk to somebody who's on their way back." – Bill Walton
More Failures than Greatness
A lot of life's greatest lessons come mostly from failures, Bill says. Sure, he has lived more than 60 years and has been part of some true greatness. Even then, he still felt cursed with his lifelong speech impediment and eventual injury.
"My life has been defined by meteoric rises to the top from [when I was] really young and then incredible crashes to the bottom all caused by orthopedic health crises." – Bill Walton
In the course of those 60 and some years, Bill has completely changed as a human being.
Enjoying Life Including Change
After reading Lochhead's Play Bigger, he came to realize the importance of willingness to embrace change. It is, after all, one of the things that athletics prepares you for. In life, things go wrong and things collapse and we need to get ready when they do.
To aid in his positivity-driven life, Bill lives by Coach John Wooden's 2 sets of 3. Never lie, never cheat, never steal; don't whine, don't complain, don't make excuses. Embracing change means embracing and working around what life serves you.
"When I see these guys whining, when I see these guys complaining and making excuses, I always tell them, 'Look, I'll listen to your problems one time. But from here on out, I wanna hear a plan on your path forward.'" – Bill Walton
Secrets to Get Someplace
Bill shares that he always tries to be a dreamer to get somewhere in life. He has learned to keep dreaming from the greatest influences in his life. In a world that tries to send him in other directions, he always turns to those who love to read, who dare to dream.
The second key ingredient? A teacher who can show him the way.
To hear more about Bill's secrets to positivity and its fruits, download and listen to the episode.
Bio:
In 1997, Bill Walton was selected as one of the NBA's Fifty Greatest Players of all Time.
He's an Emmy award-winning broadcaster and Forbes calls him one of the top 10 pundits in America.
In 2009, Walton was named one of the top 50 sports broadcasters of all time by the American Sportscasters Association.
In June 21, 2001, Bill was named as the inaugural inductee into the Grateful Dead Hall of Honor.
Bill is the bestselling author of "Back From The Dead" and a highly entertaining and engaging keynote speaker.
Links:
We hope you enjoyed Bill Walton on this episode of Follow Your Different™! Christopher loves hearing from his listeners. Feel free to email him, connect on Facebook, Twitter, Instagram and subscribe on iTunes!