258 Get It Done: Surprising Lessons from the Science of Motivation with Ayelet Fishbach, PhD
Friday 1st December 2023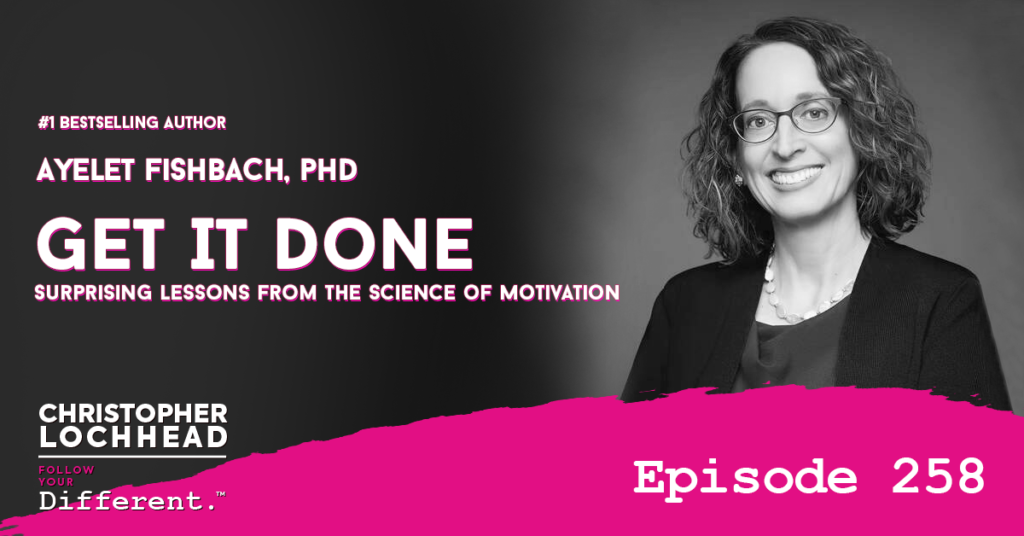 Podcast: Play in new window | Download (Duration: 1:25:14 — 58.5MB) | Embed
Subscribe: Apple Podcasts | Google Podcasts | Spotify | Pandora | RSS | More
What is the source of human motivation? In this episode of Christopher Lochhead: Follow Your Different, Dr. Ayelet Fishbach shares the real science behind what motivates people to get things done.
Dr. Ayelet Fischbach is the author of the no.1 bestselling and deeply researched book, Get It Done: Surprising lessons from the science of motivation. She is an award-winning psychologist at the University of Chicago Booth School of Business and the past president of the Society for the Study of Motivation.
What you are about to hear is a powerful dialogue about what it really takes to get and stay motivated, and ultimately get it done.
Dr. Ayelet Fischbach on Tying Productivity with Activity
The conversation starts with Christopher commenting that he feels that he has been less productive compared to his previous career. This was mostly due to his past work being so fast-paced and packed with activity, that he feels he is not as effective as he once was.
Dr. Fishbach responds that this is something that people often get confused about, which is associating productivity with activity. Sometimes people bombard themselves with a lot mundane tasks and call it a productive day, rather than getting something meaningful done that actually makes progress.
"If you took the day to think about a new idea, if you had a new idea for a book today, that would play an incredible day, right? Like, these are the best days for you. And they don't involve their eight meetings. Back-to-back meetings are often a waste of time and we just fill up our time with all this nonsense." – Dr. Ayelet Fishbach
You Can't Put a Schedule on Creativity
One of the things that can be hard to put a schedule on is getting the motivation or inspiration to be creative. You could of course schedule times where you can get yourself in the "zone" to be creative, but it is not a guaranteed thing most of the time.
Dr. Fishbach agrees with this, and says that sometimes, you need to allot time and bandwidth for it to happen. This means that you might have to allow big chunks of your day on just letting your mind think. You might even have to shelve it for later, or sleep on an idea to let it develop further in your head.
"Well, creativity requires that you are able to sleep on something that you are able to, to think about it without reaching a conclusion without having the solution yet." – Dr. Ayelet Fishbach
Dr. Ayelet Fishbach on the Definition of being Productive
That being said, what is the definition of being productive or effective? What does it mean to get things done?
To answer this, Dr. Fishbach shares the story behind her book's cover. While thinking of a cover for her book, one of the designs her publisher presented had a to-do list. Dr. Fishbach said that that particular design would not work. Because for her, being productive does not mean having a to-do list.
"(Having a list) is not what I mean by getting things done. (You start off by) thinking about what goals are important for you. Okay, what gets priority? Is it your creativity? Is it taking care of something, of someone, and how these goals work with each other? So we start by identifying where we want to be, what we want to do, and then that the second element is monitoring your progress.

The third element is managing all the other things that are going on in your life. You never want just one thing. So what happens with the rest?

And the fourth is gathering social support. Who in your life is helping you? Who stands in the way? How do you get closer to the people that are helping you be the person that you want to be? This is a very broad overview of the framework of my world, the book, Get it Done, and not the to-do list." – Dr. Ayelet Fishbach
To hear more from Dr. Ayelet Fishbach and how you can get things done, download and listen to this episode.
Bio
Dr. Ayelet Fishbach studies social psychology, management and consumer behavior. She is an expert on motivation and decision making. She has presented her research all over the world.
Dr. Fishbach's research has been published in psychology, management and marketing journals, including Psychological Review, Journal of Consumer Research, Journal of Experimental Psychology: General, Journal of Marketing Research, Psychological Science, and the Journal of Personality and Social Psychology. Her research is regularly featured in the media, including WSJ, CNN, Chicago Tribune, NPR and was selected to be featured in the New York Times 'Annual Years in Ideas.'
Dr. Fishbach has served as an Associate Editor on several journals, including Psychological Science and the Journal of Personality and Social Psychology, and she has served on the editorial board of leading journals in psychology and management. She has further served as the president of the International Social Cognition Network (ISCON) and the Society for the Study of Motivation.
Dr. Fishbach is the recipient of several international awards, including the Society of Experimental Social Psychology's Best Dissertation Award, Career Trajectory Award, and the Fulbright Educational Foundation Award. In 2006, she received the Provost's Teaching Award from the University of Chicago.
Dr. Fishbach earned a bachelor's degree with distinction in psychology in 1992, a master's degree summa cum laude in psychology in 1995, and a PhD magna cum laude in psychology in 1999, all from Tel Aviv University. She joined the Chicago Booth faculty in 2002.
Links
Connect with Dr. Ayelet Fishbach!
About Dr. Ayelet Fishbach | LinkedIn | Twitter |  Amazon Books
We hope you enjoyed this episode of Follow Your Different™! Christopher loves hearing from his listeners. Feel free to email him, connect on Facebook, Twitter, Instagram, and subscribe on iTunes!