313 Revenue: How To Drive Growth & Prevent Revenue Leak with Andy Byrne, CEO of Clari
Saturday 10th June 2023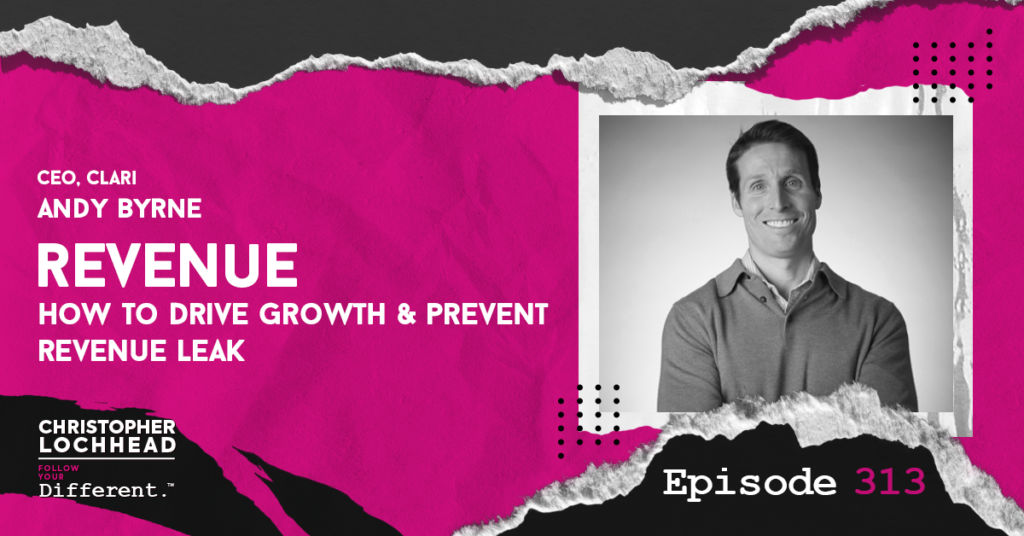 Podcast: Play in new window | Download (Duration: 1:03:24 — 43.5MB) | Embed
Subscribe: Apple Podcasts | Google Podcasts | Spotify | Pandora | Stitcher | RSS | More
In good times and bad, every drop of revenue matters. Without it, none of us even has a business. On this episode, we have a riveting conversation about the past, present, and future of revenue operations with Andy Byrne – the entrepreneur, CEO, and category designer of revenue operations.
Andy Byrne is the CEO of Clari, and is known widely in the industry as the prime minister of revenue. And right now, Clari is doing an extraordinary thing, and has become the category King in revenue operations.
Pay special attention to Andy's insights into how boards and investors are now starting to focus on revenue governance. As you listen to Andy, you'll also be getting a masterclass in how a CEO can be an evangelist for their company, and their category.
You're listening to Christopher Lochhead: Follow Your Different. We are the real dialogue podcast for people with a different mind. So get your mind in a different place, and hey ho, let's go.
Andy Byrne on being the CEO of a Red-hot Company
The discussion begins with Andy being asked about his experience as co-founder and CEO of a successful startup, particularly over the last three unusual years.
Andy expresses excitement about the impact his company has made, including the creation of a new job category called Revenue Operations, which is now the fastest growing and most lucrative job in the industry in the United States. He also mentions how proud he is that their platform has managed over $1 trillion in assets.
He believes they are only getting started and will have a significant impact on the world.
How Revenue Operations and the rise of AI
Andy describes how he and his team saw an opportunity in developing an enterprise system to manage the revenue business process from beginning to end. They saw revenue as more than just an outcome, but as a critical business process in need of a dedicated system. He is pleased with the effect their company has had on the lives of many people, particularly revenue-critical employees, and believes that this is only the beginning.
With regard to AI, Andy is excited about the potential of machine learning and artificial intelligence to make a meaningful impact, citing an example of their system accurately predicting a healthcare life sciences company's $1.6 billion quarter within hours of being turned on.
The Problem with the Three-Headed Hydra
Andy then chimes in on importance of revenue and the challenges that companies face when using antiquated revenue management systems. He re-emphasizes that revenue is a business process, and it is the most important process in a company.
Unfortunately, many businesses continue to rely on the three-headed Hydra: CRM, Excel, and BI, resulting in revenue leaks, reporting leaks, and inaccurate forecasting. Christopher shares his experience working with businesses that face unexpected deals in the final days of the quarter, which can be problematic if the company's forecasting is inaccurate. Andy agrees and stresses that using these subpar systems increases risk and should put a stop to investor interest in that stock.
To hear more from Andy Byrne and how to avoid revenue leaks in your business, download and listen to this episode.
Bio
Andy Byrne brings over 20 years of experience in sales, marketing, business development and management to his position as CEO of Clari.
Clari is the category leader in the Revenue Software Platform market, with over $1 trillion in revenue under management.
Prior to Clari, Andy was part of the founding executive team at Clearwell Systems, which he helped grow from pre-product & pre-revenue in 2005 to $100 million run rate until its acquisition by Symantec (SYMC) in Q2 2011.
Prior to joining Clearwell, Andy co-founded Timestock, Inc., which was acquired by Computer Associates (CA) via the acquisition of Wily Technology. Timestock delivered world-class enterprise application management solutions to large fortune 500 corporations.
Before Timestock, Andy was VP of Marketing at Desana Systems. Prior to Desana, Andy was VP of Product Management at Lucent Technologies. Andy came to Lucent Technologies via the acquisition of VitalSigns Software. He has also held sales, marketing & management roles at Bay Networks and at MiLAN Technologies, which was later acquired by Digi International.
Andy holds a BS in Economics from the University of Nevada and received his MBA with honors from San Jose State University.
Links
Connect with Andy Byrne!
Clari website | Clari Revenue Leak Assessment | LinkedIn | Twitter
We hope you enjoyed this episode of Christopher Lochhead: Follow Your Different™! Christopher loves hearing from his listeners. Feel free to email him, connect on Facebook, Twitter, Instagram, and subscribe on iTunes!